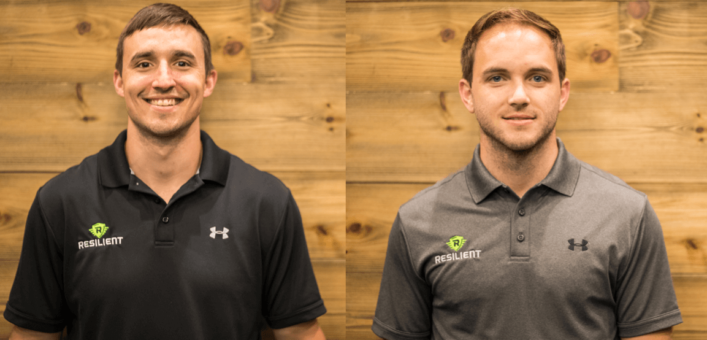 Trevor Rappa and Greg Spatz are doctors of physical therapy and physical preparation coaches who treat and train along the continuum of rehabilitation to performance as co-founders and co-owners of Resilient Performance Physical Therapy with their third partner Doug Kechijian.
Resilient functions out of gyms in Manhattan, New York and will be expanding to Chatham, New Jersey this Fall. Before starting Resilient, Trevor and Greg met and were roommates at Columbia PT school.
Prior to PT school, Greg competed in baseball at The College of New Jersey before operating as a Minor League Strength & Conditioning Coach with the Arizona Diamondbacks. Similarly, Trevor competed in football at Amherst College and completed a Mike Boyle Strength & Conditioning internship.
Beyond the bio, I'm just going to throw this out there – I think guys like this are the future of physical therapy. Whether it's them, Eric Oetter, Adam Loiacono, Mike Roncarati or any host of young guys that are blending PT and smart training, I'm excited about where the world of physical therapy is going.
In this show, Trevor, Greg and I talk about their unique and dynamic assessment process, why there's more to PT than just simple table tests, and where we see the field of physical therapy in the future.
Show Outline
Here's an overview of what we covered in this week's show:
MR's Monologue: You Get Paid for DONE
How Trevor and Greg originally met, and got into the world of physical preparation.
Their career paths, and how they ultimately came together (along with Doug Kechijian) to form Resilient.
The role of the physical therapist under the umbrella of "physical preparation."
Why the next wave of physical therapists will focus not only on treatment, but an understanding of performance as well.
Their dynamic assessment process, and why they focus on getting their patients moving as quickly as possible.
Is there such a thing as "perfect movement?" And if not, what should we be striving for?
The realities of running a cash-based physical therapy business in New York City.
The BIG Question.
The always entertaining lightning round where we discuss how they make Resilient work (and Doug's resemblance to every 80's movie star), the books they're into right now, the advice they'd give to someone who wants to go to PT school, and what's next for the boys at Resilient (Spoiler Alert: BIG THINGS!!!)
Related Links
Connect with Resilient
Books Mentioned
Get 3 days of my best coaching materials — for free.
3 DAY COACH'S CAMP:
Write better programs
Learn how to motivate clients outside the gym
My most popular resets for instantly improving movement quality