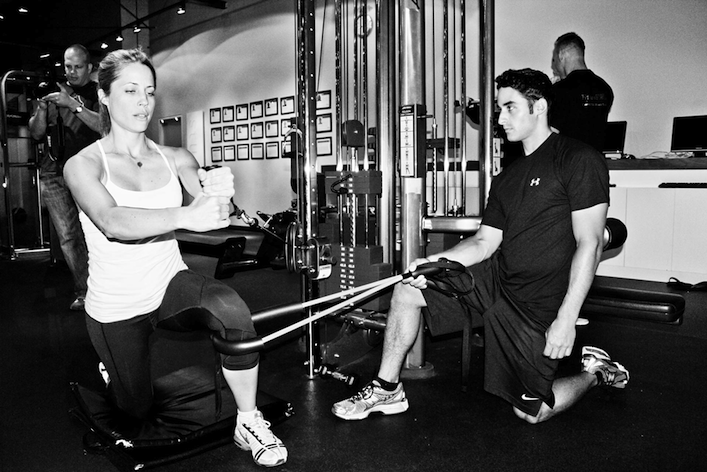 I know I promised a Q&A later this week, but I've got something extra for you today as well…

Below is a guest post from Jon Goodman of the Personal Trainer Development Center. Jon has some really good ideas on how to grow your fitness business, and he'll explain some of them in detail.

And yes, he makes an offer for his 1k Extra course. It's a great resource, and one that I'm using to take my online coaching and training to the next level.
Enjoy!
MR
—————
My career training was, by all accounts, successful.
After 3 years training at my University gym while I studied Kinesiology, I landed a job at a top boutique gym in Toronto. The pay started at $25 an hour. For a 21 year old, that was a fortune.
Within a year I was full with clients. Most of my friends were still in school and I was constantly flushed with cash.
My pay was soon raised to $41/hr and I consistently trained 30-40hrs/week.
But I wanted more…
So I took on more.
For two years I ran a bootcamp 3 days a week from 6:30am-7:30 that made me $120 cash. I would then travel to 4 clients houses and charge $65/hr cash. By noon, I was in the gym where I trained 8 more clients and ended my day at 8:30pm.
In one day I would make $710.
But that wasn't enough — I wanted more.
So I took on the role of senior trainer at my club and made a small salary. I also negotiated a commission for referring my overflow of clients to other trainers.
By 24 years old I was rolling in dough.
But I wasn't happy. In fact, I was scared.
By all accounts I reached what many would consider to be the peak of my earning potential. I was charging over $100/hr, in charge of a team of trainers, and didn't have a spare hour to work. If a client cancelled, I could text any of 3 different people and have them come in within 45 minutes notice for a session.
I was making about $60,000/yr – great for a 24 year old but not enough to support a family on. For a trainer though I was doing well. According to the United States Bureau of Labor, the average yearly salary for personal trainers was only $31,0901.
Even at the top of the salary range I wasn't making enough to turn my passion into a career.
The only logical step up was for me to open my own facility. I had offers of financial backers but knew in my heart that I didn't want to be a gym owner.
I was scared that there weren't any options other than to continue working the incredibly long days. And, to make more money, I would have to work more. In addition…
…I Became Increasingly Frustrated by Aspects of the Industry
I found training in a gym to be a limiting experience and, because of a combination of gym protocols, location dependency, and limited time, I wasn't always providing my clients with the type of service that I thought they needed and deserved.
One example was the absurdity of the 1-hour session.
An effective workout is almost never exactly 1hr in time. Some protocols call for 45 minutes, some an hour and a half.
Yet, in order to avoid a scheduling nightmare, I was forced to be with each client for exactly an hour. This meant that some sessions would end with a 5-minute stretch to fill the time and others I would have to rush the breaks to get the entire workout in.
Training should dictate business practices and not vice-versa.
Unfortunately, the only way to block your time and avoid a scheduling nightmare is to stick to the 1hr session.
Also, I would get sick probably because I worked so much and wasn't taking care of myself. Whenever that happened, I missed clients and didn't get paid.
Personal training is expensive. I know we're worth it, but the reality is that personal training is very much a luxury. These past couple years have seen a major downturn in the economy and, especially in the United States, spending $200+ a week on personal training is just not an option for most people. No amount of sales acumen can get around it.
Clients move away and if your work is purely location dependent then there's nothing you can do other than lose a client. Also, clients often want to refer you friends or family members who don't live close but you can't take them on if you only work in a gym.
There's nothing wrong with working for a gym. In fact I think most trainers should at least start working in one. Most passionate trainers that I spoke with didn't want to stop training clients in person. Instead they wanted less risk, more consistent income, and more freedom.
Over and over again they told me that they wanted to make $1,000 extra outside of their gym. It would help them give their clients the best service, spend more time with their family, and travel without worrying about not making money.
I developed a model for training clients online that requires no software and that you can start tonight. If you follow what I say, all of the major problems with personal training can be solved:
No more time requirement for individual sessions.
No more scheduling frustrations (every client can train from 6-8pm now!).
More cost effective for the client.
Plugs a leak in your funnel by sticking with clients even if they move away.
You start making $1,000 or much, much more each month from anywhere in the World.
Steve Had Bad Systems
I'm a systems guy.
A potential coaching client, Steve, approached me and asked what he was doing wrong. He was training people online and was working himself into the ground.
Each month Steve was offering 4-1hr Skype calls, program design, nutrition design, and 24/7 email support for $199/month. Ignoring the email support, he estimated that this took him 7hrs of time.
Do the math. Steve was making $28/hr. He charged $75/hr in the gym so 1 online client per month resulted in a loss of $329!
Systems are important. Steve had bad systems.
If you're going to train clients online, do it right.
If you're looking at how to be an online personal trainer here the 4 steps to follow:
4 Steps to Being an Online Personal Trainer
Step 1 – Figure Out How Many Clients You Need
How much money per month do you need to make to support yourself and your family?
Take that number and subtract from it the amount of money you make either passively or doing what you love to do in the hours you want to do it.
So if you train 40hrs/month in a gym but only want to train 20, use the number you'd made from training 20hrs/month. I call this "passion money".
Total expenses – Passion money = Amount extra you need.
# of clients needed = Amount extra you need / cost of monthly package
Step 2 – Develop Your Services Offerings
Some options of things to include could be program design, nutrition design, Skype assessments and phone / email support. Build two packages to start, one more expensive than the other so that when a client objects on price, you have a second option.
Step 3 – Legalities
Have a package ready to send to a client that includes a waiver and forms like the Par-Q. You're just as liable training clients online as you are offline in a gym.
Step 4 – Email
Send out your first ten emails to any of the following people: somebody who was previously interested in your training, a client who moved away, a client who stopped training, a contact who you think might be interested in training.
The purpose of these emails is to get a response. The biggest mistake in emailing old contacts is to try to get laid on the first date. You've gotta wine and dine them a bit.
Send a message saying hi, that you were thinking of them, recall a moment you had together, and ask a specific question about them or their family. The only purpose is to get a response.
Here's an example:
Hey _____
I was walking down the street today and passed by your favorite coffee shop from the old neighborhood. It made me think of you so I thought that I'd reach out. How's your son Jeff doing in University? How are you?
Cheers.
-Jon
If they don't respond, set a reminder in your calendar to send a similar message in a months time.
If they do respond they will either answer you or ask how you're doing or respond with an answer. Keep responding to their emails with questions until they ask you how you are.
Once they respond back and ask you how you are, it's your chance to excitedly explain your new awesome online training program!
Don't pitch them, just say how excited you are and highlight one or two main benefits that you think appeal specifically to them.
For example, if they stopped training because cost was an issue, highlight how online training is more cost effective. Here's an example of a response:
Hey ____
Thanks for asking, I'm doing great!
Everything in the gym is going really well but I found that I wasn't quite reaching as many people as I wanted. So I purchased a course to teach me how to build an entire online training program.
It's really exciting because now I can help people anywhere in the World instead of being confined to helping people at my club. It's also much more cost effective for the client and scheduling never becomes an issue.
I've built a couple different options so able to help people in whatever way suits them best. While I still love training in a gym, I understand that it's not best for everybody and this has been a great addition.
I know that scheduling (REPLACE WITH AN ISSUE THEY MAY HAVE HAD BEFORE LIKE PRICE) was an issue for you before. Training online may be a great solution for you to start back up again. If you're interested in speaking about it more, I offer free consultations over the phone or Skype and we can set something up as early as this week.
Looking forward to speaking more,
_______
Now's the Time
Online personal training is the next big thing in fitness. You can still train people in your neighborhood but also take on clients all around the world.
What I like most about it is that you can program whatever you think is best for the client without having to worry about details like time-constraints or the protocols of whatever facility you work for.

I've given you enough here to get going but I know that some people are looking for a more in-depth, step-by-step plan to get going and for them, I've put together the
1K Extra Course.
This course contains two modules: Jumpstart and Advanced.
The Jumpstart is for those trainers looking to make 1K Extra.
It can be followed with no software other than an email account. It teaches how to get clients, develop your training systems online, offer support, accept payments, and perform sales calls with downloadable scripts and information packages ready to send to clients.
I developed the Jumpstart module to help offset the dreaded analysis paralysis. There's no fluff, only the precise steps to follow in sequence to get started right away.
The Advanced module is for trainers looking to take the business to the next level
The success people have had with it is insane (to the tune of a 6-figure business practically overnight). It includes 7 different client getting techniques (5 active and 2 passive) and information on both scaling and automating services.
All of the information is on the next page for you. See you there.
About the Author
Jonathan Goodman CSCS is the author of Ignite the Fire: The Secrets to a Successful Personal Training Career having already helped 10s of thousands of trainers worldwide. His newest venture, the 1K Extra course teaches personal trainers everything they need to know to take on clients online either as a side job or as a primary vocation.
—————
Note from MR: Online training really is the next step in the progression. I've used it for 7 years now, and it's been an amazing experience for both myself and my clients.
If you're interested in getting into the online training and coaching game, be sure to check out the 1k Extra course.