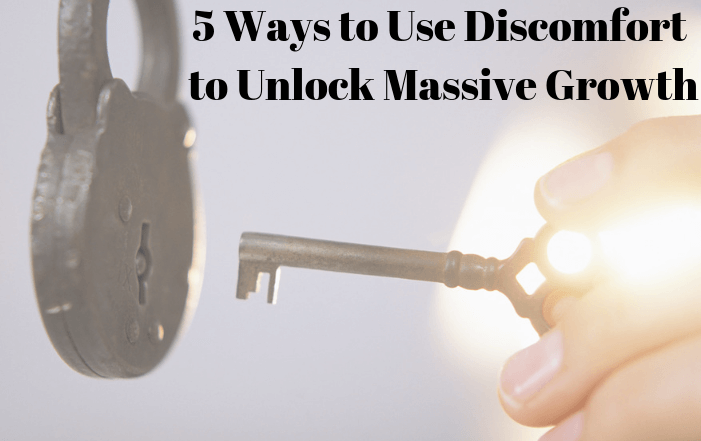 No one likes the idea of being forced to do something you're just not good at.
It makes us feel uncomfortable, unconfident, and weak.
However, the road to optimal growth involves walking the road less traveled. It's certainly easier said than done, and you can definitely make one too many mistakes if you don't know what you're doing.
So, how exactly do we use personal discomforts to become a better version of ourselves?
On today's episode, I share 5 ways you can use discomfort to unlock massive growth. I describe how you can use weaknesses to take yourself to another level of not just fitness, but personal growth as well. I share stories of my personal struggles and how I taught myself to overcome them. I explain each of the five ways in detail, adding tips to make each step easier to manage. I also discuss how you can apply these steps to other facets of your life.
Acknowledging a weakness is one thing, but actually doing something about it is another. – Mike Robertson
This week on The Physical Preparation Podcast:
Being clear on your goals for 2019 and how you should do it.
Using discomfort to release your full fitness potential.
What holds most of us back from achieving our goals.
Writing down your strengths and defining your weaknesses.
Facing your fears and addressing your weak points.
Why feedback from other people matters when it comes to growth.
Knowing the kind of criticism you respond optimally.
How surrounding yourself with better people can improve your life.
What 'embracing the suck' means and how it applies to progress.
Resources Mentioned:
Make 2019 Your Best Year Yet!
Are you ready to take your health and fitness training to the next level and make 2019 your best year yet? The best way to achieve your fitness goals, improve your training techniques, and create healthier habits is by working with a coach.
At Robertson Training Systems, I want to help you feel great while getting stronger, improving your mindset, and achieving your fitness goals!
To do this, we want to invite you to join one of our coaching programs: the RTS Online Coaching Platform or our Annual Training Group Program to maximize your performance and ensure you're making progress toward your goals.
RTS Online Coaching Platform:
With the RTS Online Coaching Platform, you'll:
Work directly with me to create a customized coaching program specific to your unique needs and goals.
Receive an updated workout strategy each month to ensure your program is challenging, yet rewarding.
Frequent communications with me to ensure your workout is on-point and you're making progress each month
To join the RTS Online Coaching Platform, visit RobertsonTrainingSystems.com/Coaching
Annual Training Group:
My Annual Training Group Program is more than just a training program!
In this program, we'll focus on the four phases of physical training, which include:
Building the Engine
Leaning Season
Athletic Domination
and getting Strong(er)
You'll also receive new monthly workouts to follow and set monthly challenges to develop strong habits in nutrition, recovery, and mindset.
To sign up for the Annual Training Group Program, visit: RobertsonTrainingSystems.com/Annual
Let's make 2019 your best fitness year yet!
Subscribe, Rate & Share!
Thanks for tuning into this week's episode of The Physical Preparation Podcast with Mike Robertson – your one-stop-shop for fitness trainers, coaches, and athletes.
If you enjoyed this episode, be sure to subscribe on iTunes, Stitcher, and SoundCloud and leave your honest review.
Connect with us on Facebook, Twitter, and Instagram.
And don't forget to share your favorite episodes with your friends on social media!
Get 3 days of my best coaching materials — for free.
3 DAY COACH'S CAMP:
Write better programs
Learn how to motivate clients outside the gym
My most popular resets for instantly improving movement quality