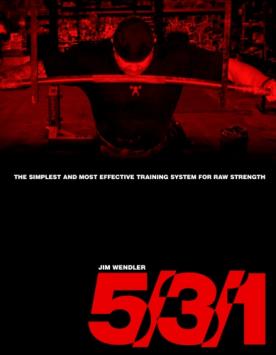 One of the keys to my job is keeping up with all the current literature, research, DVD's, etc.  Quite simply if I hear that something is good, I want to check it out.
A few weeks ago, I gave high praise to Dan John's book Never Let Go.  If you've read anything by Dan John and enjoyed it, you'll love this book.
Last week, I decided to pick up a copy of Jim Wendler's 5-3-1 manual.  I had heard great things, but in all honesty I didn't know what to expect.
I'm almost speechless, but this manual is fantastic.  I can't say enough good things about it, although I'm going to try.
I've experimented with a little bit of everything in my day – 5×5 training, conjugate method, some higher volume stuff bordering on Sheiko, and I've made progress with all of it.  But I always felt I made my best progress on something at or near 5×5.
This manual has some of the same feel of 5×5, but in a lot of ways I think it's even better.  It's beautiful in its simplicity.  I won't ruin it for those of you who haven't bought it, but there are numerous reasons I really like this manual:
– A heavy emphasis on building a base, and not your ego
– The fact that you can consistently progress upwards over time
– A strong emphasis on the core lifts
– Planned de-loads
– Ramping up to one or two key sets, thus sparing the joints to some degree
– I always liked this style program because I could have a very good idea of my maxes on each lift.  There's no better "indicator" than using a repetition max of the lift in question!
It may not be for everyone, but I think this program is perfect for me in my current situation.  Let's be honest, at this stage of the game I have a wife, a gym, a consulting business, plus commitments to friends, family, etc.  I have to get workouts in whenever I can, and with whomever I can.  Sometimes it's 8 in the morning by myself, and sometimes it's at 6 pm with an entire crew of meatheads.  I've made concerted efforts to auto-regulate and go by how things are feeling, but sometimes that's easier said than done.
There's optimal, and then there's realistic.
In this case, the numbers are all laid out for you.  Go in, hit the prescribed numbers (along with some assistance work), and get out. It's not fancy, but we all know it works.
Dan John has often talked about how people respond well to the one-lift-a-day program simply because it's brutally simple.  You don't have to think.  Just go in and train.  I feel 5-3-1 is cut from that same vein.
I can honestly say I'm a little pissed I have to go on vacation.  I can't say I've been this excited to train in a long time.  I can even see using the basic 5-3-1 model in conjuncton with Mike Tuscherer's Reactive Training work, but at this point in time I don't even want to mess with that.  I like the idea of someone telling me what to do with regards to training for a while!
At this point in time, I've probably rambled enough.  You get it – I like the manual.  It's a great piece of work and if you don't own a copy, it's a friggin' steal at only 20 bucks at EliteFts.com.
Pick it up today – you won't be sorry.
MR
BTW – AJ Roberts just told me today is the last day to get 50% off his Up Your Bench program.  At the very least, head over to his site and check out the 30 biggest bench mistakes – chances are you're making more than a few!