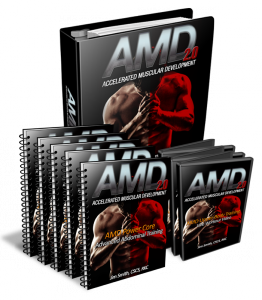 Chances are you've been hearing a lot about Jim "Smitty" Smith's new product, Accelerated Muscular Development.
And for good reason – it's one hell of a product!
Today, I'm going to give you guys a killer review of the product.  I've taken the time to look through the entire product, and I can tell you without reservation it's probably the most complete product I've seen with regards to building muscle and shedding body fat.
Before we get started, here's a quick overview of the product.
Who is this product for?
Accelerated Muscular Development (AMD) is a program designed to help you build muscle and/or lose body fat, depending upon your current needs and goals.
How is this product different from other products on the market?
Many products that are similar to this one have very little focus on structural balance, or keeping the body healthy, while building muscle or losing body fat.
As a result, many people get started on a program with great success, only to end up injured and back at square one.  This program places a premium on proper warm-ups, corrective exercises, and activation drills to make sure you stay healthy AND achieve your goals.
What do I get when I purchase this product?
If you guys know anything about Smitty, you know he always over-delivers.  When you purchase the AMD product, you'll immediately receive the following:
AMD Quick Start Guide
AMD Essential Exercise Video Index
AMD Primary Exercise List
AMD AER (Recovery) Exercise List
AMD Power CORE Exercise List
AMD 2.0 Main Manual
AMD Essential Recovery (AER) Manual
AMD Power Core (CORE) Manual
AMD Explosive Fat Loss Manual
AMD Deadlift Manual 101 (Bonus)
AMD Upper Body Fat Loss Workout Video
AMD Lower Body Fat Loss Workout Video
Deadlift 101 Instructional Video
Now that you have a basic idea of what the product entails, let's go over each individual component of the downloads.
AMD Quick Start Guide
We all know some of us don't care how things work – we're just ready to get started!
This is the perfect option for those who want to jump right in and get rolling.  This section outlines the basic system, and describes the general training templates you have to choose from.
Along those same lines, this section provides a brief rationale for the various training components. The quick start guide also helps you determine which program is best suited for you.
AMD Essential Exercise Video Index
This is a list with links to You Tube videos of all the primary exercises you can perform in the AMD program.  On some exercises you'll see a basic demonstration, where as others you'll get quite a bit of coaching on proper technique and execution.
AMD Primary Exercise List, AER Exercise List, and Power CORE Exercise List

These documents provide a list of all the exercises you can choose to utilize in the AMD program.  This includes all your primary exercises, foam rolling, activation and mobility drills.  This is very convenient if you want a quick-reference list to print-off.
AMD 2.0 Main Manual

Showing up at a whopping 247 pages, this is the bread-and-butter of the AMD program.
The manual starts with a basic overview of the muscle-building process.  While many programs are ok with simply telling you "do-this, do-that" etc., Smitty takes the time to explain the actual physiology behind the science of muscle growth.
Nutrition is another critical component of the muscle-building and fat loss process.  Here, Smitty covers the basics of nutrition, as well as how to determine your calorie needs based on your current weight, activity levels, your goals (i.e. build muscle, lose fat, etc.).
The next step is the programming.  The thing I love about this is there's no fluff – sure you can pump and tone a bit, but the focus of the program is on including big and basic exercises, especially early in the workout program.  If you've been in or around this industry for any period of time, you know that the basic exercises should be staples in virtually every persons' program, regardless of their goals.
But let's say you like your current program – you're using 5-3-1 or Westside and seeing great results.  Smitty has provided some alternate options so that you can plug and play your current template within the AMD framework to develop a kick-ass hybrid program.
This the basic overview of the programming, but I don't feel that really does justice to the program.  Here are a few thoughts I had when reviewing the overall program:
Focus on structural balance and joint integrity! Unlike a lot of the fat loss and muscle-building programs on the market, AMD puts a firm focus on getting and staying healthy.  You guys know how strongly I feel about this – you can't train hard if you're beat up and injured all the time!
Recovery! Much like the focus on staying healthy, Smitty also puts a premium on recovering from workouts.  What a lot of people fail to respect is that you don't get bigger or stronger in the gym, you get bigger or stronger by effectively recovering from your workouts.
Step-by-Step programming. There's really no guesswork – if you want a step-by-step program to follow, it's in there!  However, you can also use the template to create workouts specific to your wants, needs and goals.  It's a very powerful set-up.
Looks sexy. Need I say more? The product looks very clean. This definitely wasn't something that was slapped together and sold at the last minute.
Pictures and descriptions of almost all exercises. 'Nuff said.
AMD Essential Recovery (AER) Manual

This is somewhat similar to the main manual, where there are pictures and descriptions of all foam rolling, mobility and activation exercises. Even this is no slouch, with 116 pages of content!
AMD Power Core (CORE) Manual

This section starts off with an introduction to why "core" training is important. While many of us are focused on having lean or sexy abs, there's a lot more to ab training than simply looks.  Smitty also gives an overview of the core anatomy.
One thing I really liked about this manual is that there are arious "levels" of core trainin; in this case, Smitty has broken them down into the following:
Basic
Advanced
Elite
One of the only things I don't like about the product as a whole are some of the core training exercise selections.  If you've read my blog or articles for any extended period of time, you know I'm a huge believer in limiting core training exercises that promote movement around the lumbar spine.
In that same breath, though, I'm also not so naive to believe that everyone has to agree with me.  Everyone is entitled to their own opinions and viewpoints.
With that being said, there are still a ton of core stability focused exercises in this section.  I even picked up a few new ones that I'll be adding to my arsenal going forward!
AMD Explosive Fat Loss Manual

For those of you looking to shed some body fat on the AMD program, this section is for you!
Smitty starts by describing how you can effectively integrate fat loss programming into the AMD basic template. And again, Smitty really outdoes himself here – there are TONS of different fat loss options – DB circuits, KB circuits, sandbags, complexes, etc.
AMD Deadlift Manual 101

This is a bonus manual developed by Rick Walker.  At a massive 202 pages, I didn't think anyone could talk this much about the deadlift!
Regardless, Rick covers everything you could possibly wonder about the deadlift, including (but not limited to):
Equipment needs.
Muscles utilized.
Proper technique.
Pictures to show each and every step of deadlifting performance.
Pictures and descriptions of assistance exercises to take your performance to the next level.
Sample programs.
Again, I don't agree with all the assistance exercises outlined here, as I feel they often put the lumbar spine in a dangerous position.  In that same breath, I haven't deadlifted as much as Rick and I understand there is a fine line between a PR performance and injury.
This manual wraps up with some discussion of common deadlifting issues, and how to address them
Overall Thoughts and Impressions
As I mentioned up front, this may be the most comprehensive fat loss and muscle building product on the market today. Smitty has really outdone himself and created a product that will not only help people achieve their goals, but get healthier and along the way.
If you're interested in picking up a copy of Accelerated Muscular Development, simply follow the link below.  If you purchase before this Friday and midnight EST, Smitty is offering 20% off the original price, as well as throwing in all of the bonus materials FOR FREE!
–>Accelerated Muscular Development <–
All the best
Mike