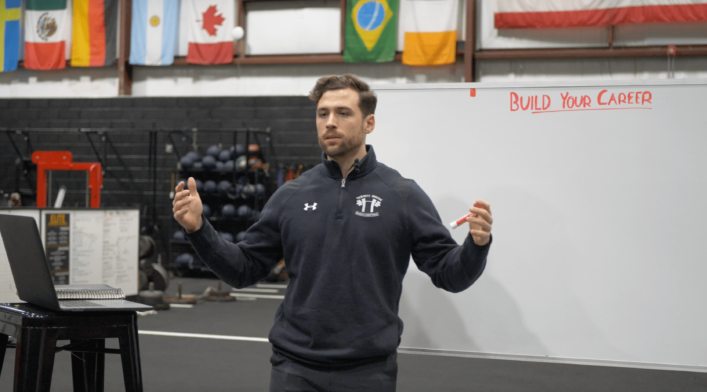 Adam Menner started his college career as a psychology major, but when he interned at Defrancos Training Systems, where he did rehab work and contributed to coaching and programming, he discovered his passion for the world of physical preparation.
Though the internship inspired Adam to change his major to Kinesiology & Exercise Science, he saw the important role his experience with studying psychology played in building relationships with athletes, as well as how forging great rapport impacts athletes' development.
Today, as the Director of Sports Performance at Varsity House Gym, Adam is dedicated to helping athletes of all levels achieve their highest potential by developing and optimizing performance plans for Varsity House.
Adam joins me today to discuss speed development and its role in basketball. He describes the three pillars of speed and how developing acceleration impacts lower body strength.
He discusses how training for speed and velocity can enhance an athlete's cognitive abilities during a game and underscores the importance of deceleration.
And last but not least, he explains what it means to treat youth athletes like professionals and professionals like youth athletes as well as highlights the role of the coach as a community leader and relationship-builder.
Building technical ability is how you get athletes to express force at top speed. – Adam Menner
This week on the Physical Preparation Podcast:
How Adam got introduced to the world of physical preparation
Adam's role and daily duties at Varsity House
His philosophy and big rocks in developing speed in basketball players
A holistic look at speed and its three pillars
Improving linear speed and how improving acceleration develops lower body strength
How Adam designs his programs and breaks speed down into three components
Assessing max velocity among basketball players
How consistent exposure to velocity helps with cognitive processes during a game
The importance of developing deceleration and how Adam fits deceleration training into their programs
Why most athletes don't have the neurological ability or coordination to stop on a dime
Ground contact time and its relationship with speed, deceleration, and change of direction
Understanding asymmetry in the body and how they impact movement
The role of strength training in speed development
How Adam's speed training differs between clients at the developmental and professional levels
Staying focused on your own development and lessons Adam learned from making mistakes as a coach
Related Content:
Connect with Adam:
IFAST University is BACK! Are You In?
Are you ready to take your coaching and training career to the next level?
You need to find great mentors to guide you along your journey – to help you find the blind spots in your own training programs and improve your skills as a coach.
But… mentorship can be expensive, and unfortunately, it's not always feasible for some budgets.
That's why Bill Hartman and I developed IFAST University, an online curriculum and mentorship program designed exclusively for fitness trainers, coaches, and rehab professionals.
We want to help every trainer and coach in the industry improve their training techniques and write better training programs for their clients.
By becoming a member of IFAST University, you'll receive:
Hundreds of hours of members-only exclusive content,
Monthly updates and tips to help you improve your skills and programs,
Group Q&A sessions to answer your specific questions, and
Access to our Facebook group, where you can learn from other dedicated professionals such as yourself
This blend of content and Q&A is specifically designed to help make YOU the best fitness trainer you can be.
To learn more or to join IFAST University now, visit https://ifastuniversity.com/
Subscribe, Rate & Share!
Thanks for tuning into this week's episode of The Physical Preparation Podcast with Mike Robertson – your one-stop-shop for fitness trainers, coaches, and athletes.
If you enjoyed this episode, be sure to subscribe on Apple Podcasts, Stitcher, SoundCloud, Spotify, and Google Podcasts and leave your honest review. I'd also love to connect via Facebook, Twitter, and Instagram or visit our website.
And last but not least, please don't forget to share your favorite episodes with your friends on social media. Thank you!
Get 3 days of my best coaching materials — for free.
3 DAY COACH'S CAMP:
Write better programs
Learn how to motivate clients outside the gym
My most popular resets for instantly improving movement quality