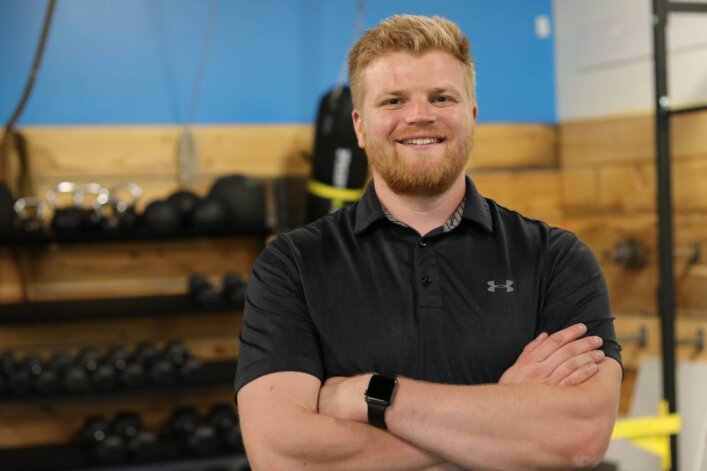 As a young Canadian, Alex Effer understood the importance of health and physical activity from playing hockey, and he dreamed of playing the sport professionally, a life path that contrasts the careers of his accountant parents.
Although health complications later hindered Alex from becoming an NHL player, he accepted the challenge to overcome physical pain and educated himself on several fitness, rehabilitation, and nutrition models – all this, in addition to his degree in Exercise Physiology from the University of Toronto.
He took it upon himself to draw from his experience as an Exercise Physiologist to guide others in overcoming ailments and pain, and to meet this end, Alex founded Resilient, a training, education, and rehabilitation service dedicated to alleviating pain and improving fitness.
Alex joins me today to discuss the value of assessments and the importance of letting them inform exercise selection and coaching.
He shares his background and the lessons he learned from working with a broad range of clients and athletes over the years.
He illustrates his process for assessing and explains why he focuses on squats and toe-touches when assessing clients.
And finally he emphasizes why coaches need to continue learning about anatomy and physiology and shares his advice for young trainers and coaches who want to get better results for their clients and athletes.
Exercises need to be implemented with the right intent and accomplish what measurements and assessments tell. – Alex Effer
This week on the Physical Preparation Podcast:
The challenges of transitioning online as a strength & conditioning coach
What led Alex to the world of physical preparation, his big rocks, and training philosophies
A process of understanding the relationship between breathing and movement
Why you don't need to train for every single angle of lunges
Alex's assessment process for new clients and how it has evolved over the years
How "assessments" has become a buzzword recently and the biggest mistakes coaches make when it comes to assessing clients
The importance of reassessment processes and making assessments adaptable
Categorizing and selecting exercises based on assessments
How to refine and improve an exercise selection process
Why coaches need to keep learning more about the human body
Cultivating relationships with clients and creating buy-ins post-assessment through effective communication
Resources Mentioned:
Related Content:
Connect with Alex:
IFAST University is BACK! Are You In?
Are you ready to take your coaching and training career to the next level?
You need to find great mentors to guide you along your journey – to help you find the blind spots in your own training programs and improve your skills as a coach.
But… mentorship can be expensive, and unfortunately, it's not always feasible for some budgets.
That's why Bill Hartman and I developed IFAST University, an online curriculum and mentorship program designed exclusively for fitness trainers, coaches and rehab professionals.
We want to help every trainer and coach in the industry improve their training techniques and write better training programs for their clients.
By becoming a member of IFAST University, you'll receive:
Hundreds of hours of members-only, exclusive content,
Monthly updates and tips to help you improve your skills and programs,
Group  Q&A sessions to answer your specific questions, and
Access to our Facebook group, where you can learn from other dedicated professionals such as yourself.
This blend of content and Q&A is specifically designed to help make YOU the best fitness trainer you can be.
To learn more or to join IFAST University now, visit https://ifastuniversity.com/
Subscribe, Rate & Share!
Thanks for tuning into this week's episode of The Physical Preparation Podcast with Mike Robertson – your one-stop-shop for fitness trainers, coaches, and athletes.
If you enjoyed this episode, be sure to subscribe on Apple Podcasts, Stitcher, SoundCloud, Spotify, and Google Podcasts and leave your honest review. I'd also love to connect via Facebook, Twitter, and Instagram or visit our website.
And last but not least, please don't forget to share your favorite episodes with your friends on social media. Thank you!
Get 3 days of my best coaching materials — for free.
3 DAY COACH'S CAMP:
Write better programs
Learn how to motivate clients outside the gym
My most popular resets for instantly improving movement quality