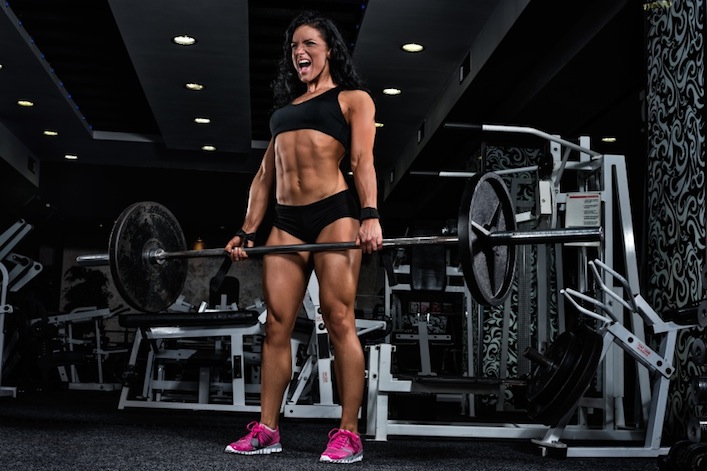 Yo Mike! Coach Poliquin (and others) have noted that you only need squats, deadlifts, overhead presses, etc. to build core strength.
What do you think?
This is an age-old question, and hopefully I can do it justice in one post.
Let me begin by saying I have the utmost respect for Coach Poliquin and everything he's accomplished in his career.
And in large part, I think he's right.
If someone has balanced core, trunk and pelvic stability from front-to-back and side-to-side, maintaining that balance through the big lifts is probably all one needs to keep it in check.
But based off what I've seen assessing clients and athletes over the past 14 years, that's a big if.
Consider this…
We know a large population of people who take up weight training these days want to get bigger and stronger.
We also know that a lot of them come in with a handful of postural issues that need to be addressed. If someone's only source of stabilizing that PR squat, deadlift or overhead press is their lower back, that's going to cause issues sooner or later.
Let's do a quick primer so we're all on the same page, and then we'll progress from there.
At the very least, think of your core as a box with four sides, a top and bottom:
Anterior Core (Rectus Abdominus, Internal/External Obliques, TVA),
Posterior Core (Low Back: Spinal Erectors, Multifidi),
Lateral Core (Internal/External Obliques, Quadratus Lumborum),
Superior Core (Diaphragm), and
Inferior Core (Pelvic Floor).
If you are in appropriate position, and you have balance between all these areas (front-back, side-side, top-bottom, etc.), then the only thing you have to do is maintain balance. (Although I'd argue that this is easier said than done as well, but that's another blog post).
But what if you don't start in the right position? Or you lack structural balance?
That's where you need remedial core development.
Here is a short list of exercises we'll use to determine core function and balance:
Squat,
Lunge,
Single-Leg Stance,
Front Plank,
Side Plank,
Push-up,
Straight Leg Raise,
Respiration Patterns, and
Apical Expansion test (ala the Postural Restoration Institute).
You could easily argue that almost any test we use at IFAST is in some way, shape or form related to core function.
The goal here is to have balance between these various checks and balances. Doing so will not only improve performance, but decrease the likelihood of injury as well.
So let's say someone can move heavy weight and looks super strong, but their solution to everything is throwing themselves into an anterior pelvic tilt (APT) and locking their lumbar spine in extension.
Two things immediately come to mind:
This person is leaving pounds on the platform due to their inefficiency, and
It's only a matter of time until this person breaks down.
Now I've heard it time and again:
"But Mike, that's how I lift and I've never had an injury…"
At which point, I feel compelled to finish their sentence for them:
"…yet."
Look, I don't like being the bearer of bad news, but locking yourself into an anterior pelvic tilt and lumbar lordosis isn't super efficient, and it's not going to add any years on your lifting career.
So let's say this describes you – you've lived in APT since the Carter administration and you want to get your core fixed once and for all. Here are some quick and dirty takeaways that have always helped my clients and athletes.
#1 – Learn how to exhale.
When someone is locked in extension, they typically rely upon their hip flexors and parapsinals to help them take in a deep breath.
In PRI land, they would call this "hyperinflation."
To combat this, you have to learn how to exhale. I've assessed hundreds of clients over the past couple of years, and it's amazing to see how poorly people exhale.
Quite simply, they can't get air out of their body.
And without getting too esoteric here (I'll save that for another post!), it's no wonder we see so many respiratory disorders.
You know how you get sick every time you fly on a plane? I think it's due in large part to breathing recycled air for hours on end.
But what if you do that every single day?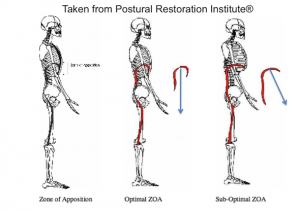 What if you simply can not get air out of your body, and you've got nasty, stale air hanging out in your lungs?
But I digress.
When you exhale and your ribs come down, you naturally improve the length-tension relationship of your abdominals compared to your spinal erectors and lats. If the abdominals are constantly stretched and long, there's no way they'll be able to counteract or offset the strength of the lower back.
#2 – Get serious about the anterior core.
So you've got that air out – nice work!
But that's just the first step.
The next goal is to get that anterior core strong, and chances are you're going to have to take a few steps back in order to start moving forward again.
I'm sure you love those "1,001 New Ab Exercise" articles, with each progression being more ridiculous than the first, but I still love the basics executed with pristine technique.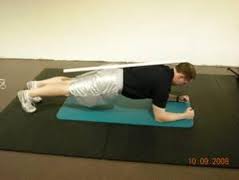 Front planks.
Push-ups.
Dead bugs.
Leg lowering drills.
Hell, even some of your old standbys could be a struggle at first.
Oh, you're use to used to crushing ab wheel rollouts for sets of 10? Try doing them after a strong exhale and focus on keeping the ribs down to make this basic exercises even more brutal.
#3 – Use smart progressions and load to return.
One of the biggest issues we have when training is our previous personal records (PR's).
We always have these numbers in the back of our mind that we use as a gauge, or litmus test for what "strong" means to us.
Unfortunately, that can get us into serious trouble when our goal is to rebuild our foundation.
In an effort to get back ASAP into big lifts like squats and deadlifts, going too heavy too soon will invariably force you back into your old, inefficient patterns.
Instead, either choose exercises that you know you won't have a tendency to overload, or simply choose more self-limiting exercises.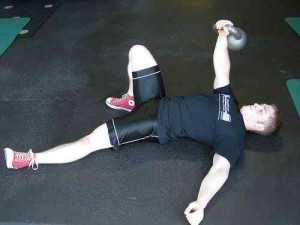 Here are a handful that will help you re-build your core, while maintaining strength to boot:
Front squats,
Turkish get-ups,
Single-arm bench presses,
Offset anything.
Choosing exercises that put a premium on core strength and stability will get you back to (and exceeding) your old PR's with a quickness.
#4 – Realize it's a total-body fix.
I won't harp too much on this point because I've said it time and again, but don't think of the core as it's own little island.
The core, as defined by Bill Hartman, is everything from the neck to the feet. It's all connected, it influences (and is influenced by) other regions, and it's all important.
If your goal is to get a brutally strong core, your entire program needs to built around eliminating your weaknesses.
Summary
If you have a strong and balanced core, congratulations! You're in the minority, and all you have to do is maintain that balance going forward.
However, if you're like most of us out there and need some refining work, follow the tips I've outlined above.
Not only will you be healthier in the long-term, but stronger and more powerful to boot.
Stay strong
MR
P.S. – If you'd like to learn more about the anatomy, assessment, and core training exercises and progressions I use, be sure to check out Complete Core Fitness.