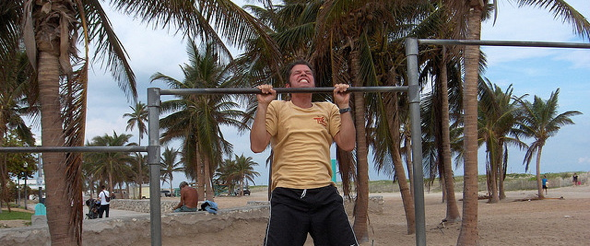 A common theme I see in the gym is when people mindlessly blow through their upper back work.
Whether it's rows, chins, or even something as simple as a face pull, people don't put in the focus necessary to really develop the muscles surrounding their shoulder blades.
At best, you're leaving some upper back development on the table.
Worst-case scenario? Your scapulae and shoulders become unstable, needlessly exposing you to injury.
This is one area where I firmly believe we can learn a lot from bodybuilders. And before you blow me off, hear me out for a second.
Many powerlifters are performing their upper back work after some heavy pressing, and as a result, their focus may not be up to snuff.  On top of that, they'll often short-change the range of motion (failing to get full retraction and/or depression) in lieu of using more weight.
Bodybuilders, on the other hand, often dedicate an entire training day to upper back (or at the very least, the start of their training day) to their back. Not only are they fresher because they haven't pressed first, but they're also more focused on that first exercise in their training session.
Beyond that, bodybuilders are often more focused on getting a full range of motion on their lifts. If they're rowing, they want a full protraction/stretch at the bottom, and a full retraction/squeeze back of the shoulder blades at the top.
If they're chining, they want a full stretch in the bottom position, and a depression of the shoulder blades/chest touching the bar at the top.
Now this isn't to say that bodybuilders don't get injured, because they do. However, I would argue that powerlifters and other people focused on benching heavy weights could learn from bodybuilders, get more bang for their training buck, and end up with more stable and healthy shoulders in the long run by employing some of these tactics.
To summarize, here are some quick and dirty tips that should help:
1 – On rows, let the shoulder blade "glide" around the ribcage at the bottom, and get a stretch through the upper back. When rowing, think about leading with the elbow (versus the bicep) and try to "squeeze" the shoulder blade back. If you can't hold it for a one count, you're using too much momentum, too much weight, or both.
2 – On chins/pull-ups, get full extension in the bottom. Pull through the elbow (versus the bicep) and try to "tuck your shoulder blade in your back pocket."  Your chest should touch the bar, and you should be able to hold for a one count at the top.
3 – If you're in the off-season, or not trying to hit a PR any time soon, consider starting your training sessions with an upper back exercise versus a pressing exercise. Doing this for even a few months can make a profound difference in your upper back strength and stability, as well as improving structural balance between the muscles and joints of the upper extremity.
4 – Finally, if you didn't check this out before, please do so now. These basic exercises can make a profound difference in your ability to properly recruit the muscles surrounding your scapulae:
Give a few of these tips a shot, and I think you'll be pleasantly surprised with the results!
Stay strong
MR
(Lead Photo Courtesy of Joe Shlabotnik)