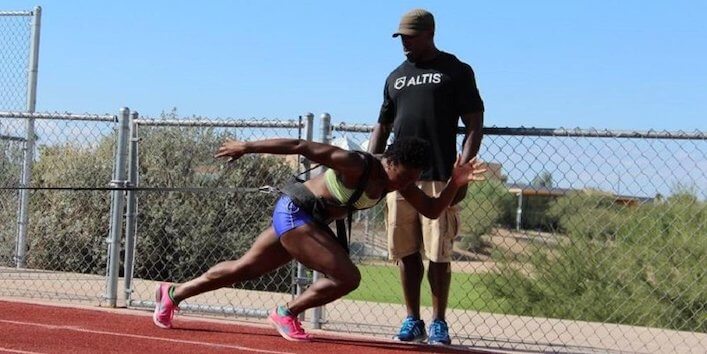 Chidi Enyia is a Sprints, Hurdles, and Jumps Coach for ALTIS, a fitness company designed to provide an environment where elite track and field athletes can grow to become better at their chosen sport. They have state-of-the-art training facilities, a robust clientele, and professional and certified coaches.
He has over 20 years experience training athletes at the high school, collegiate, and professional levels. Before he started his journey with ALTIS, Chidi was a sprints coach for the track team at Southern Illinois University.
Chidi joins me today to discuss the concept of potentiation and how he applies its science to his athletes. He shares his story on how he became passionate about fitness and how he survived cancer. He describes what potentiation is and the principles behind it as well as explains how coaches can apply potentiation to any sport. He also shares examples of training routines and advice on how to be a great coach when your athletes are experiencing mental hurdles.
Potentiation is a physiological condition where the force exerted by a muscle is increased due to a pre-conditioning activity or contraction. – Chidi Enyia
This week on The Physical Preparation Podcast:
What potentiation is and how to apply it to athletic fitness.
Chidi's early career, his bout with cancer, and what he's doing today.
The lessons he's learned after surviving cancer and how he applies them to his coaching.
The three primary neurophysiological mechanisms responsible for potentiation.
How he uses the concept of potentiation with his clients.
Examples of integrated potentiation in training.
The amount of time you should devote for potentiation exercise.
The mistakes he made in implementing potentiation training to his athletes.
Knowing when potentiation training is working and how to fix it.
The recommended potentiation training and activities for team sports.
Chidi Enyia's Life & Training Advice for Fitness Coaches:
As you evolve as a coach, you don't break out all the great tricks you have on day one.
Be brave enough to take risks and to make decisions, but still look for context.
Experience will teach you to be more accurate as a coach, but it won't make you immune to making mistakes.
Resources Mentioned:
Connect with Chidi Enyia:
Make 2019 Your Best Year Yet!
Are you ready to take your health and fitness training to the next level and make 2019 your best year yet? The best way to achieve your fitness goals, improve your training techniques, and create healthier habits is by working with a coach.
At Robertson Training Systems, we want to help you feel great while getting stronger, improving your mindset, and achieving your fitness goals!
To do this, we want to invite you to join one of our coaching programs: the RTS Online Coaching Platform or our Annual Training Group Program to maximize your performance and ensure you're making progress toward your goals.
RTS Online Coaching Platform:
With the RTS Online Coaching Platform, you'll:
Work directly with me to create a customized coaching program specific to your unique needs and goals.
Receive an updated workout strategy each month to ensure your program is challenging, yet rewarding.
Frequent communications with me to ensure your workout is on-point and you're making progress each month
To join the RTS Online Coaching Platform, visit RobertsonTrainingSystems.com/Coaching
Annual Training Group Program:
My Annual Training Group Program is more than just a training program!
In this program, we'll focus on the four phases of physical training, which include:
Building the Engine
Leaning Season
Athletic Domination
and getting Strong(er)
You'll also receive new monthly workouts to follow and set monthly challenges to develop strong habits in nutrition, recovery, and mindset.
To sign up for the Annual Training Group Program, visit: RobertsonTrainingSystems.com/Annual
Let's make 2019 your best fitness year yet!
Subscribe, Rate & Share!
Thanks for tuning into this week's episode of The Physical Preparation Podcast with Mike Robertson – your one-stop-shop for fitness trainers, coaches, and athletes.
If you enjoyed this episode, be sure to subscribe on iTunes, Stitcher, and SoundCloud and leave your honest review.
And please, connect with us on Facebook, Twitter, and Instagram!
Get 3 days of my best coaching materials — for free.
3 DAY COACH'S CAMP:
Write better programs
Learn how to motivate clients outside the gym
My most popular resets for instantly improving movement quality