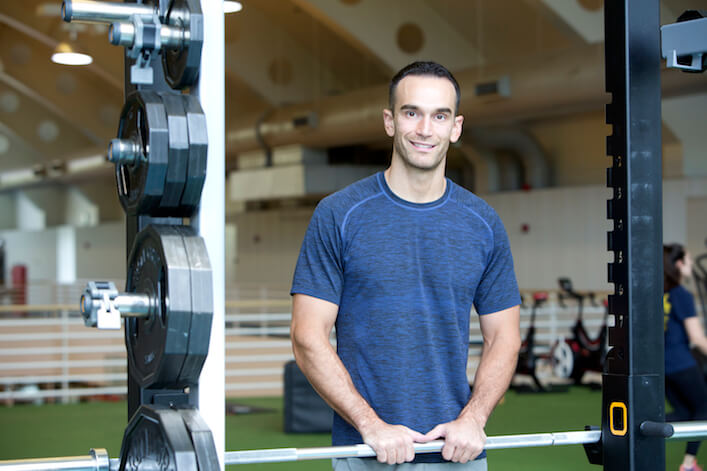 With a truly pragmatic approach to training, Chris Chase emphasizes establishing standards in his programs.
KPIs, he notes, provides a framework that helps players get to where they need to be.
Perhaps this is wisdom drawn from experience; after all, Chris has coached at every level there is.
He has served as Strength and Conditioning Coach for the University of Southern California and, in 2015, was named the Atlanta Hawks' Performance Coach.
Chris is currently an NBA Strength & Conditioning Coach and enters his third season serving as the Memphis Grizzlies' Director of Performance.
Chris joins me today to discuss the value of establishing standards, KPIs, and putting them to practice.
He explains how quantifying information can help training and programming become more efficient and discusses the importance of using machines and isolation exercises.
He also shares how he incorporates flywheels in training and how he monitors the demands of basketball in-game and uses his research to impact players' training in the weight room.
Establishing standards, KPIs, and key results provides a framework when setting goals with players and objectifying where they need to be. – Chris Chase
This week on the Physical Preparation Podcast:
Training in the time of COVID and adjusting to a new normal
The power of establishing standards and how to put them into practice
The role machines play in Chris' programming for basketball players
The importance of machines and isolation exercises
Expanding standards into as many elements of a training program as possible
How quantifying and objectifying information can make your programs more actionable and efficient
Monitoring the demands of basketball and how that data translates in the weight room
Consolidating stressors, global stress, and why teams need to be in the same rhythm
Mimicking basketball training and programming in the weight room
The pros and cons of flywheel training, why Chris uses it, and how to implement it
Related Content:
Connect with Chris:
IFAST University is BACK! Are You In?
Are you ready to take your coaching and training career to the next level?
You need to find great mentors to guide you along your journey – to help you find the blind spots in your own training programs and improve your skills as a coach.
But… mentorship can be expensive, and unfortunately, it's not always feasible for some budgets.
That's why Bill Hartman and I developed IFAST University, an online curriculum and mentorship program designed exclusively for fitness trainers, coaches, and rehab professionals.
We want to help every trainer and coach in the industry improve their training techniques and write better training programs for their clients.
By becoming a member of IFAST University, you'll receive:
Hundreds of hours of members-only exclusive content,
Monthly updates and tips to help you improve your skills and programs,
Group Q&A sessions to answer your specific questions, and
Access to our Facebook group, where you can learn from other dedicated professionals such as yourself
This blend of content and Q&A is specifically designed to help make YOU the best fitness trainer you can be.
To learn more or to join IFAST University now, visit https://ifastuniversity.com/
Subscribe, Rate & Share!
Thanks for tuning into this week's episode of The Physical Preparation Podcast with Mike Robertson – your one-stop-shop for fitness trainers, coaches, and athletes.
If you enjoyed this episode, be sure to subscribe on Apple Podcasts, Stitcher, SoundCloud, Spotify, and Google Podcasts and leave your honest review. I'd also love to connect via Facebook, Twitter, and Instagram or visit our website.
And last but not least, please don't forget to share your favorite episodes with your friends on social media. Thank you!
Get 3 days of my best coaching materials — for free.
3 DAY COACH'S CAMP:
Write better programs
Learn how to motivate clients outside the gym
My most popular resets for instantly improving movement quality