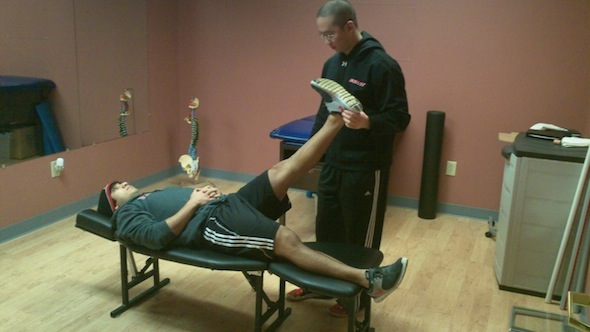 Since Bill and I announced our most recent dates for the Diagnosis Fitness seminar, my inbox has been flooded with people asking questions about it.
As such, I figured the best way to handle this was a blog post. That way, instead of crafting an individual response to each and every person who writes, I can simple forward them this post!
Who should attend Diagnosis Fitness?
Diagnosis Fitness is predominantly geared towards strength coaches and personal trainers.
However, in our first two seminars we've had attendees from other disciplines such as physical therapy, chiropractic, and even massage therapy.
If you don't have a system for evaluating an incoming client, this is your foundational course.
And even if you've been to a handful of courses discussing assessment, I guarantee you'll pick up some new tips and tricks (or develop a more complete system) at DxFit.
What is Diagnosis Fitness?
The goal of our assessment process is to have a complete evaluation of our clients and athletes, so that we can develop the best possible training program.
Diagnosis Fitness is the assessment system that Bill Hartman and I have used at IFAST since it's inception to assess, screen and intake our new clients.
It's funny, because a lot of people who have never taken the course (and obviously know nothing about it) are really quick to pigeonhole DxFit.
"Oh, that course is just a bunch of Postural Restoration Institute (PRI) stuff."
"That course is just like the Functional Movement Screen (FMS)."
And on and on.
Here are the main branches or areas of assessment we cover in DxFit:
Static postural assessment (and this goes a lot further than the standard front, back and side views).
Isolated muscle flexibility and joint mobility testing (which is influenced by joint position).
Manual muscle testing (which also helps us determine compensation patterns).
Positional tests to determine starting position of major joints (aka, the game changer).
Integrated movement and performance testing (aka, the bottom line).
Before I go any further, let me say this:
I love both PRI and the FMS.
I  have no issue using the FMS with a client if they have no specific issues, or if I think they're a relatively clean slate with regards to movement and performance.
And if I get someone who doesn't move well, I can always use the isolated regional tests from DxFit to determine the underlying issues.
There's also no doubt PRI has influenced how we do things here at IFAST. But this is just one component of our overall assessment and training process.
At the end of the day, DxFit is a complete assessment system that has taken decades to develop and prepare.
Does it pull from other systems? Absolutely.
But then again, we never claimed to re-invent the wheel. I just think our wheel rolls pretty darn well.
When is Diagnosis Fitness?
The next Diagnosis Fitness course is being held on Friday, April 5th and Saturday, April 6th.
Where is Diagnosis Fitness?
Diagnosis Fitness is being held at the Indianapolis Hilton North. We've held all the DxFit seminars at this location, and they've always treated us very well there.
Indianapolis Hilton North
8181 N Shadeland Ave
Indianapolis, IN 46250
Why should I attend Diagnosis Fitness?
I could start with the obvious question, "Why wouldn't you attend Diagnosis Fitness?"
But I suspect you want something more than that.
Every single day I get e-mails from people who want to learn more about what Bill and I do.
How we write programs.
How we assess our clients.
How we get the results that we do.
Trust me, I'm honored and feel privileged to be in the position that I am.
The only frustrating thing is when people reach out to me, and then don't follow through. We can come up with every excuse in the book, but if you're serious about taking your skills to the next level, you need to make some sacrifices and get the job done.
If you don't have an assessment in place right now, today, there's no doubt you should attend Diagnosis Fitness.
If you want to get better results with the clients and athletes you work with, you need to attend Diagnosis Fitness.
And if your goal is to become the go-to personal trainer or strength coach in your area, you must attend Diagnosis Fitness.
Nobody got better in this field sitting on their ass reading books all day.
The best of the best have sought out other professionals and learned from them directly.
I feel like Diagnosis Fitness is the most complete assessment course on the market today.
So what will you be doing on April 5th and 6th?
Hopefully chilling with me, Bill and the one and only Eric Oetter at Diagnosis Fitness!
==>Learn More about Diagnosis Fitness Here
All the best
MR