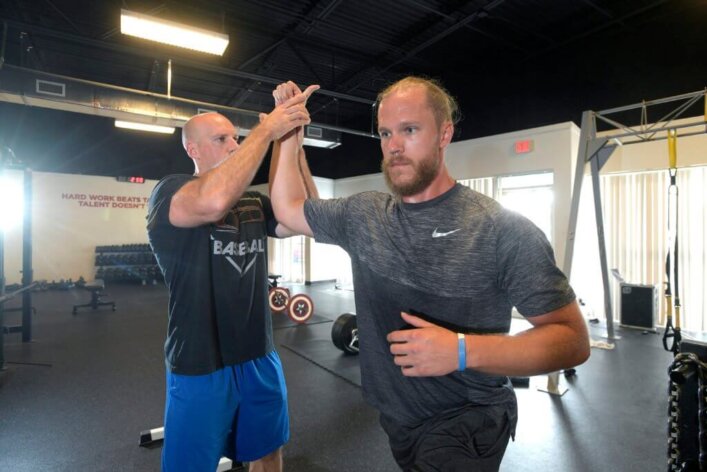 It's not an exaggeration to say that Eric Cressey's work ethic is incomparable.
In addition to being the Co-Founder and President of Cressey Sports Performance—widely considered one of the premier facilities for baseball-specific training—Eric is a prolific writer who has authored over 500 articles and five books, including Maximum Strength and The High Performance Handbook.
And as if that weren't enough, Eric joined the New York Yankees in January 2020 to serve as their Director of Player Health and Performance while maintaining his role at CSP.
Eric is a highly-sought after coach who has worked with hundreds of professional and youth players over his career—jumping, sprinting, and alongside his athletes to inspire them while keeping them healthy in the process.
Eric joins me today to talk about business and baseball. He discusses how he manages his time between working with Cressey Sports Performance and the Yankees and describes the power of planning that makes it all happen.
He shares the evolution of his training philosophy in baseball and explains why he shifted away from strength development to some degree.
And he also discusses why so many youth baseball players get broken even before they get to the major league levels and reveals the three things he'd do to keep younger players healthier and on the field.
Being able to learn baseball on a deeper level has made me a better coach and allowed me to create better content for athletes. – Eric Cressey
This week on the Physical Preparation Podcast:
How Eric balances his time between his New York Yankees role and his business
His training philosophy and how it has evolved over the years
The advantages of being an outsider and how having a deeper understanding of baseball made Eric a better coach
Emerging injury trends in baseball and their common causes
Protecting young baseball players from injuries
Why catching is an incredibly challenging position in baseball and why kids shouldn't exclusively pitch
The state of baseball-specific training and the importance of understanding adaptations
The role of weighted balls and how they should be incorporated in a program
Eric's principles for developing better baseball-specific training
Related Content:
Connect with Eric:
IFAST University is BACK! Are You In?
Are you ready to take your coaching and training career to the next level?
You need to find great mentors to guide you along your journey – to help you find the blind spots in your own training programs and improve your skills as a coach.
But… mentorship can be expensive, and unfortunately, it's not always feasible for some budgets.
That's why Bill Hartman and I developed IFAST University, an online curriculum and mentorship program designed exclusively for fitness trainers, coaches, and rehab professionals.
We want to help every trainer and coach in the industry improve their training techniques and write better training programs for their clients.
By becoming a member of IFAST University, you'll receive:
Hundreds of hours of members-only exclusive content,
Monthly updates and tips to help you improve your skills and programs,
Group Q&A sessions to answer your specific questions, and
Access to our Facebook group, where you can learn from other dedicated professionals such as yourself
This blend of content and Q&A is specifically designed to help make YOU the best fitness trainer you can be.
To learn more or to join IFAST University now, visit https://ifastuniversity.com/
Subscribe, Rate & Share!
Thanks for tuning into this week's episode of The Physical Preparation Podcast with Mike Robertson – your one-stop-shop for fitness trainers, coaches, and athletes.
If you enjoyed this episode, be sure to subscribe on Apple Podcasts, Stitcher, SoundCloud, Spotify, and Google Podcasts and leave your honest review. I'd also love to connect via Facebook, Twitter, and Instagram or visit our website.
And last but not least, please don't forget to share your favorite episodes with your friends on social media. Thank you!
Get 3 days of my best coaching materials — for free.
3 DAY COACH'S CAMP:
Write better programs
Learn how to motivate clients outside the gym
My most popular resets for instantly improving movement quality