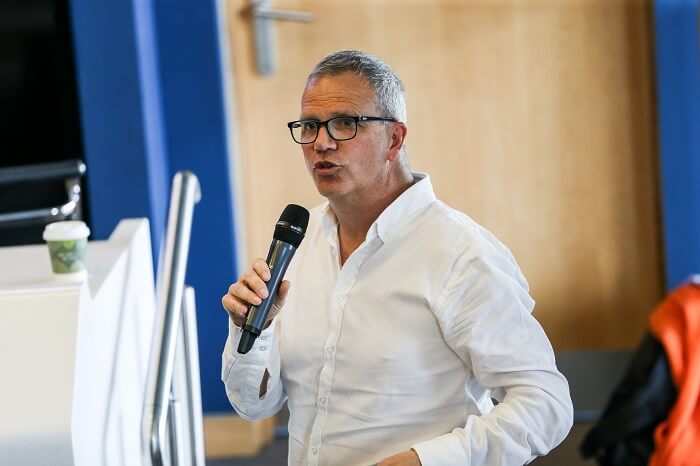 Grant Downie is a consultant in medical and performance solutions for elite sports.
In his childhood days, Grant saw how physical therapists worked on the playing field, treating athletes and their injuries. The role appealed to him as it posed an opportunity for him to improve a person's quality of life.
He soon became a chartered physiotherapist in 1984, volunteering in sports like rugby and football as he worked for the UK's National Health Services.
Later, Grant's love of people enkindled in him the passion to develop personal and soft skills that make an impactful difference.
His distinguished career at the heart of professional football and elite sports spans over 34 years and includes full-time and advisory roles at Manchester City FC, Hamilton Academical FC, and others.
And in 2013, Grant received the title Officer of the British Empire from the Queen in recognition of his work in sports physiotherapy and service to youth.
Grant joins me today to discuss what it takes to be a great high-performance director and how anyone can succeed in any leadership role.
He illustrates how leaders can "sell the dream" of an organization to its staff and reveals the role of recruitment in elite sports.
He describes the difference between talkers and reflectors and discusses how leaders can manage both to focus on athletes' needs.
And last but not least, he highlights what it means to train an injured athlete, and underscores the value of connecting with the person behind an injury.
Being a high-performance leader is not only about how you leave a mark on your staff. It's what you leave on the organization and the systems you leave behind. – Grant Downie
This week on the Physical Preparation Podcast:
The beginnings of Grant's career in elite professional sports
How the physical therapy profession in sports has evolved over the years
The dangers of limiting oneself to one sport and how sports professionals can broaden their horizons
The importance of remembering that children are not "mini-adults" and letting them have fun in athletics
The primary role of performance leads in a large sports club
Traits and skills that separate great high-performance directors from good ones
Why academic intelligence is essential to strength & conditioning professionals
The role of emotional intelligence and intuition in the performance lead role
The need to ensure that every individual in an organization has development plans
The value of showing authenticity as a leader
The factors that indicate the success of a performance lead
How high-performance directors and leads can get everyone in the same direction of growth
Why the setting of expectations in an organization is critical to its performance
The role of high-performance leaders and directors as educators
Cultivating psychological safety and how to work with reflectors and talkers
The most challenging part about being a performance lead or high-performance director
Why Grant thinks being a high-performance director can be lonely
Connect with Grant:
Make 2021 Your Best Year Yet!
Are you ready to take your health and fitness training to the next level and make 2021 your best year yet? The best way to achieve your fitness goals, improve your training techniques, and create healthier habits is by working with a coach.
At Robertson Training Systems, we want to help you feel great while getting stronger, improving your mindset, and achieving your fitness goals!
To do this, I want to invite you to join my Annual Training Group Program to maximize your performance and ensure you're making progress toward your goals.
The RTS Annual Training Program:
My Annual Training Group Program is more than just a training program!
In this program, we'll focus on the four phases of physical training, which include:
Building the Engine
Leaning Season
Athletic Domination
and getting Strong(er)
You'll also receive new monthly workouts to follow and set monthly challenges to develop strong habits in nutrition, recovery, and mindset.
To sign up for the Annual Training Program, visit: RobertsonTrainingSystems.com/Annual
Let's make 2021 your best fitness year yet!
Subscribe, Rate & Share!
Thanks for tuning into this week's episode of The Physical Preparation Podcast with Mike Robertson – your one-stop-shop for fitness trainers, coaches, and athletes.
If you enjoyed this episode, be sure to subscribe on Apple Podcasts, Stitcher, SoundCloud, Spotify, and Google Podcasts and leave your honest review. I'd also love to connect via Facebook, Twitter, and Instagram or visit our website.
And last but not least, please don't forget to share your favorite episodes with your friends on social media. Thank you!
Get 3 days of my best coaching materials — for free.
3 DAY COACH'S CAMP:
Write better programs
Learn how to motivate clients outside the gym
My most popular resets for instantly improving movement quality