I'm going to stray from my usual educational content for a week to give you a not-so-brief recap of my recent trip to Ljubljana, Slovenia for a seminar at the Vigor Move and Live training facility.
I've known Matej and Luka Hocevar for years now, and they are two guys I've really come to respect for their hard work and dedication in the fitness industry.
Matej approached me last year about coming out to speak, and at first I was a little skeptical about heading to Slovenia.
I didn't know how many people would show, overseas travel can be a pain in the arse, and I never like being away from my family for too long.
However, after a little convincing from Matej, I decided that this could be a pretty darn cool experience.
What follows is my recap from the past six days, with a bit of random knowledge and insight thrown in as well.
I hope you like it!
Wednesday and Thursday
I'm pretty sure no one is super interested in the intimate details of my travel, so I'll keep this part brief!
I took Wednesday morning off, and it was absolutely the right call as I got to hang with the kiddos for a couple extra hours before I had to leave.
These two little humans are so important to me, and there is nothing more fun than taking them to the park for some laughs before I set out on my journey.
My flights took me from Indianapolis, to DC, to Frankfurt, and then finally to Slovenia, encompassing a cool 13 hours of fun.
There was really nothing remarkable about any of this, but here are a few random notes:
On 8+ hour flights it's helpful when your seat reclines.
My insomnia on the plane did allow me to watch Deadpool. Not exactly what I expected, but pretty good nonetheless.
The security bros at the Frankfurt airport were NOT playing around. Fully automatic machine guns was not what I expected.
Matej and Luka picked me at the airport, and things officially got underway.
This also officially started what I will refer to from now on as my "See Food" diet for the week!
We had lunch with some of the guys from the Vigor Crew, and the lack of sleep started setting in. Whenever I travel overseas if I'm up and moving around, I'm fine.
But once you get that first shower and meal in you, and then you actually sit down and relax for a bit, well, it's all downhill from there.
This all came to a head when Matej had to stop into his office for a minute. Luka was actually talking to me while we waited in the car and I was falling asleep sitting straight up!
After lunch I went back to the room, took a 20-minute power nap, knocked out a few emails and then prepped to tour the city.
Matej and I had a nice dinner, and then I went home to get some much needed rest.
Needless to say, I can't remember the last time I went to be at 9:00 pm, but after 36-hours of almost no sleep, I needed it!
Friday
After passing out at 9:00 pm on Thursday, I would've bet cash money that I would sleep until 8 or 9 in the morning.
Needless to say, that did not happen!
I woke up at 4:30 in the morning, bright-eyed and bushy tailed.
I started the day with some reading, a bit of miscellaneous work, and then watched an episode of Daredevil until the rest of the world was up and cracking.
By that time, things were opening up and I headed to a coffee shop to just relax and unwind a bit.
One thing that I always love about going to new cities is the ability to just wander around and explore, and Slovenia proved great for that.
Next on my docket was a quick workout. And back in the day, I absolutely hated to train on the road.
First and foremost, it never really felt right not lifting at my home base.
But furthermore, it always felt like if I wasn't pushing some weight then I wasn't getting anything out of it!
As I've aged (matured?), I've come to realize that every training session doesn't have to be perfect – some of those "punch the clock workouts" are not just a filler, but sometimes, just what your body needs.
I met Matej for lunch/coffee, and then we headed to Vigor for our bonus Friday coaching session.
This is the first time I've done a bonus session like this, and I was pleasantly surprised that about half of the seminars attendees came early!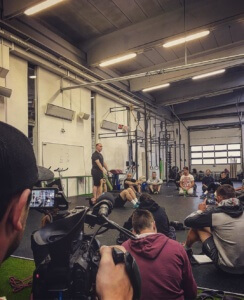 My only goal for this session was to cover some of the basics on breathing and core training, and then coach as many people as possible on the squat and deadlift.
As much as I love lecturing, the coaching days always take me to the next level. I'm pretty sure there's nothing I like more about my job than just being on the floor and helping people move better.
Three hours of this flew by, and then I got a break before dinner.
As always, Matej and Luka outdid themselves, as dinner Friday night was in a castle!
Yes, that's right, a castle.
And to add to the ambiance, we just so happened to meet up with Nate Green and his lady friend Richelle that night as well. They've literally been touring the world for about eight months now, so it was great to see them.
The five of us had an awesome time catching up and enjoying a great meal, but the real work was ahead….
Saturday
Saturday marked the first day of the course, and needless to say, I was excited to get down to work.
Matej, Luka and the Vigor Crew got over 60 coaches from Central and Eastern Europe to attend the course, with a broad mix of bootcamp instructors, personal trainers, and physical preparation coaches.
Whenever I do a two-day course, I like to keep the bulk of the lecture on the first day. I think this works best, as people are the most focused and able to "sit" on that first day.
If you try and go with 8-hours of lecture on Day 2, well, let's just the audience will probably struggle to stay engaged!
On this particular day, we covered the ins-and-outs of program design, much like I do in my Physical Preparation 101 DVD set.
If we really distill it down, everything we do as trainers and coaches is really a three step process:
We assess,
We create a program based of our assessment, and then
We coach.
When it comes to programming it gets really easy to either totally miss the big picture, and/or to get caught up in the nitty gritty details too early.
My goal is to give the attendees a step-by-step process to follow. Not only does it make things simpler, but more streamlined and efficient as well.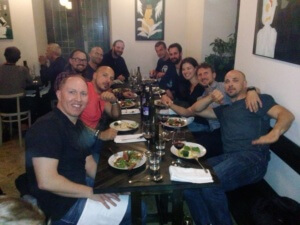 After the seminar Saturday, I got a little break (I finally finished Daredevil!!!), and then we headed out for dinner.
While the food was amazing every day, this night in particular was fun because we essentially got the entire Vigor Family out.
And in case I fail to mention this somewhere else, they are just an amazing group of people.
Warm, caring, and most importantly, genuine.
Now if only Ivan hadn't ordered that last bottle of wine, I probably would've slept a bit better that night…. 😉
Sunday
So Ivan and the infamous "Last Bottle of Wine" would've done me in in my younger years, as I surely would've wanted to stay out and enjoy myself a bit more.
But Sunday is go time, so I had to be ready!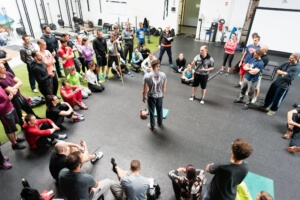 As I mentioned before, the second day is almost always a coaching/hands-on session. Not only do the attendees appreciate getting up and moving around a bit, but I find that they also love getting coached as well.
Because when you think about it, how often do we, as coaches, actually get coached?
If you're like most of us, probably not all that often!
(Shameless plug: If you want some coaching, you should probably check this out.)
In the interest of time we limited the day to five big categories of movement:
Breathing and core training,
Squatting variations,
Deadlifting variations,
Horizontal reaching and rowing, and
Vertical reaching and rowing.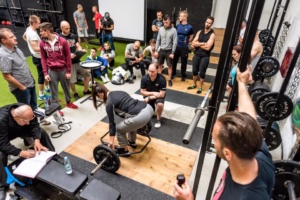 What's funny is that if you would've asked me five years ago about how I coached, I probably thought that I knew it all.
Or that if I didn't know it all, I was at least close.
And maybe I was okay back then, but I'm pretty darned proud of the fact that I continue to tweak, refine, and sharpen the saw when it comes to my coaching.
All in all, this was a really great day, and the feedback we received was really nice.
But most importantly, I find events like these are mostly up to the attendees, and I've been blessed along the way to be surrounded by coaches and trainers that are serious about getting better.
And needless to say, this event was no different.
I was privileged to work with a group of top-notch fitness pros, who were serious about taking their craft to the next level.
And as an educator, I simply can't ask for anything more.
Once we wrapped the seminar up Matej, Luka, Nate, Richelle and I hopped in a car and headed to a small town called Bovec in Slovenia. It was about a two hour drive, but it sported some of the most amazing landscapes you could ever imagine.
That night, we experienced what can only be described as one of the most amazing meals of all time (have I talked enough about the food yet?!?!?!).
But as the night wore down, I could definitely feel fatigue setting in, and we called it a night.
Monday
Much like Friday, my heart was telling me to sleep in but my mind was telling me otherwise.
Plus, when you're in this beautiful mountain village what are you going to do – just lay in bed all day like a bum?
I decided to take a quick walk to the local cafe and enjoy a beautiful cup of coffee. It was quite the sight, just sitting there and enjoying the cool, crisp air and the beautiful mountain view.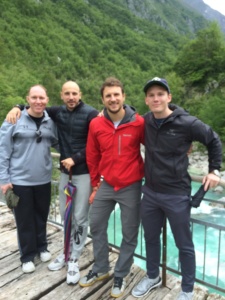 After a bite to eat, we headed down to the river for a hike. While Matej took a dip in the freezing river, Nate, Luka and I made up random games to play.
We saw who could skip the rock the most.
When we got bored with that, we took bigger rocks and threw them across the river, seeing who could hit the big rock across the way.
It might sound silly, but it took me back to my days as a kid growing up in the country. I didn't have video games, nor did I have kiddos my age to play with.
So I would literally come up with random games like this to play by myself.
I could go deeper with this, but it reminds me of what Rufus and I talked about in his podcast.
I'm not some old curmudgeon who will never let his kids enjoy technology. But at the same time, make the kids get outside, let them enjoy nature, and encourage them to make up their own games (free play!).
We then hiked for about 30 minutes and ended up in this little old village. As we were walking along, we find this rainbow basketball (that had air!) and a basketball hoop.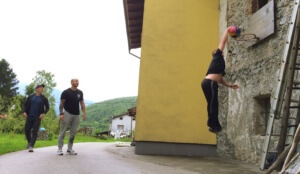 What ensued can only be described as a 30-and-over dunk contest. Luka and I both grew up playing basketball, so you knew we were going to throw down.
And I'll go to my grave saying that Nate Green had the dunk of the day. If you ever played basketball you know that throwing a good lob (an alley-oop pass) is harder than it looks.
But sometimes that worst lobs end up being the most ridiculous alley oops, because you make the guy "go get it."
Well, needless to say I threw a lob off the backboard that had a bit too much pace on it – effectively making Nate "go get it."
What ensued unarguably the nastiest dunk that little village basketball goal had ever seen!
Once we wrapped up our walk back, we then headed back towards Slovenia. But it gets better.
As you're winding through the mountains, you actually pass for a short time through Travisio, Italy.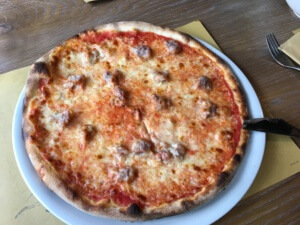 We stopped there for lunch, and I got my first official Italian pizza.
A-MAZ-ING.
The after-lunch coffee had little to no effect, and once we got back in the car I immediately crashed for a bit.
Once back in Slovenia, I toured the city for a bit and just wandered the streets. I was looking for gifts for the family, and really, just enjoying what was left of my time in this beautiful city.
We enjoyed one final meal together, and then I went back to the hotel and got prepped for the long trip home.
Summary
If you read all of this, either:
The story-telling was at least somewhat engaging, or
You're a glutton for punishment.
Regardless, let me summarize the trip by saying this (and hopefully not coming across as too preachy or annoying):
In life, people love to talk about how experiences and people are so much more important than the things you accumulate.
And while it's easy to quickly agree, it's also easy to forget this in the day-to-day hustle and bustle that is life.
This trip was an amazing experience for me in every possible way.
I got to work with some amazing fitness professionals, and hopefully help them get to the next level.
But perhaps even more importantly, I got to connect with some amazing people, and build relationships that I sincerely hope will last a lifetime.
So that officially wraps up the Great Slovenia Trip of 2016. I hope you enjoyed it!
All the best
MR
P.S. – Upon my return I will be removing all of the following from my diet in the short-term: Beer, red wine, pizza, tasty bread products, cured meats, Cafe Americanos, and cheese. Hold me to this people!!!
Get 3 days of my best coaching materials — for free.
3 DAY COACH'S CAMP:
Write better programs
Learn how to motivate clients outside the gym
My most popular resets for instantly improving movement quality