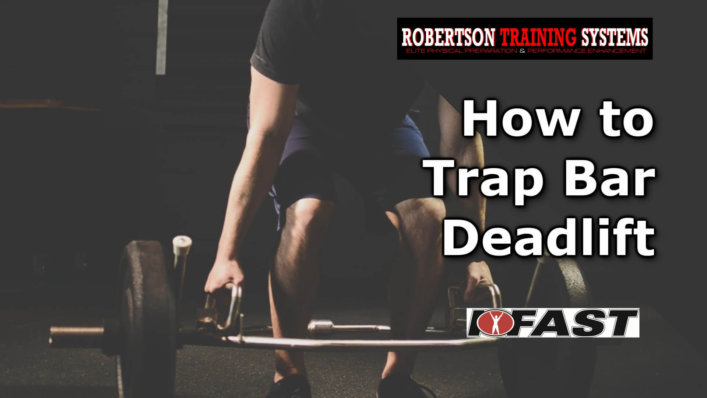 You asked, so I've delivered!
These days, the trap bar deadlift (TBDL) is my go-to deadlifting progression for both gen pop clients and athletes alike – and for good reason.
The trap bar is awesome for a few reasons:
The high handles reduce mobility needs, and makes setting-up easier. This combo helps you spare the spine and keep the lower back healthy.
Being inside the bar vs. having the bar in front further reduces potential for injury.
Last but not least, you can load it up fairly quickly and focus on getting STRONG!
Quite simply if you want an awesome deadlift variation that you can start using ASAP with your clients and athletes, be sure to check out this video!
Now that you've seen the video, here are a few quick notes (I'm going to write it as if I'm coaching you):
Get your ribcage stacked on your pelvis. This will often involve the cue "soft knees," but could also require you to move your pelvis forward or backward to get it into the appropriate position.
Reach long and shift your hips back. Even though this is a trap bar deadlift, we still want it to look and feel like a deadlift. Pushing the hips back allows you to actively load the glutes and hamstrings.
Feel the whole foot. I want balance throughout the rep, but especially at the beginning. Even though the hips are back, you still want the weight distributed evenly across the foot.
PUSH! Once you're locked into position, don't over think it. Look the spine in (imagine it's welded straight) and then PUSH using your legs and hips all the way to the top.
Give these cues a shot next time you're in the gym. I think it will really help you dial in your performance!
All the best,
MR
Get 3 days of my best coaching materials — for free.
3 DAY COACH'S CAMP:
Write better programs
Learn how to motivate clients outside the gym
My most popular resets for instantly improving movement quality