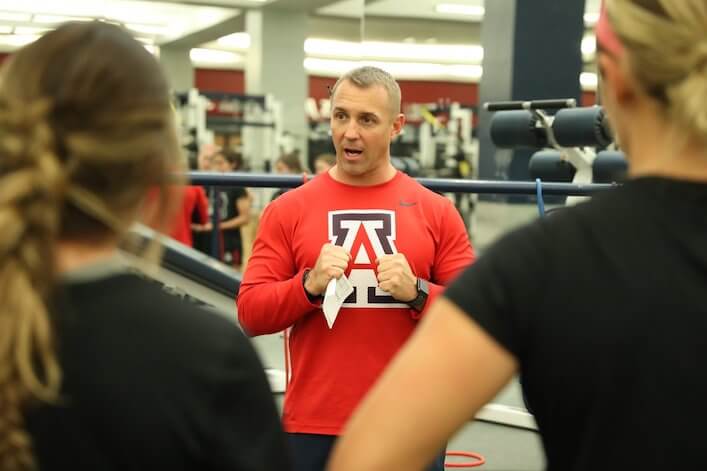 Jim Krumpos is in his third stint with the strength and conditioning staff at Arizona and currently serves as the Assistant Athletic Director for Performance Enhancement and Director of Olympic Sports. He works with the Wildcats baseball, volleyball, soccer and diving programs.
In this show, Jim and I talk about his dual role as a physical preparation coach and an athletic director, how he strives to develop leaders within his programs, and how to build the culture you want.
Jim is in a really unique position at Arizona, and I think you're going to take away a ton from this show.
Show Outline
Here's a brief overview of what we covered in this week's show:
MR's Monologue: The easiest thing you can do TODAY to be more impactful as a trainer or coach.
How Jim got his start in physical preparation.
His unique career path, and how he ended up in a dual role as a physical preparation coach and assistant athletics director.
The double-life he leads, and what a "typical" day looks like for Jim Krumpos.
How he's worked on and developed his personal growth skills as he's grown into a new role.
The leadership skills Jim feels are critical, and how he goes about instilling those in his young athletes.
Jim's thoughts on creating culture and community in the weight room.
The BIG Question.
Our always popular lightning round where we discuss his career highlight so far, the most impactful book he's read in the past year, a sidebar on our boy Sean Muldoon, and what's coming up next for Jim Krumpos!
Related Links
Connect with Jim on Social Media
Book Referenced
Want to Improve Your Coach Skills?
This May, I'm going to be hosting a small workshop focused on coaching the lower body lifts.
This isn't going to be one of those massive seminars where someone stands in front of a PowerPoint deck and lectures to you all day, though.
This event is going to be focused on coaching, cuing, and having a little fun in the process.
If you're interested in learning more, click here to get all the details about my Coaching the Lower Body Lifts workshop. Thanks!
Spread the Love!
Did you enjoy this episode?
Or maybe learn a thing or two from Jim and his unique position at Arizona?
If so, please take the time and share it with ONE PERSON who you think can benefit from it. Thank you!
Get 3 days of my best coaching materials — for free.
3 DAY COACH'S CAMP:
Write better programs
Learn how to motivate clients outside the gym
My most popular resets for instantly improving movement quality