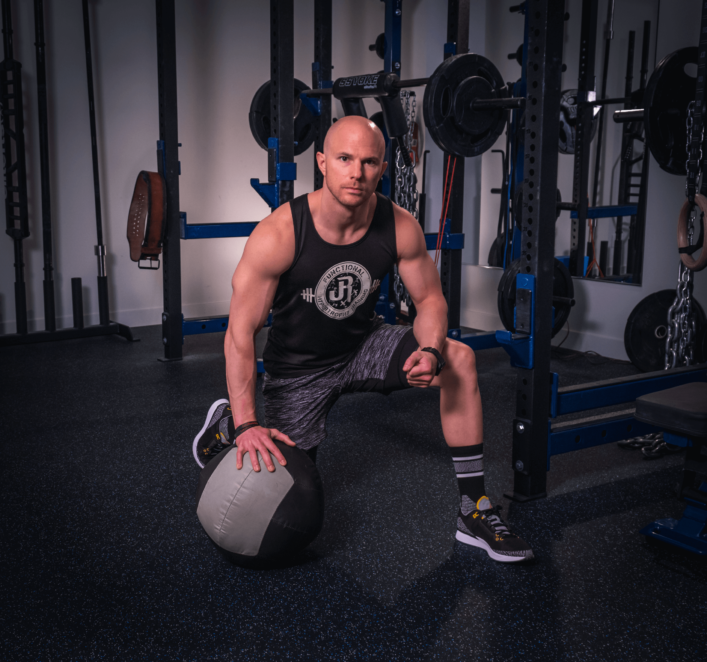 Dr. John Rusin is one of the fitness and sports performance industry's leading experts in the pain-free performance training model that blends the world of strength and conditioning with clinical movement based diagnostic treatment.
Dr. Rusin's present and past client list include MLB All-Stars, NFL All-Pros, Olympic Gold, Bronze and Silver Medalists, World-Record-Holding Powerlifters, Elite Bodybuilders and Figure Competitors, All-World IronMan Triathletes, and top professional athletes from eight of the major American professional sports leagues.
John is also the founder of the Pain-Free Performance Specialist Certification (PPSC) which has Certified over 2000 coaches in the last 3 years on 4 different continents.
In this show, John and I talk about how an elbow injury ended his baseball career but started his career as a coach, the most common injuries he sees and deals with, why a push-up is one of the single best exercises you can be doing, a staggering statistic on conventional deadlifts, and his thoughts on developing and expressing authentic movement patterns.
John is a super impressive guy – not only in his thought process but with regards to his workload – and I think you're really going to enjoy our chat.
Show Outline
Here's a brief overview of what we covered in this week's show:
Weekly Recap
Deep Thought: The Value of Forced Deadlines and Constraints

HS/College – 2 tests per semester – when did you REALLY study?
Practical – bringing together the content for this certification
How can you take this to your own training? Or that of your clients/athletes?

Interview with John Rusin

How a serious injury kick-started John's career in physical therapy and performance training.
His overarching philosophy, and how it's unique based on his background as a PT and strength coach.
Knee pain: Why we see it, and what to do about it.
Why the back is such a troublesome area, and how to sort it out once and for all.
The most underrated upper body exercise if you're dealing with shoulder issues.
Are there any exercises that Dr. Rusin really hates?
How he became the content creation machine, and how he built a business empire around his children's nap time.
The BIG Question.
A really fun lightning round where we talk about his favorite articles, his new product Functional Power Training, his favorite place to visit, and what's next for Dr. John Rusin.
Related Links
Dr. Rusin on Social Media
The Physical Preparation 101 Training System
Are you a fitness coach or trainer looking for ways to improve the results you deliver to your clients?
Want to create consistently better training programs and learn the exact exercises and strategies to improve your clients' and athletes' performance?
The Physical Preparation 101 Training System unlocks the secrets to optimizing performance and improving movement through my unique, cutting-edge training philosophy.
In this series, you'll learn:
The nuts and bolts of program design
The single-biggest issue you will see related to core exercises and breathing – and how to fix it!
How to train others to squat safely and effectively – in the first session
How to stop lower back pain in its tracks by using a specific deadlift progression
And much, much more!
You'll also receive sample programs and templates to help you build great programs with AMAZING results – consistently.
Are you ready to take your fitness training and coaching programs to the next level? Visit PhysicalPreparation101.com to learn more and get started NOW!
I Want Your Feedback!
What do you like about the show?
What do you hate?
What can I do to make you download every single episode, and share it with all of your friends in the industry?
Drop me a line at [email protected] and let me know. I'd love to hear from you!
Get 3 days of my best coaching materials — for free.
3 DAY COACH'S CAMP:
Write better programs
Learn how to motivate clients outside the gym
My most popular resets for instantly improving movement quality