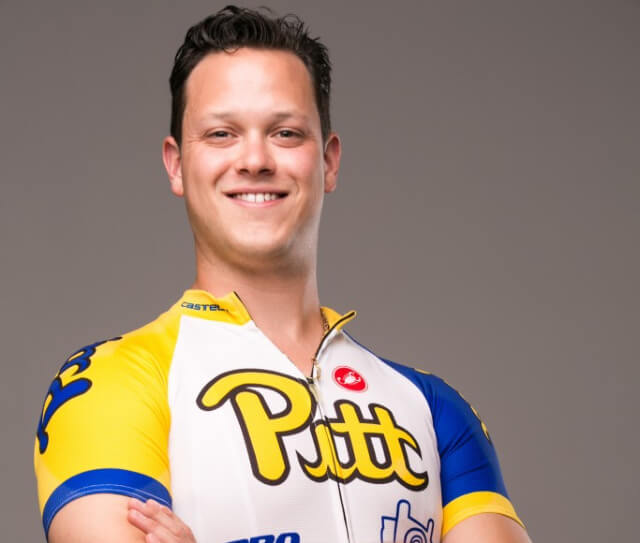 Involved in the health & fitness fields for nearly 25 years and coaching since 2000, Menachem Brodie's last 12 years have focused on strength training for cyclists & triathletes.
Over that time he has become the world leader on strength training for cyclists & triathletes, speaking & presenting internationally on the subject and having developed the worlds first Strength Training for Cyclists Certification course, which launches January 2020.
Brodie is a regular contributor to PEZ Cycling News, Training Peaks, and has appeared in many popular endurance sports magazines such as VeloNews, Global Cycling Network, Triathlete, Runner's World, Bicycling, SHAPE and more. Menachem is a strong proponent of raising the level of training for female athletes everywhere, by training according to their unique physiology & needs.
A huge nerd, when he's not coaching you can find him drinking french press coffee and reading a book or taking some con-ed course…tortoise shell nerd glasses and all.
This Week on the Physical Preparation Podcast:
How a college basketball player (and potential coach) got started in the world of competitive cycling.
The various disciplines in cycling, and what makes each of them unique.
How strength training 

should

 be incorporated into a complete training program.
The areas Menachem focuses on and works to "bulletproof" to keep his athletes healthy and on the bike.
How he fits strength and power development into an already jam-packed schedule.
Male vs. Female cyclists: Is there a difference between how you program for them?
The BIG question.
The ONE message he would get across to all cyclists if he could.
Resources Mentioned:
Strength Training for Cyclists Certification (Coming soon)
Connect with Menachem:
Want to Work Together in 2020?
Are you ready to take your health and fitness training to the next level and make 2020 your best year yet?
The best way to achieve your fitness goals, improve your training techniques, and create healthier habits is by working with a coach.
If you're interested in working together, I've got two options depending on how much customization you want in your program…
In my Private Online Coaching you'll work with me directly to design a training program that is specific to your unique needs and goals.
Every month you'll get an updated workout to make sure the program is challenging, and we'll communicate back and forth to make sure your technique is on point, and that you're making progress each and every month.
A second option would be my RTS Annual Training Group. In this program we go through four , 3-month phases of training:
Building the Engine,
Leaning Season,
Athletic Domination and
Strong(er).
But the cool part of this program is that it's more than just a training program.
Every month you'll not only get a new workout to follow, but we'll also monthly challenges where we develop habits with regards to nutrition, recovery and mindset, to help ensure that next year is your best ever.
If your'e interested in learning more, just click on the links above. And if you're not sure what option is best for you, just drop me an email at [email protected] and I'll do my best to point you in the right direction!
Subscribe, Rate & Share!
Thanks for tuning into this week's episode of The Physical Preparation Podcast – your one-stop-shop for fitness trainers, coaches, and athletes!
If you enjoyed this episode, be sure to subscribe on iTunes, Stitcher, and SoundCloud and leave your honest review.
And don't forget to Connect with us on Facebook, Twitter, and Instagram!
Get 3 days of my best coaching materials — for free.
3 DAY COACH'S CAMP:
Write better programs
Learn how to motivate clients outside the gym
My most popular resets for instantly improving movement quality