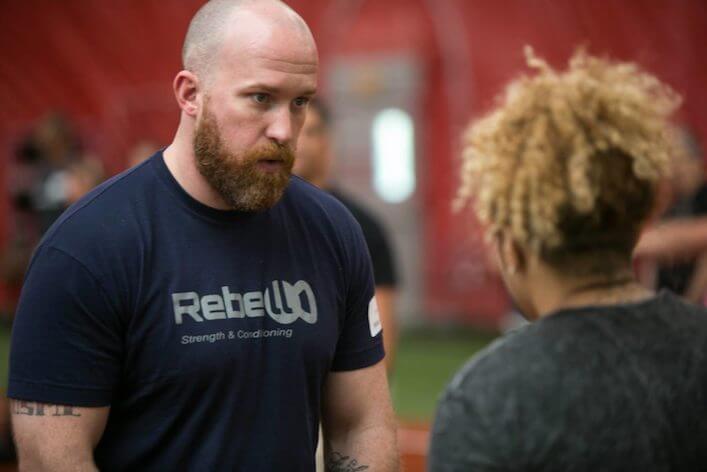 Mike Connelly is a Chicago native with a penchant for finding the brighter side of life.  Perhaps most importantly, his key to success thus far in life is to not take himself too seriously and just keep swinging.
Mike is the owner of Rebell Strength and Conditioning, a consultant for an NHL team and along with Chris Merritt and Todd Bumgardener, he's the third piece of the Strength Faction crew.
In this show, Mike and I talk about how he fell into the world of fitness, why he dubs Rebell as the anti-corporate gym, and what the struggles of training can teach you about life.
It takes us a few minutes to warm up here, but I promise, there's a ton of great information in this show.
Show Outline
Here's a brief overview of what we covered in this week's episode:
MR Monologue: Don't Be An *sshole
How working Saturday's to get guys in shape was the start of Mike's training career
Why he describes Rebell as the "Anti-Corporate" gym
His overarching philosophy, and why simple is so sexy to him
The clients he trains, and the struggles he deals with as a trainer and coach
The unique approach they take to their large group training sessions, and how he makes it work logistically
How Mike connects with his clients
What the struggles of training can teach us about life
The BIG Question
A fun lightning round where we talk about the Strength Faction crew, the books he's checking out right now (which is a GREAT answer), his greatest accomplishment as a coach, and what's next for Mike Connelly
Related Links
Connect with Mike
Books
Get 3 days of my best coaching materials — for free.
3 DAY COACH'S CAMP:
Write better programs
Learn how to motivate clients outside the gym
My most popular resets for instantly improving movement quality