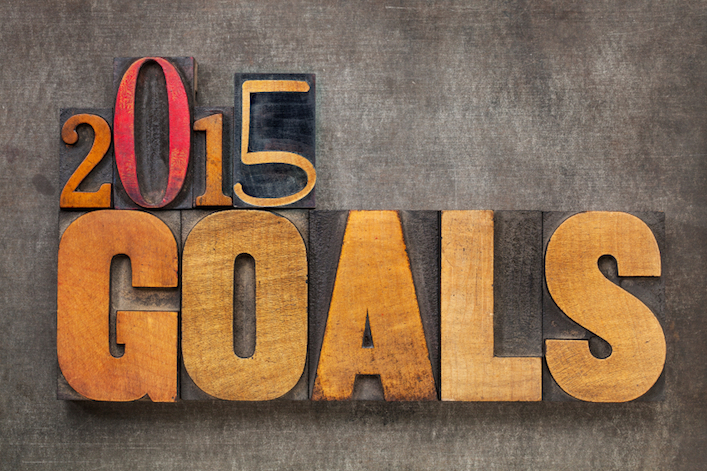 First and foremost, Happy New Year!
I hope you're ready to make 2015 your best year ever, because I know I am.
You should know right off the bat I'm not a big New Year's Resolution (NYR) guy. I think, by and large, they're pretty much worthless and rarely supported by actionable items.
But in my old age, I also realize that people could do worse than setting a NYR – after all, at least they're still dreaming about what they could be, or become, if they put their mind to it.
I much prefer setting goals, and then taking the next step by creating actionable items or mini-goals to help support the big goals.
And one of the best things you can do to help support yourself is to put your goals out there for people to hold you accountable for.
With that being said, I thought I'd take a big leap of faith and put a number of my goals out there for the world to see.
This isn't an extensive list, but I hope you'll find some value or insight into see a short list of my goals for 2015.
RTS Goals
Host Two Awesome Seminars
Even though I don't enjoy the travel aspect of seminars, I love working with coaches and trainers in a seminar environment.
I think full immersion is one of the best ways to really dial in and learn about a topic, so it's my goal this year to host two amazing seminars.
The first course is my Elite Athletic Development Seminar 2.0 with Joe Kenn, and then our 6th annual Midwest Performance Enhancement seminar.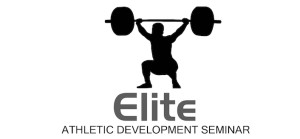 The seminar with Joe Kenn tends to be a bit more advanced, but the fun here is having extended periods of time to really dive in and learn about a specific topic. Instead of 45-50 minutes, each block of time for Coach Kenn and I is between 90 minutes and two hours, so we have a ton of time to flesh out our thoughts and dig deeper into why we do certain things.
Last year's course got rave reviews, and I fully expect this year to be even better.
The second course is our Midwest Performance Enhancement seminar, and it's definitely a different feel. In this case, we do a day of Round Robin speaking that features six or seven different presenters, and then an entire day learning the methodology of one awesome coach.
Believe it or not, I've already got my speakers pretty well lined up for this year's event, and I can tell you this much – it's going to be awesome!
Write an Athletic Development Book
I'm sure this sounds like a pretty big goal, but in my opinion, I don't think it will be too bad.
For a year or two now, I've had a rough draft/outline of this sitting on my computer, just waiting to be pulled together.
And I think now is finally the time to pull it off.
My goal is to get through the EADS 2.0 seminar first, and then write the book in April. If I use a proper outline and really focus on my writing, I should be able to have the content done in about a month.
And for the record, I'm doing this renegade style. I'll have one of my people proof it, create the art work, and the whole thing will be self-published.
I don't care if it sells one copy in a proper bookstore. My only goal is to help my thoughts on athletic development reach a broader audience.
Release my "Foundational Programming and Coaching" DVD Series
For at least the past two years, I've wanted to create a core product that every trainer could purchase to take their game to the next level
I wanted to create a product that I could've used early-on in my career. Something that covered how to write programs, how to coach various exercises, and that filled in a lot of knowledge gaps that people are left with.
Last year I recorded my Foundational Programming and Coach seminar while in Dublin, Ireland. It's in the process of being edited now, and I hope to release it sometime in April of this year.
Re-Develop the RTS Website
The RTS website is the hub for everything that I do.
And while I just got a very nice re-design a couple years back, I already feel that I've outgrown it.
For you, the seasoned RTS veteran, I don't know if a facelift will do a whole lot. Especially if you've been here a while, you already know your way around and know what I have to offer.
However, for new people who are interested in my thought process, there's going to be a very streamlined approach once they sign-up for the newsletter. I hope this will get new trainers and coaches acclimated and up-to-speed, so that everyone here is on the same page going forward.
Create Great Content on a Weekly Basis
As always, I want to continue to give back and create great content for you on a weekly basis.
The obvious way to do that is to keep writing. But in 2015, I'd like to do a bit more than that.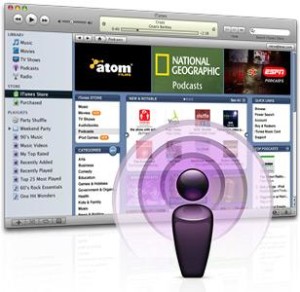 Firstly, I'd like to crank the podcast back up again. I'm not going to commit to any certain number of podcasts per month, but I definitely enjoyed this aspect of content creation in the past. There are a number of great coaches on my list that I want to interview, and I'd love to get my first one back up in early February.
Second, I'd like to start sending out two newsletters per week. The first will announce my "keystone" content for the week, and the second be a digest format with announcements, exercise of the week info, etc.
So as you can see, I've got some cool stuff lined up for RTS. Now let's talk about IFAST.
IFAST Goals

Make Client Retention our #1 Focus
At our staff meeting the other day, I gave my staff a simple goal:
Whatever you see a big-box, commercial gym doing, just assume we are going to do the opposite.
For instance most box gyms love to brag about how many members they have. At IFAST, that's the furthest thing from our mind.
Would we like to grow and get more members? Sure.
But our primary focus will always be on serving our current members to the best of our ability.
There are a handful of ways we're going to do this, and I won't detail all of them here. Suffice it say that we're going to continue to invest more in our current clients (versus bringing in new ones), as our goal is always to keep our clients at IFAST for a lifetime.
Launch our Youth Athletic Development Program
Last Tuesday, Young Lance hosted IFAST's first youth athletic development class.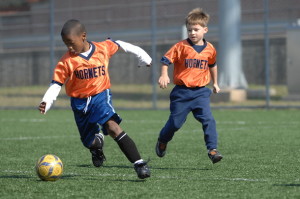 This is something I've wanted to launch for years now. Young kids (younger than 14 at least), typically don't do well in a semi-private environment.
It's too structured, and they need more time and attention from a coach that a semi-private model provides.
In this case, we'll take 8-10 kiddos and give them what they should be getting in PE class.
They're going to work on basic movement skills like running, skipping, jumping and tumbling.
We'll work on balance and coordination.
And of course, we'll throw in athletic skills as well, such as kicking a soccer ball or throwing a football.
The goal here is to expose these kids to a wide range of sports and activities, and essentially, work as a piece of their long term athletic development program.
Done well, we'll be creating happier, healthier children – something that's hugely important to me.
Grow our Elite Athletic Development Program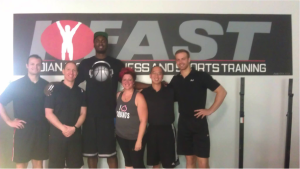 Over the past 4-5 years, I've transitioned myself away from general training and focused primarily on the elite athletes that we train at IFAST.
And I'd like to think we've been pretty darn successful. In the past two years we've trained professional athletes from virtually every major sport, and each year we've gotten better and better results.
However, we've done a lot of this via word of mouth, with no real marketing on our part.
This will change in 2015.
I never want to be one of these people that writes and waxes philosophical about training, but then never actually coaches anybody.
In fact, I often find that some of my best writing, speaking, and training insights come directly as a result of training my athletes.
So this year I'm going to make a very concerted effort to get more pros in our doors, and I'm excited to see what we can going forward.
Improve my Management Skills
Last but not least with regards to IFAST, I want to become a better manager for my staff.
If you've ever read the book The E-Myth, Michael Gerber talks about the three roles you assume whenever you own a business:
The entrepreneur – the person that has the vision for the business.
The manager – the person who oversees employees, markets the business, does the financial side, etc.
The technician – the person who does the technical aspect of your business (in our case, training clients).
As you can imagine, when you start your own business, you take on all three roles. And trust me, this isn't easy!
I love the entrepreneurial side of our business. I love brainstorming and thinking about what we can do to make IFAST the best possible gym.
And of course, I love the technical side of training, too. After all, training and coaching athletes is what originally drew me to this field, so I don't imagine that will ever change.
So the third piece of that puzzle is where I struggle. While I don't mind leading, managing doesn't necessarily come naturally to me.
In fact, I really have to work at it.
However, in 2015 that will change. I'm reading more management books, and I'm going to make a concerted effort to guide, direct and when necessary, push my staff to help ensure we make 2015 their best year ever.
With both businesses covered, allow me to look inward for a moment and finish by sharing some of my personal goals with you.
MR Personal Goals
Re-Commit to Training
The last year has been a bit on the lackluster side with regards to my own training.
It really started back in the late summer of 2013. RTS was growing, my elite client base at IFAST was growing, and all in all, business was booming.
The only downside was it started to really cut into my training time.
My focus in 2015 with regards to my training has a couple big focuses, and it's a step-by-step process.
Step #1A – Improve Movement Quality
This first one definitely isn't exciting, but it's something I always come back to and address on a yearly basis.
I feel like spending a block or two on movement quality not only keeps me moving and feeling good, but also lays the foundation for the rest of the training year.
Step #1B – Improve Conditioning
Along those same lines, I'm making it a goal this year to improve my conditioning as well.
Now look – no one is going to confuse me for an endurance athlete. I'm not a fan of running (too much cross country growing up), and I just enjoy the strength/power end of the spectrum too much.
That doesn't mean I can't have some modicum of conditioning, though. Especially when my daughter is going at approximately 100 mph all day every day, if I'm not in shape, I'm going to get dominated the rest of my adult life!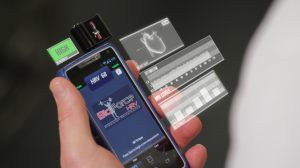 A by-product of that is I'd like to improve my HRV score. I love using the BioForce HRV, as it's quick, easy and keeps me accountable.
My goal is to get to an HRV in the mid-to-low 80's. Again, no one is going to confuse me with a runner, cyclist or swimmer, but some foundational conditioning will help me in a lot of different ways.
Step #2 – Develop strength with athleticism
The second piece of this is finding new ways to challenge myself. Growing up, I played sports all through middle and high school.
And in college, I took that love of sports and participated in any and every intramural sport Ball State had to offer (yes, even wallyball).
From there, powerlifting was a natural progression. I got to merge my love of competition with my love for strength training, and the rest, as they say, is history.
My love for lifting hasn't changed, but I do want to broaden my scope and focus a bit.
This year, I'd like to challenge myself by learning the Olympic lifts, and also improving my speed and athleticism.
I'm also a big believer in finding a coach to help you on your journey, so I'm going to solicit two very smart guys to help me out here: Grant "Rufus" Gardis for the O-lifts, and Ty Terrell to help me with my speed training.
Both of these guys are tireless workers at IFAST, so hopefully they don't mind me bothering them for some coaching!
The side benefit here is that if I can improve my own performance in these areas, it's going to make me a better coach as a result.
The bottom line is I've always enjoyed training, but now it's time to find some new challenges to keep it fresh and fun going forward.
Enjoy More Down Time
Between two businesses, a wife and kiddos, it's not always easy to unplug and just relax.
However, I know that when I'm committed to this kind of stuff, I'm not only chilled out and more relaxed, but I simply enjoy life a lot more, too.
As I noted last year, I began taking guitar lessons because I wanted to get back into playing music (I actually played piano for ~8 years growing up). The guitar always sounded fun to me, so my wife bought me a few lessons.
Unfortunately my first coach and I just weren't a good fit. However, I'm back into it and I've got a guy I really like working with, so this is something I'm excited about for 2015.
And while it's not necessarily "uplugging," one thing that really gets my mind off work is great TV shows and/or movies.
Growing up, I used to love just laying around on a Saturday or Sunday and watching old movie re-runs. But as those of you with kids know, that's just not in the cards these days!
Even if I just get to watch an episode of one good TV show like House of Cards or Homeland, and maybe a movie on the weekend, I'll definitely be happy.
Continue to Make Family a Focus
If you've read anything I've posted since 2011 when we had Kendall, you know that family is always a huge focus for me.
And honestly, that hasn't changed one iota since then. If anything, I'm even more dedicated now then I was then, especially when we added Kade to the mix.
Beyond traveling less and making a concerted effort to get home at a good time from work, I've also been shutting my phone off when I get home from work.
The goal here isn't just to have time – but rather, to have more quality time where I'm totally dialed in and engaged.
Shutting my phone off until 7:30 or 8 pm when we get the kids in bed allows me to shut the rest of the world out for a bit, and just focus on and enjoy my family.
Summary
While this post may seem quite long, I can assure you it's only scratching the surface of all my goals.
I wanted to give you a bit of "Inside Baseball," without totally boring you to death along the way!
So now it's your turn – would you be willing to share any of your goals for 2015?
And along those same lines, is there anything I can do to help you get there?
If so, please leave a comment below. I'd love to hear from you!
All the best
Mike