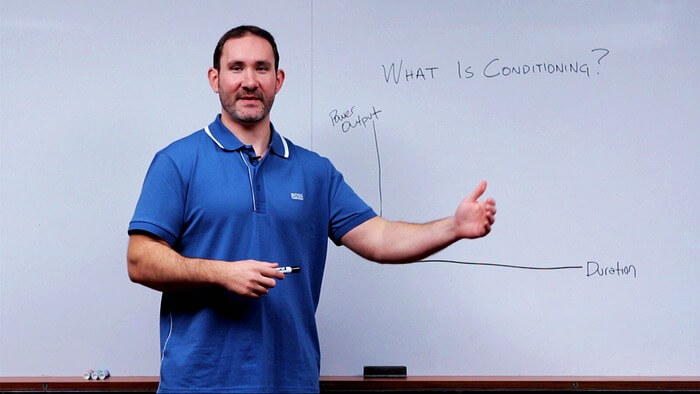 Joel Jamieson and I have been good friends for years, and he's always someone that I enjoy chatting with. While we've done a few podcasts in the past, I really wanted to get him on and dig deep into his current thoughts on conditioning.
In this show, Joel and I talk about how to apply specific conditioning methods like aerobic plyometrics and cardiac power, as well as the biggest changes he's made to his conditioning programs.
I think this show feels more like a personal conversation than an interview, and there's about 15-20 minutes in the middle that I feel are pure gold.
Show Outline
Here's a brief overview of what we covered in this week's show:
What is harder to fly – helicopters or planes?
How getting his ass kicked help him get serious about conditioning.
The struggles of writing your first conditioning program.
The biggest mistake Joel has made when it comes to writing conditioning programs.
Cardiac power – what it is, what it does, and how to train it.
How aerobic plyometrics can improve not only elasticity but lower extremity resilience as well.
The biggest change he's made to his conditioning programs in the last year.
Joel shares his thoughts on what the next big step is with regards to conditioning programs.
A modified BIG question.
And we wrap up with our lightning round where we talk more about helicopters, books, and his new Certified Conditioning Coach course.
Related Links
How to Connect
Books
Other Links
Get 3 days of my best coaching materials — for free.
3 DAY COACH'S CAMP:
Write better programs
Learn how to motivate clients outside the gym
My most popular resets for instantly improving movement quality