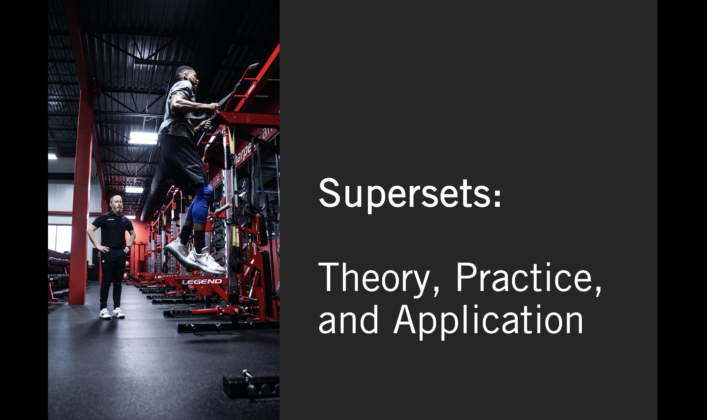 Hey friend!
In case you missed it, today I wanted to share with you a presentation I've recently created on the topic of supersets.
You could've found this in one of two places:
If you were on the Insider's List for my most recent Complete Coach Certification, or
If you were on the Coaches vs. COVID Zoom call a few weeks back.
Now if you have missed it in either of those two places, not to fear!
You can find the full presentation (plus a few others) via the link below.
And if you don't want to watch all of the presentations, feel free to skip to the 2:00:00 mark where mine starts.
I really think there's some great stuff in there, and definitely a few new ways to think about incorporating supersets into your programs.
Enjoy!
All the best,
MR
P.S. – I realize times might be tough right now, but if you're still committed to making 2020 your best year EVER, here's a couple ways you can do that….
1 – The Complete Coach Certification. My Complete Coach Certification is a sure-fire way to level up as a trainer or coach. I'll be opening the doors again in September, and if you get on the Insider's List, you'll have the opportunity to save $200 when we open back up!
2 – Private Mentorship. If you'd like to really level-up your skills as a trainer or coach, consider my private mentorship option.
Here we can take a deep dive into where you're really at, identify the roadblocks and obstacles, and help you take your career to the next level! If you're interested, just shoot me an email with the words "Private Mentorship"
3 – Private Online Coaching. As a coach, you know how powerful it is to have someone holding you accountable to your goals.
But who is holding YOU accountable?
If you're stuck in a rut, or not seeing the success you'd like in your workouts, simply email me with the words "Online Coaching" and let's see if we can work together to make 2020 your best year ever!
Get 3 days of my best coaching materials — for free.
3 DAY COACH'S CAMP:
Write better programs
Learn how to motivate clients outside the gym
My most popular resets for instantly improving movement quality