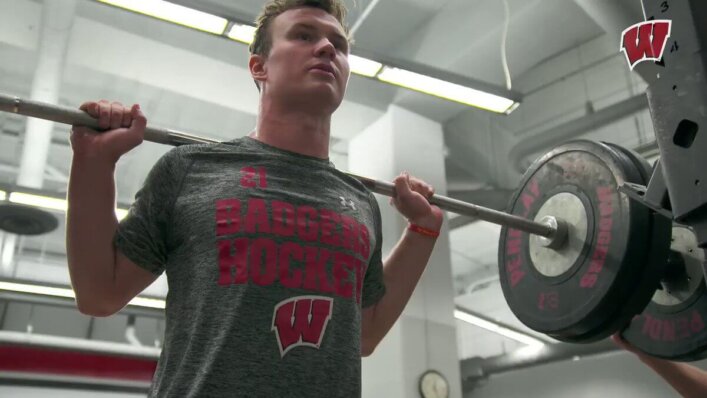 Note from MR: Today's guest post is from my guy Mike Potenza. Mike is a guy I have a ton of respect for, and has had success at the highest levels of hockey for years now.
If you enjoy the article, I would highly recommend checking out his new product, Optimizing Adaptation and & Performance, which he co-authored with James Lavalle and Kevin Neeld as well.
It's an awesome product, and this week only you can get it at a sweet discount.
But enough from me – here's Mike…
---
Before working in the NHL, I was fortunate enough to work with men's and women's collegiate hockey players at the University of Wisconsin.
During my time in collegiate athletics, one of my main responsibilities was the design and implementation of the off-season program that ran from late second semester to September.  This was not only a very important time period for physical development, but it also made up half of my yearly training model.
I enjoyed the planning and time commitment the off-season demanded, but I always had difficulty transitioning into the season, where we reduced our training days to two per week.
 I was always worried we were not doing enough, and I guess it was the strength coach side of me that wanted to be in the gym five days per week.
I did however come to enjoy the in-season training model in college hockey because I learned to apply short, intense bouts of exercise to the athlete's as we prepared for a two-game weekend series.
The "safety blanket" of weekly preparation for a two-game series in college hockey would soon be yanked away from me in exchange for the chaotic, random and game-packed schedule of professional hockey in the NHL.
When I began the next step of my career in San Jose with the Sharks, I found out quickly that I had to put the same premium on my NHL in-season model as I did with my off-season training model.
I could spend upwards of 8-9 months with the NHL athletes during the competitive season, which is a significant amount of time to make changes, despite the schedule challenges.
I was driven to make an impact and take on the new challenge of creating and providing the most productive in-season training model I could.
To achieve this, I felt I had to prescribe much more than the "maintenance" strategy of 3×8 or 3×10.  I had to become very effective at:
Teaching the players how to recover
Monitoring workload both off-ice and on-ice
Prescribing speed, power and strength themes to our daily training
Getting the players to understand how we can combine off- and on-ice training strategies in an effort to improve the deficient areas of their physical performance (speed, strength during puck battles, anaerobic endurance, efficient cardiovascular recovery, etc.).
The important take-away is to understand that the impact of in-season training goes far beyond the goal of maintenance.
"Maintenance" sounds like a simple, mindless activity that does not need a lot of focus nor attention.
 If you are passionate about your off-season planning and performance model, then you should be equally passionate about your in-season plan. 
It is critical that you preserve the physical qualities that your athletes worked so hard to gain during the off-season.
There needs to be periods of varying intensity and volume during your in-season program to avoid monotony, which is a synonym for "maintenance" in this scenario.
A good friend who is a Head Strength Coach in the NFL said one of the best quotes regarding in-season training, "Keep it present."  To me, that entails a commitment to training, sometimes near max with lower volumes and for shorter periods of time (1-2 weeks per month) to keep maximum strength and power qualities high.
"Keeping it present" means we will never let our off-season commitment and training identity stray from our training DNA.
Keep in mind, when it comes to volume, high amounts are risky during the in-season as they can create large amounts of fatigue and muscle soreness.
This level of fatigue and soreness can take multiple days to recover from, especially if you deal with a lot of travel and a high concentration of games on a weekly basis in your team setting. With our schedule, prolonged recovery times is a luxury we simply can't afford.
To wrap things up, here are my three key ingredients to a successful in-season program:
We all can find reasons why there isn't enough time to train because of a condensed game schedule, the need for more practice time, travel, etc… Make it a point to prescribe short bouts of higher training intensity at a low volume in your program using multi-joint/multi-planar movements for optimal functionality. Be sure that the in-season training phases highlight qualities vital to optimal performance and development within your sport.
Understand the duration and retention for each physical strength quality that make up the phases of your program. Vladimir Issurin has a great chart called "Residual Training Effects for Different Motor Abilities" that gives a detailed description of strength abilities and the rate at which an athlete loses the quality should it go untrained.  This chart acts as a reference for me when I plan our monthly training schedule to make sure we do not exceed Issurin's recommended durations for the residual training qualities.

Have a system of embedded benchmarking and record-keeping for your in-season training process so you can track your programs effectiveness and your athletes' physical retention of their pre-season test scores. One of my best tools for communication with our coaches and management is a monthly report that highlights each athlete's strength and power scores.  We look at the rate of change in the players' scores during the season versus their training camp scores and our historical team average.  As a performance professional, you constantly need to analyze your program's effectiveness and evaluate your players' progression or regression.
Mike Potenza M.Ed., CSCS, TSAC-F
Director of Strength and Conditioning
San Jose Sharks Hockey Team
Get 3 days of my best coaching materials — for free.
3 DAY COACH'S CAMP:
Write better programs
Learn how to motivate clients outside the gym
My most popular resets for instantly improving movement quality