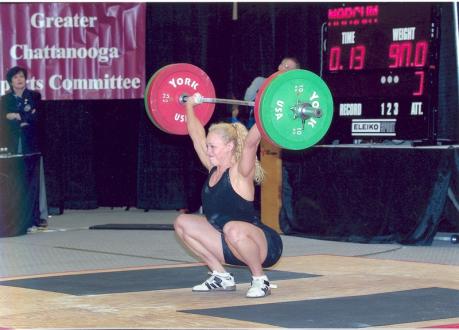 In a recent interview with Leigh Peele, she asked me what tests we use in our assessments at I-FAST.  Obviously, we use quite a few – but if you only had two tests, what would they be?
That's a tough question to answer, but the two tests I came up with are the overhead squat and the push-up.  Here's why.
The overhead squat gives you a ton of information on lower extremity functon and health.  You can examine someone's ankle, hip and T-spine mobility, lumbar spine stability, if they are quad dominant, where their stiffness lies, and a host of other things.  Quite simply, with one test you get a ton of feedback that can improve your programming for any client.
The push-up is a great test as well.  You can determine certain core imbalances, how stable their scapulae is, and get a basic idea of their strength and endurance levels to boot.
In an ideal world, you have more time to assess a client and you don't have to rely on the results of two tests, but the overhead squat and push-up will give you a lot of great feedback.
If you want to learn how to develop your own testing and assessment protocols, check out Bill Hartman's presentation in the Indy Seminar Series DVD's.  If you want something a little bit more straight-forward, check out Eric Cressey and my presentations in the Building the Efficient Athlete DVD series.
So now I pass the question on to you – if you could only use two tests in your assessment, what would they be?  And why?
Stay strong
MR