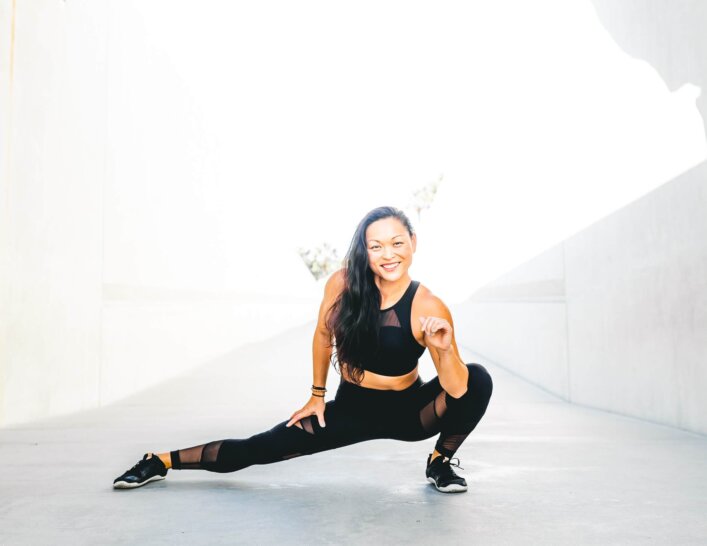 Venus Lau is a certified trainer specializing in movement & flow since 2007 and located in Los Angeles.
She has coached professional athletes, other coaches & movement professionals, celebrities, physical rehabilitation, kids, elderly, your average Jill & Joe, and everything in between.
Venus has created several online fitness programs— and just launched her own VenusFit subscription app for accessibility to more students globally.
She's able to meet her clients where they're at, and her unique approach combines both holistic and scientific elements while giving permission for the mover to explore beyond the rules.
In this show, Venus starts by sharing her personal story of losing her parents at an early-age influenced her thoughts on training, what it means to train like a human, what a "Flow" is, and why we should be focusing more on how we function, versus simply how we look.
Venus is an amazing human and someone with a truly fresh outlook on training, so I really hope you'll enjoy this show!
This week on the Physical Preparation Podcast:
Venus' back story and career as a collegiate athlete.
How the death of her parents impacted her viewpoints on health and fitness.
Her training philosophy, and why movement is such a foundational aspect of her coaching.
Flows: What the heck are they? And how can you incorporate them into your workouts?
Why Venus uses so many different tools and training modalities in her workouts.
Why we should focus more on body FUNCTION versus body SHAPE.
The value of keeping an open-minded approach to training and coaching.
The BIG Question.
Connect with Venus:
Want to Work Together in 2020?
Are you ready to take your health and fitness training to the next level and make 2020 your best year yet?
The best way to achieve your fitness goals, improve your training techniques, and create healthier habits is by working with a coach.
If you're interested in working together, I've got two options depending on how much customization you want in your program…
In my Private Online Coaching you'll work with me directly to design a training program that is specific to your unique needs and goals.
Every month you'll get an updated workout to make sure the program is challenging, and we'll communicate back and forth to make sure your technique is on point, and that you're making progress each and every month.
A second option would be my RTS Annual Training Group. In this program we go through four , 3-month phases of training:
Building the Engine,
Leaning Season,
Athletic Domination and
Strong(er).
But the cool part of this program is that it's more than just a training program.
Every month you'll not only get a new workout to follow, but we'll also monthly challenges where we develop habits with regards to nutrition, recovery and mindset, to help ensure that next year is your best ever.
If your'e interested in learning more, just click on the links above. And if you're not sure what option is best for you, just drop me an email at [email protected] and I'll do my best to point you in the right direction!
Subscribe, Rate & Share!
Thanks for tuning into this week's episode of The Physical Preparation Podcast – your one-stop-shop for fitness trainers, coaches, and athletes!
If you enjoyed this episode, be sure to subscribe on iTunes, Stitcher, and SoundCloud and leave your honest review.
And don't forget to Connect with us on Facebook, Twitter, and Instagram!
Get 3 days of my best coaching materials — for free.
3 DAY COACH'S CAMP:
Write better programs
Learn how to motivate clients outside the gym
My most popular resets for instantly improving movement quality