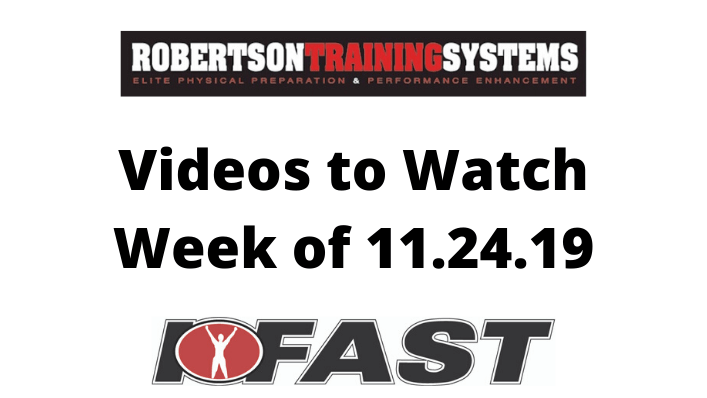 So I'm trying a new thing this week, and you'll have to let me know what you think.
Bill and I are both creating a ton of video content these days, so each week I'm going to post a recap of all the cool stuff we've shot from the week before.
So without any further ado, here we go!
Thoughts on Exercise Selection
When you're writing a program, are you conscious of the "boxes" each exercise checks?
Do you need 20 exercises to write a complete program?
This short video describes why you need to think like a sniper when writing a manageable – yet complete – training program
Are You Speaking THEIR Language?
Are you communicating effectively with your clients and athletes?
Or talking over their heads and making them more confused?
What Deadlift Variation is Best?
Almost every day I get a question about deadlifting, and today I want to answer one of the most common:
What deadlift variation is BEST?
A Better Way to Measure Shoulder Flexion
If you do manual/hands-on shoulder testing with your clients/athletes, this is a MUST WATCH video to see how you can better assess shoulder flexion!
How to Measure the Infrasternal Angle
Keeping with the "assessment" theme, this video is all about the infrasternal angle.
Lots of people are talking about it, but I'm not sure most are assessing it effectively – if at all. Check it out!
How to Introduce Rolling
I've just got to say, I really liked this video!
Rolling may seem basic, but it's something that we've been incorporating into our warm-ups and routines at IFAST for a few years now.
This video will not only describe what you're addressing when you work on rolling, but how to integrate breathing techniques to get even more out of these awesome progressions!
Summary
Okay my friend, that does it for this week. If you have any questions or specific content you'd like to see from Bill or I, just leave a comment below.
Thanks!
MR
Get 3 days of my best coaching materials — for free.
3 DAY COACH'S CAMP:
Write better programs
Learn how to motivate clients outside the gym
My most popular resets for instantly improving movement quality