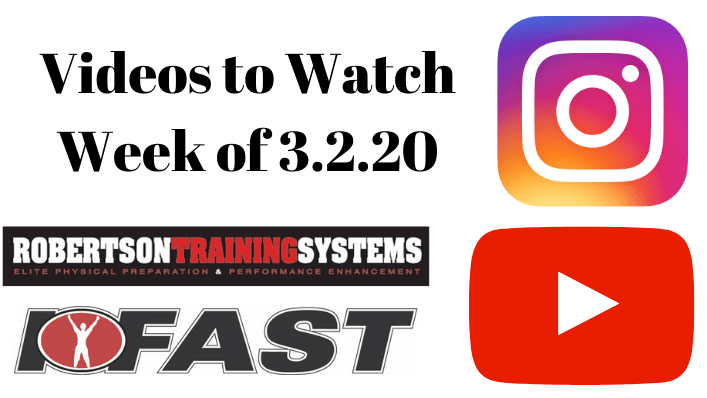 Okay my friend sorry for the delay in posting these, but it's been a busy couple of weeks.
And on top of that, I caught some sort of bug which has knocked me out for the past 2.5 days – so I'm just excited to be back in the land of the living!
So without any further ado, here are a few new videos to start your week off right…
3 Ways to Plan a Deload Week
After my video a while back on the differences between deload and intro weeks, I got a lot of feedback about creating a video purely on deloads as well.
And you know me – I'm a man of the people. So here it is – enjoy!
Stacking M's In Your Training Bank Account
Next up, this is a video that could be good for you – or the clients and athletes you work with.
Quite simply, too often we focus solely on the training.
What we do IN the gym.
But we fail to realize how critical the stuff we do OUTSIDE of the gym is on our performance as well.
So in this video, I breakdown how to think of your body as a bank account – and the ways you can increase your deposits, and reduce your withdrawals.
I sincerely hope these videos help you out. Thanks for watching and have a GREAT day!
All the best,
MR
P.S. – Whenever you're ready to work together, here's a couple of ways we can do just that!
1 – Private Mentorship. If you'd like to really level-up your skills as a trainer or coach, consider my private mentorship option.
Here we can take a deep dive into where you're really at, identify the roadblocks and obstacles, and help you take your career to the next level! If you're interested, just shoot me an email with the words "Private Mentorship"
2 – Private Online Coaching. As a coach, you know how powerful it is to have someone holding you accountable to your goals.
But who is holding YOU accountable?
If you're stuck in a rut, or not seeing the success you'd like in your workouts, simply email me with the words "Online Coaching" and let's see if we can work together to make 2020 your best year ever!
Get 3 days of my best coaching materials — for free.
3 DAY COACH'S CAMP:
Write better programs
Learn how to motivate clients outside the gym
My most popular resets for instantly improving movement quality