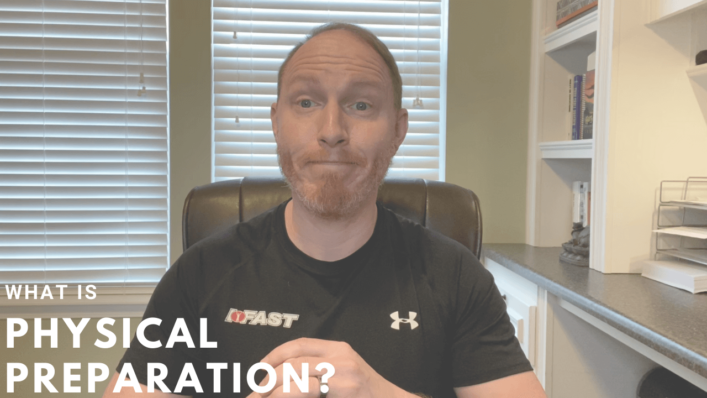 What's happening my friend…anything new? 😉
Of course, things are a little crazier across the world than usual.
But with all that craziness, I've chosen to focus on the things that I have some control over.
Former Indianapolis Colts head coach Chuck Pagano used to say. "Control the Controllables" – and while it sounds a little sily, it's definitely something I buy into!
So for the next 30 days, I'm going to create and post content across all of my social platforms – Instagram, YouTube and Facebook.
This way, regardless of which platform you prefer, you'll have one piece of content every day that will make you a better trainer or coach.
So let's go ahead and look at a few things I've posted over the past week!
What is Physical Preparation?
One thing that I'll be focusing on in the coming weeks are Q&A's that have piled up over the last couple of weeks.
This first video answers a simple – but very important – question:
What is physical preparation? And how is it different from strength and conditioning?
Band-Assisted Single-Leg Squat
Next, I've got a training video that might help you out…
I don't know about you, but I really struggle with squatting in general.
So that's why when you put me in a single-leg stance and ask me to try it, the performance borders on horrific!
However, I know this is something I want to work on and improve in the future, so this set-up made a big difference for me.
By simply adding in the band assistance out of the bottom, I kill a few birds with one stone:
I improve my ability to reach,
I give myself some external feedback and support, and
I give myself a boost out of the bottom where I'm naturally weakest.
If you want to single-leg squat but struggle with the pattern, definitely give this one a shot!
Reverse Crunch to Press Out
Last but not least, you KNOW I love core training exercises…but sometimes the standard variations can get a little easy.
Take the reverse crunch for instance: It's an awesome exercise, but once you do it for a little while you need something with a bit more "spice."
While there are lots of ways to progress it, here's one of my favorites – take the standard reverse crunch and add a press out at the end.
Summary
There you have it my friend!
Whether it's better understanding what physical prep is, improving your single-leg squats or making reverse crunches more difficult, I hope you got something out of these videos.
Thanks for your support and have a great day!
All the best,
MR
Get 3 days of my best coaching materials — for free.
3 DAY COACH'S CAMP:
Write better programs
Learn how to motivate clients outside the gym
My most popular resets for instantly improving movement quality