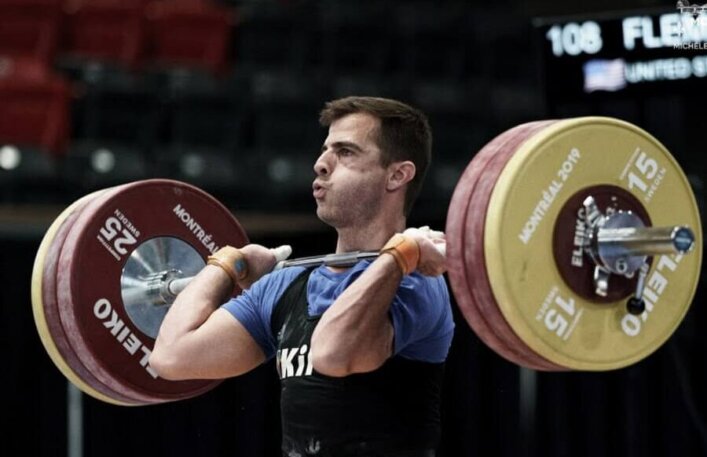 Running Force Fitness and Performance was great, but Olympic weightlifter and sports performance coach Wil Fleming wanted to focus on his true passion…
…coaching.
After 10 years of owning and operating Force, Wil decided to sell the business in 2018 and founded 1Kilo Weightlifting.
At 1Kilo, Wil specializes in coaching Olympic weightlifting for athletes both online and in person.
In addition to his work as a coach, Wil is a sought-after speaker and the author of numerous books for athletes, including the Complete Weightlifting Handbook and Velocity-Based Training For Weightlifting.
Wil joins me today to discuss velocity-based training and how he's using it with weightlifters.
He explains how he uses VBT as a readiness tool and how it impacts his decision-making and training.
He describes how he utilizes VBT to plan and manage his monthly training cycles, instead of using the more obsolete percentage-based approach.
And last but not least, Wil also shares what exercise he finds most effective for power development, and reveals what Olympic derivatives he'd give to field and court athletes to maximize theirs.
If you're a strength and conditioning coach, you'd want to touch that peak power zone. Olympic lifts are a direct route to that. – Wil Fleming
This week on the Physical Preparation Podcast:
The evolution of Wil's businesses and how he took his coaching online
Why he sold his business and went on to become a solo entrepreneur
Wil's current business model and the importance of establishing the "why" of your business
The value of niching down a business
Why Wil is a huge fan of velocity-based training in weightlifting
The importance of testing athletes and getting a velocity profile
How Wil uses VBT as a readiness tool with weightlifters and other athletes
The true power of the muscle snatch
The objectivity behind velocity-based training
Potential risks and complications from muscle snatches
How Wil's training philosophy changed over the past three years
The biggest business lesson Wil learned since COVID-19
Resources Mentioned:
Related Content:
Connect with Wil:
IFAST University is BACK! Are You In?
Are you ready to take your coaching and training career to the next level?
You need to find great mentors to guide you along your journey – to help you find the blind spots in your own training programs and improve your skills as a coach.
But… mentorship can be expensive, and unfortunately, it's not always feasible for some budgets.
That's why Bill Hartman and I developed IFAST University, an online curriculum and mentorship program designed exclusively for fitness trainers, coaches, and rehab professionals.
We want to help every trainer and coach in the industry improve their training techniques and write better training programs for their clients.
By becoming a member of IFAST University, you'll receive:
Hundreds of hours of members-only exclusive content,
Monthly updates and tips to help you improve your skills and programs,
Group Q&A sessions to answer your specific questions, and
Access to our Facebook group, where you can learn from other dedicated professionals such as yourself
This blend of content and Q&A is specifically designed to help make YOU the best fitness trainer you can be.
To learn more or to join IFAST University now, visit https://ifastuniversity.com/
Subscribe, Rate & Share!
Thanks for tuning into this week's episode of The Physical Preparation Podcast with Mike Robertson – your one-stop-shop for fitness trainers, coaches, and athletes.
If you enjoyed this episode, be sure to subscribe on Apple Podcasts, Stitcher, SoundCloud, Spotify, and Google Podcasts and leave your honest review. I'd also love to connect via Facebook, Twitter, and Instagram or visit our website.
And last but not least, please don't forget to share your favorite episodes with your friends on social media. Thank you!
Get 3 days of my best coaching materials — for free.
3 DAY COACH'S CAMP:
Write better programs
Learn how to motivate clients outside the gym
My most popular resets for instantly improving movement quality