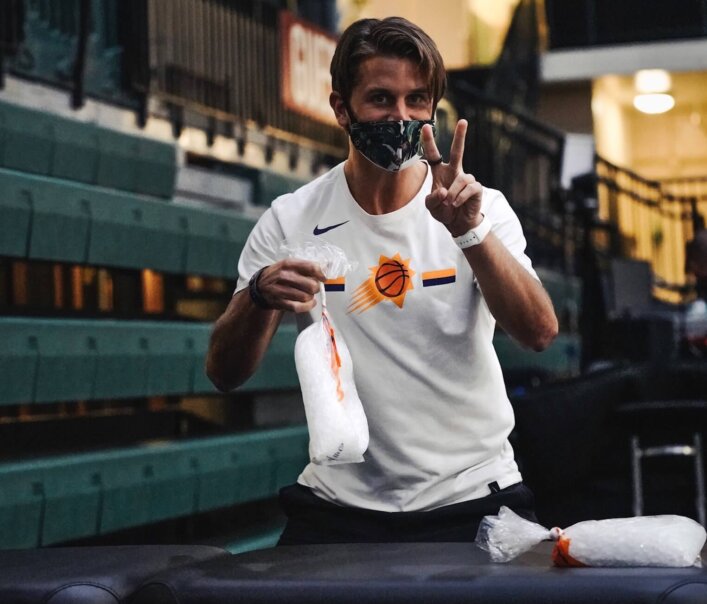 Adam Loiacono is the Director of Rehabilitation for the Phoenix Suns. His decade-long career in professional sports includes working as a Performance Therapist for the Atlanta Hawks and serving in various roles for the NBA, MLS, and NWSL.
Equipped with a Doctorate of Physical Therapy degree, Adam blends his experience from sports science, performance training, and physical therapy to manage and monitor the wellbeing of various populations in sports, from youth athletes to professional sports teams.
Adam joins me today to discuss the challenges he has faced working in professional team sports. He explains why he joined the Phoenix Suns despite his hesitations about going back to team sports.
He highlights the importance of building team dynamics and camaraderie and explores the process of building a performance team from the ground up.
He also illustrates what it's like to work with professional athletes and explains why rehabilitating an athlete is not merely like passing a baton from the athletic trainer to the physical therapist.
When you get into sports, you have to take it upon yourself to learn true performance and training principles. – Adam Loiacono
This week on the Physical Preparation Podcast:
The challenges of working in team sports and what enticed Adam to join the Phoenix Suns team
Cultivating team dynamics and camaraderie
The importance of building training systems versus giving out random trendy workouts
Why physical therapy gets a bad rap and how a rehab professional can develop their systems and processes
Why aspiring coaches and physical therapists need to get exposure as much as they can
How the athletic development process has evolved over the years
How access to information allowed people to bridge gaps between professions in sports science
Smoothing transitions in program design
What life is like working around professional athletes
The importance of respect and trust and the benefits of team diversity
Related Content:
Connect with Adam:
Momentous: The Cleanest Recovery Products in the World
Momentous is a world-renowned sports performance and recovery supplement. Preferred by top-level athletes in the NFL, NBA, NHL, and NCAA, Momentous is NSF and Informed Sports Certified.
Experience the best-tasting, cleanest recovery products in the world and take your performance to the next level. Choose Momentous.
For more information on Momentous or to place your first order, visit www.livemomentous.com/robertson – use the coupon code: Robertson20 at checkout to receive 20% off your first order or receive a free 3-pack sample.
Subscribe, Rate & Share!
Thanks for tuning into this week's episode of The Physical Preparation Podcast with Mike Robertson – your one-stop-shop for fitness trainers, coaches, and athletes.
If you enjoyed this episode, be sure to subscribe on Apple Podcasts, Stitcher, SoundCloud, Spotify, and Google Podcasts and leave your honest review. I'd also love to connect via Facebook, Twitter, and Instagram or visit our website.
And last but not least, please don't forget to share your favorite episodes with your friends on social media. Thank you!
Get 3 days of my best coaching materials — for free.
3 DAY COACH'S CAMP:
Write better programs
Learn how to motivate clients outside the gym
My most popular resets for instantly improving movement quality