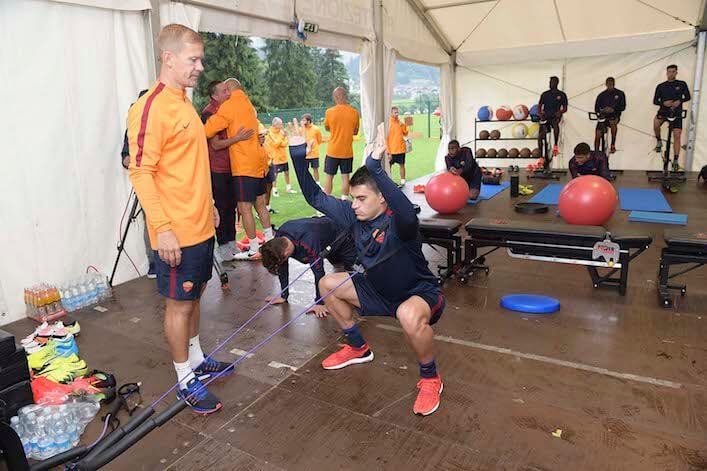 Darcy Norman is a consultant and physiologist working as the Director of Performance Science at Kitman Labs and as the Movement coach for the US Men's National soccer team.
Darcy is a fantastic person from whom I always learn a ton from. In addition to his skills in soccer and athletic training, Darcy is also well-skilled in biomechanics, data analysis, and technology.
He previously worked as a Fitness & Rehab Coach and Performance Data Analyst for the German National Football Team and as Director of Performance for A.S. Roma before he returned to the U.S. as a Performance Coach for the U.S. Soccer Federation's Men's National Team.
Darcy joins me today to discuss his career and illustrate the differences between working for a major soccer club and a national team. He highlights the elements that influenced his success at A.S. Roma and emphasizes the importance of having a coach that supports a team's vision.
He illustrates his new role at Kitman Labs and the products and services they provide. He also discusses how data and technology can enhance sports performance and describes how the industry's evolution into an interdisciplinary field can benefit athletes and coaches alike.
When everybody has their values aligned with the team's mission, that's when you have a true shared vision. Teams with shared vision tend to be the most successful in sports. – Darcy Norman
This week on the Physical Preparation Podcast:
The beginnings of Darcy's career in sports performance
What Darcy learned from working in elite soccer clubs and national teams
The importance of supporting and giving back to soccer clubs
Complex systems thinking and the elements of Darcy's success in A.S. Roma
Why sports teams need to create a mission and vision statement
Setting up educational opportunities and communication processes in teams
Changing how the world views American soccer and the value of having a coach that supports a team's vision
Darcy's role at Kitman Labs and the relationship between an athlete's medical history and performance
The impact of data and analysis on sports performance
How sports performance has evolved into an interdisciplinary discipline over the years
Related Content:
Resources Mentioned:
Connect with Darcy Norman:
Momentous – The Cleanest Recovery Products in the World
Momentous is a world-renowned sports performance and recovery supplement. Preferred by top-level athletes in the NFL, NBA, NHL, and NCAA, Momentous is NSF and Informed Sports Certified.
Experience the best-tasting, cleanest recovery products in the world and take your performance to the next level. Choose Momentous.
For more information on Momentous or to place your first order, visit www.livemomentous.com/robertson – use the coupon code: Robertson20 at checkout to receive 20% off your first order or receive a free 3-pack sample.
Subscribe, Rate & Share!
Thanks for tuning into this week's episode of The Physical Preparation Podcast with Mike Robertson – your one-stop-shop for fitness trainers, coaches, and athletes.
If you enjoyed this episode, be sure to subscribe on Apple Podcasts, Stitcher, SoundCloud, Spotify, and Google Podcasts and leave your honest review. I'd also love to connect via Facebook, Twitter, and Instagram or visit our website.
And last but not least, please don't forget to share your favorite episodes with your friends on social media. Thank you!
Get 3 days of my best coaching materials — for free.
3 DAY COACH'S CAMP:
Write better programs
Learn how to motivate clients outside the gym
My most popular resets for instantly improving movement quality