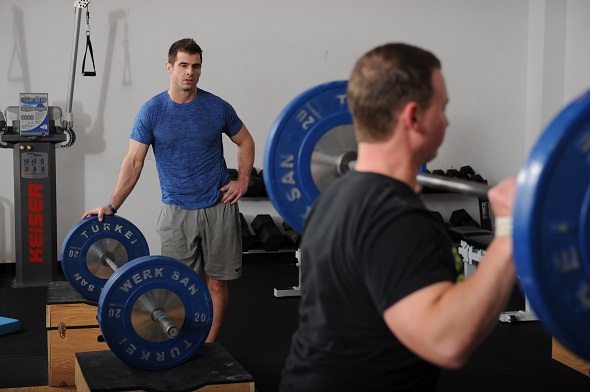 Wil Fleming is a guy that I've learned a ton from over the past few years.
He's not only an awesome strength and conditioning coach, but also the co-owner of a legit fitness business (Force Fitness) in Bloomington, Indiana.
Luckily I got Wil to slow down for a few minutes to bang out this interview. Enjoy!
Wil, thanks a ton for being with us here today. Could you start by telling us a little bit about yourself?

WF: Well, thank you for having me, Mike. To say that I have learned a ton from you would be an understatement, so to have you say that you have learned anything from me is an honor!
I own Force Fitness and Performance (a member of the Fitness Revolution nation) in Bloomington, IN along with Ryan Ketchum. We have a 6000 sq. ft. facility where we train athletes and adults, and we've been been open for over 3 years.
As for some general info about me, I was a track and field athlete at Indiana University, where I competed in the hammer throw. If you've never seen it, stay up til 3 AM during the Olympics and you might see it on TV.  I was an All-American in the same event and hold the Indiana University record.
I am making a comeback to the Olympic lifting platform this summer after a 12-year hiatus from competition – something about those competitive juices just won't go away. I have to say "thank you" for that because of a conversation we had last winter about finding an outlet for competing!
I would be remiss if I didn't mention the fact that I have a really cool family (so cool that I call my dad T-Bone) and an awesome wife!
Very cool! And how did you originally get into the fitness industry?
WF: Well, when I get down to it, I really got into the fitness industry because I love coaching. I think that is the basis for all of it.
In fact, recently I was taking stock of where I am as a fitness professional and evaluating my abilities in each of the areas that I think are necessary to be successful in this field. For me, it came down to figuring out where I am weakest and improving, but also finding where I am strongest and continue to distance myself and get better there.
So for instance, as a fitness pro I was thinking about the science vs. the art. As I see it,  the science is the background in kinesiology and program design, and the art is the on-the-floor stuff, how you see movements, correct movements, and the impact we can make on clients.
While I don't think that I'm a slouch in the science, it is the part that I can improve the most. The art is what got me into this field, and it's the part that I enjoy the most.
I love the interaction that I get with athletes and clients, and I love the satisfaction that comes when you are able to tell someone "That was it!!" – particularly when that movement was something complex or something they were working on for a considerable amount of time.
The route that I took to actually get into the field was kind of a circuitous, so I will run you through it quickly, because a lot of my experiences helped shape me.
All throughout college, I had the opportunity to coach a local track club, and that experience was invaluable. I pictured myself training good kids to be great and great kids to break records, but most of the time I got to work with young uncoordinated kids who sometimes really didn't want to be there.
Learning to not only teach, but make the experience fun became my goal each day. You can't force someone to learn, but you can make them open to wanting to learn, by creating a great environment.
Upon graduation, I thought that my future was going to be in the world of track and field, coaching at the collegiate level. To get on the right track, I was going to train for the 2008 Olympic trials and volunteer my time to assist my former collegiate coach.
Halfway through the first semester, however, I was thrust into the role of full-time assistant track and field coach, and part of my duties were to design the strength program for the throwers. I was the youngest D1 coach in the country, and I had to learn quickly.
I realized at that time that the collegiate world was not for me and it was time to move in a new direction.
After focusing on the Olympic trials for the early part of 2008, Ryan and I came together and saw a need and an opportunity in our town for a facility that provided focused training programs for people. Our vision was to open a facility that focused on coaching, instruction and great results.
In November 2008, we opened our doors for about 20 clients that Ryan was bringing with him from his personal training business, and a handful of athletes that I had coached in track and field and football.
Its interesting to note that I really never had a "client" that I trained before opening the gym; I always had "athletes" that I coached in team, group, or sport settings, so my mindset when we opened our doors was always focused on the art of coaching.
You, along with Ryan Ketchum, now own and operate a gym called Force Fitness. Who do you cater to there, and what services do you provide?
WF: Our business has 3 really distinct client bases. We try to provide a great service and outstanding results to all three, and have done so better than most facilities. Our three populations are:
The adult fat-loss client
The adult fitness/athletic client
The competitive athlete (this has morphed from just high school, to include middle school, college, and some pro athletes)
For each of those clients, we have a distinct service.
The fat-loss clients are directed towards group metabolic training unless they have an issue that contraindicates participation. This is purely high-paced interval training.
For the adult fitness client/athlete, we do semi-private training where each individual is on a specifically designed program, based on the results of their assessment.
With each of the adult groups there is plenty of overlap between the clients. Adults in the semi-private group purchase group metabolic memberships to increase their metabolic conditioning so that during their normal training sessions they can focus on strength; and plenty of success stories in fat loss have come from semi-private as well as group metabolic classes.
Our training for the competitive athletes is a complete athletic development program where we design an individualized program for each athlete based on their specific goal set, time of year, age, and assessment results.
This has been tremendously successful for us as well. In the town which we are located, we have helped 70 athletes to play collegiate athletics, trained dozens of kids to receive D1 scholarships, and helped 10 athletes qualify for the 2012 Olympic Trials in track.
Even those that don't end up with those accolades tend to always come back to tell us that they had a great time training with us, and that their season with us was their best ever!
One of the things that has always impressed me about you and Ryan is how smoothly your business runs. If someone were considering opening a fitness facility, what piece (or pieces) of advice would you give them?
WF: As I am sure you know, there are some times when you own a fitness business that it certainly doesn't feel so smooth, but the goal is to have a well-run business which will allow me and my coaches to focus on providing great training to our clients and athletes.
Part of what makes my business go is that Ryan and I have very well-defined roles. Ryan handles a vast majority of what makes the business run: the numbers, implementing systems for tracking leads/clients and handling the general direction of our marketing efforts.
My role allows me to focus more on training our team of coaches on best coaching practices, overseeing program design, and outreach to local high schools and organizations.
I think that in a situation with a business partner, this setup is an absolute must. The business has the ability to be more streamlined, decisions can be made quicker, and business results can be seen and analyzed immediately.
Along those same lines, would you be willing to share one mistake you guys have made along the way?
WF: I would say that when we started out, both Ryan and I wanted to be in charge of every decision that was being made.
Everything took too long to get done, and if something wasn't working in the business, it was too easy to shift blame because we didn't know who was on the lead in a particular instance.
By moving into clearly defined roles, we are still able to lean on the other in case we need help, but we know where the buck stops
Let's shift gears a bit. One of the things you're most well known for is Olympic lifting and power development. How did you originally get into those topics?
WF: A lot of my interest in these topics came from my own experiences as an athlete. As a sophomore in high school, I wasn't the most athletic or biggest guy playing football, but I happened to find an Olympic lifting club where I began to train.
I actually gained about 50 lbs. between my sophomore and senior year of high school. I  doubled my clean, snatched more than anyone else in my high school could clean, and improved my 40 by .8 seconds.
In other words, I was HOOKED.
I had found what I felt to be the equalizer for athletes, explosive strength. It remained the focal point of my training for the next 10 years as a competitive athlete.
As a coach, I have really tried to expand my toolbox outside of the traditional lifts, so that I can help make athletes more explosive with or without the Olympic lifts (preferably with :)).
Let's say a young athlete comes to you and they want to learn the Olympic lifts. What is your thought process when working with that client or athlete? What things do you focus on initially to make them successful over the long haul?
WF: Initially with an athlete, we are going to go through the normal assessment process but pay special attention to thoracic mobility, hip mobility, and ankle mobility with regard to the Olympic lifts.
Athletes with restrictions at any of these areas will likely have difficulty achieving the correct positions in the actual lifts. When I say positions, I'm referring to both the starting positions and the receiving positions.
Once the initial screening is out of the way, we teach all of our athletes the same progressive system of learning the lifts. This allows for consistency throughout our gym and really allows me to correct areas where we might have a deficiency in our system.
Recently, it became apparent that our athletes needed a better way to learn the catch. Because of our systematic approach, we were easily able to test different ways to teach the athletes the catch, and evaluate which method was producing better results technically.
Once that initial period of teaching the movements is over, through the first couple or several weeks, we get onto really reaping the benefits of using this explosive movement, but we don't do so by just slapping more weight on like we are some Midwestern version of a Bulgarian training hall. We keep the weights low (50-60% of BW for the snatch, 10-15 kg more for C&J) and we look for improvements on a daily basis in either technical efficiency or bar speed.
One of the biggest things we coaches can do to help our athletes be successful is keep the weights lower in the explosive lifts for 4-6 weeks. Get the athlete on the same page, and push the training in other areas. When the athlete gets through the initial phase, they will be ready to move big weights at some serious speeds.
Last but not least, what are some of the biggest mistakes you see when someone is trying to learn the lifts early on?

WF: That's an excellent question and I think I could go a lot of different ways. One that goes along with the previous question is that a lot of athletes and coaches get in a rush to load up weight on the bar too soon. In doing so, we just create a bad movement pattern that will absolutely plateau out later on.
The goal of the Olympic lifts is a really precise movement that has the potential to be the most powerful/explosive/awesome thing we can do in the weightroom.
I think that people often kind of misconstrue or confuse the purpose, and they get mixed up by thinking that more weight equals greater strength. More weight does not mean greater strength unless you are doing more weight in the right pattern, with awesome hip extension at the top, good control throughout the rest of the lift, and a solid catch position.
I put together an e-book called Top 10 Power Clean Mistakes (which I give away free on my website as a thank-you gift for subscribers), where I say that the number 1 mistake I see is too many missed reps. This is all in line with the "too much weight before good patterns" idea.
Other stuff that I see that I try to correct is putting athletes in a starting position (the floor) that a lot of them cannot handle because of lack of mobility. The only real reason people are starting there is because of convention. A more appropriate position to learn the lifts is likely from a slightly elevated position in the hang or from blocks.
Last but not least, Wil, it's time for the last question!
What is one mistake you've made along the way, and how have you learned from it and grown as a coach?
WF: Hm. I've been really fortunate along the way to be influenced by some awesome coaches, literally from the moment I got interested in this stuff and right up until today. From my first Olympic lifting coaches 15 years ago, Paul Fleschler and Geoff Eliason, to awesome pros that have helped me in the last week, you and Coach Dos for instance. That kind of stuff has helped me miss plenty of speed bumps.
Early on, though, I really think that I was pretty certain I knew it all, and was pretty set in my ways. I knew what my principles were but I also thought that my methods were written in stone as well. As I have grown, I've realized that my principles can remain the same, but my methods need to be evolving at all times.
Awesome, Wil! Where can my readers learn more about you?
WF: Anyone that wants to hear more from me can go to www.wilfleming.com where I blog regularly about training athletes for power, speed, and explosiveness.
Thanks a ton for letting me get interviewed on Robertson Training Systems. Going back a couple years I couldn't have imagined this actually being a reality. It really is an honor!
It's been a pleasure. Thanks, Wil!