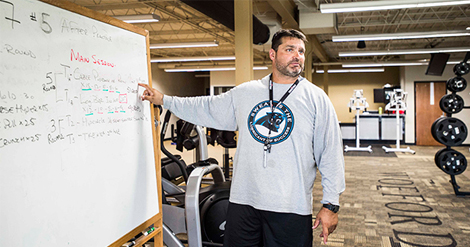 What does it take to have a long, stable career in the world of sports and physical preparation?
And how do you make yourself stand out in a competitive industry where everyone is welcome to enter?
Veteran Strength & Conditioning Coach Joe Kenn, whose career spans more than 30 years, is a well of wisdom when it comes to having an enduring career in the sports and fitness industry.
Whatever he has worked on – whether it's 20-plus years in a Division I setting or the last nine years coaching the Carolina Panthers – Joe has created success.
It's no wonder he's been named Strength and Conditioning Coach of the Year by the NSCA at both the collegiate and professional levels!
So, what's the secret to Joe's success?
Joe joins me today to share the values and principles that helped sustain his career as a strength & conditioning coach for over 30 years.
He explains how mentoring young coaches changes as you progress in your own career, and highlights the role of self-analysis in coaching.
He also emphasizes how having principles can guide the creation of a program and underscores the importance of staying true to yourself and your values in the world of physical preparation.
Your strength & conditioning journey is going to be based on the situations you're in and your willingness to look into the mirror. – Joe Kenn
This week on the Physical Preparation Podcast:
How strength & conditioning coaches choose their destiny
What makes coaching in the private sector different
The role of self-evaluation in a strength & conditioning coach's journey
The importance of understanding the basics of training
The source of Joe's continued success throughout the years
The emergence of new fitness "genres" and how they drove coaches into different directions
The "absorb, modify, and apply" principle
The meaning of pre-activity preparation and the difference between working out and training
The role of principles in creating fitness programs
What it means to "peel back the layers of the onion" and the dangers of regurgitating information
Joe's neck program, 7-tier system, and how the latter has evolved
How coaching in the NFL has made Joe a better coach
Bridging the gap between training and athleticism
Related Content:
Connect with Joe Kenn:
Stop the Frustration! Get the Complete Coach Certification
Are you a young fitness trainer or coach?
Are you frustrated by the results you're getting or the lack of resources available to learn the skills you need to be successful?
Are you struggling to get enough clients or wondering how long you'll be able to follow your passion for helping others?
It's time to stop the frustration and stop worrying. It's time to get certified!
If you're serious about improving your results, serious about becoming a better coach, and serious about increasing your bottom line, then you need the Complete Coach Certification.
In this massive course, you'll learn:
How to use the R7 system to create seamless, integrated and efficient programs for clients and athletes of all shapes and sizes
How to create the culture, environment and relationships with everyone you train so you can get the absolute best results
The exact progressions, regressions, and coaching cues I use in the gym – from squatting and deadlifting to pressing and pulling and everything in between
The assessment process I use to determine the best exercises for a client or athlete on Day 1, and how to set them up for maximal success down the line!
This massive certification course is jam-packed with everything I've learned over the last 20 years of my career.
So if you're ready to get serious about the results you're getting for your clients and the impact your programs have on your income, head over to www.completecoachcertification.com to sign up for the Complete Coach Certification course today!
Spots are limited, and the next certification is set to launch in March 2021.
To learn more, please join my FREE Insiders List and stay tuned for our launch details to save $200 when the course opens!
Subscribe, Rate & Share!
Thanks for tuning into this week's episode of The Physical Preparation Podcast with Mike Robertson – your one-stop-shop for fitness trainers, coaches, and athletes.
If you enjoyed this episode, be sure to subscribe on Apple Podcasts, Stitcher, SoundCloud, Spotify, and Google Podcasts and leave your honest review. I'd also love to connect via Facebook, Twitter, and Instagram or visit our website.
And last but not least, please don't forget to share your favorite episodes with your friends on social media. Thank you!
Get 3 days of my best coaching materials — for free.
3 DAY COACH'S CAMP:
Write better programs
Learn how to motivate clients outside the gym
My most popular resets for instantly improving movement quality