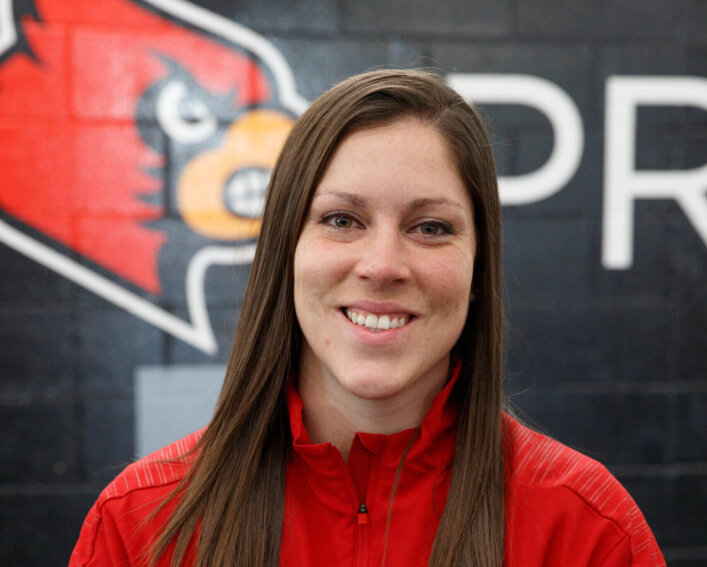 Kaiti Jones has had a personal journey with sports and athleticism.
After playing sports throughout high school, Kaiti was approached by many educational institutions to play at the collegiate level.
But, growing up in a small town in Michigan, Kaiti wanted to go to a larger university and be around many people. She decided to forego her athletic career and worked on her bachelor's degree in Athletic Training at Central Michigan University.
Yet, her competitive side remained and eventually led her to work on her master's degree in Health Science Business Administration at Florida Gulf Coast University, while overseeing their men's soccer and volleyball teams.
Today, Kaiti is the Senior Sports Performance Coach at the University of Louisville, where she manages programming and coaching for the women's basketball and lacrosse teams.
Kaiti joins me today to discuss how she transitioned from being an athletic trainer to being a Performance Coach at the University of Louisville.
She highlights the difference between a criteria-based and a timeline-driven approach to rehabilitation.
She explains how a data-driven approach to reconditioning athletes helps them recover better and discusses why she uses the term reconditioning instead of rehabilitation.
And finally, she illustrates how athletes lose a part of their identities as performers when injured, and describes how coaches can better support their recovery.
Athletes are objective and data-driven; set them up for success by giving them moments during the reconditioning process where they can get wins. – Kaiti Jones
This week on the Physical Preparation Podcast:
What led Kaiti to the world of physical preparation
Kaiti's Big Rocks and where she got the three principles she strives for
Pulling an athlete out of an injury and getting them back on the field
What the day-to-day looks like for Kaiti as a Performance Coach at the University of Louisville
Kaiti's definition of a criteria-based approach to reconditioning and how she uses it with athletes
The downsides of a timeline-driven rehabilitation protocol
The role of data and objective elements in the rehab process
The difference between reconditioning and rehabilitation
How athletes lose a piece of their identity when recovering from an injury
Integrating the strength & conditioning process with reconditioning
The importance of building relationships with sports medicine professionals
What arthrogenic muscle inhibition means and how it can help athletes get back to the athletic normal
Trusting the process and how having great mentors took Kaiti to where she is today
Related Content:
Resources Mentioned:
Connect with Kaiti Jones:
Stop the Frustration! Get the Complete Coach Certification
Are you a young fitness trainer or coach?
Are you frustrated by the results you're getting or the lack of resources available to learn the skills you need to be successful?
Are you struggling to get enough clients or wondering how long you'll be able to follow your passion for helping others?
It's time to stop the frustration and stop worrying. It's time to get certified!
If you're serious about improving your results, serious about becoming a better coach, and serious about increasing your bottom line, then you need the Complete Coach Certification.
In this massive course, you'll learn:
How to use the R7 system to create seamless, integrated and efficient programs for clients and athletes of all shapes and sizes
How to create the culture, environment and relationships with everyone you train so you can get the absolute best results
The exact progressions, regressions, and coaching cues I use in the gym – from squatting and deadlifting to pressing and pulling and everything in between
The assessment process I use to determine the best exercises for a client or athlete on Day 1, and to help set them up for success down the line!
This massive certification course is jam-packed with everything I've learned over the last 20 years of my career.
So if you're ready to get serious about the results you're getting for your clients and the impact your programs have on your income, head over to www.completecoachcertification.com to sign up for the Complete Coach Certification course today!
Spots are limited, and the next certification is set to launch in March 2021.
To learn more, please join my FREE Insiders List and stay tuned for our launch details to save $200 when the course opens!
Subscribe, Rate & Share!
Thanks for tuning into this week's episode of The Physical Preparation Podcast with Mike Robertson – your one-stop-shop for fitness trainers, coaches, and athletes.
If you enjoyed this episode, be sure to subscribe on iTunes, Stitcher, and SoundCloud and leave your honest review. Connect with us on Facebook, Twitter, and Instagram or visit our website.
And don't forget to share your favorite episodes with your friends on social media.Thank you!
Get 3 days of my best coaching materials — for free.
3 DAY COACH'S CAMP:
Write better programs
Learn how to motivate clients outside the gym
My most popular resets for instantly improving movement quality