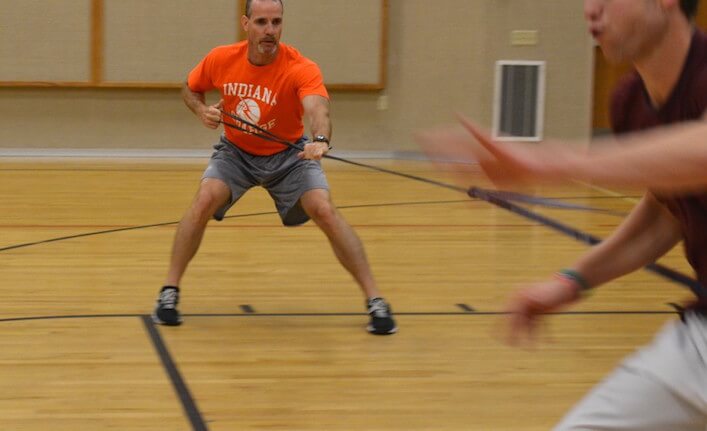 Lee Taft – aka the Speed Guy – is a highly-respected and world renowned athletic movement specialist.
Lee is devoted to sharing his training philosophy and teaching his multi-directional speed methods to performance coaches and fitness professionals worldwide.
As a former physical education teacher, Lee has been teaching foundational movement to beginners and helping young amateurs become professional athletes since 1989.
He is also a sought-after athletic consultant and the author of several ebooks on movement techniques and speed development, including "Complete Speed" and "The Speed Insiders Academy."
Lee joins me today to discuss the effects of strength training on speed and the importance of fitness training for adults.
He shares methods to determine whether an individual needs to scale up their strength training and explains the value of training for power, squats, and balance for older adults.
He also explains why getting high scores in the NFL Scouting Combine doesn't necessarily make one a better player, and reveals the single-most essential skill an athlete could have.
Teach drills in the context of how it's going to help athletes improve on the movement patterns of speed and strength. – Lee Taft
This week on the Physical Preparation Podcast:
Lee's transition from his career in physical education to the strength and conditioning world
The impact of strength conditioning on speed training
How to determine if an athlete needs to increase their strength training
Why Lee started to create content about fitness for older adults
Why older adults need to train for power, squats, and maintaining balance
Lee's thoughts on the NFL Scouting Combine
The difference between summary and directed feedback
What a typical athletic consulting day looks like for Lee
Lee's advice for young coaches on training athletes for speed
Resources Mentioned:
Connect with Lee:
Momentous – The Cleanest Recovery Products in the World
Momentous is a world-renowned sports performance and recovery supplement. Preferred by top-level athletes in the NFL, NBA, NHL, and NCAA, Momentous is NSF and Informed Sports Certified.
Experience the best-tasting, cleanest recovery products in the world and take your performance to the next level. Choose Momentous.
For more information on Momentous or to place your first order, visit www.livemomentous.com/robertson​ – use the coupon code: ​Robertson20​ at checkout to receive 20% off your first order ​or​ receive a free 3-pack sample.
Subscribe, Rate & Share!
Thanks for tuning into this week's episode of The Physical Preparation Podcast – your one-stop-shop for fitness trainers, coaches, and athletes.
If you enjoyed this episode, be sure to subscribe on ​iTunes​, ​Stitcher​, and ​SoundCloud ​and leave your honest review.
And don't forget to connect with us on Facebook​, ​Twitter​, and ​Instagram​ or ​visit our website​. Thanks for your support!
Get 3 days of my best coaching materials — for free.
3 DAY COACH'S CAMP:
Write better programs
Learn how to motivate clients outside the gym
My most popular resets for instantly improving movement quality