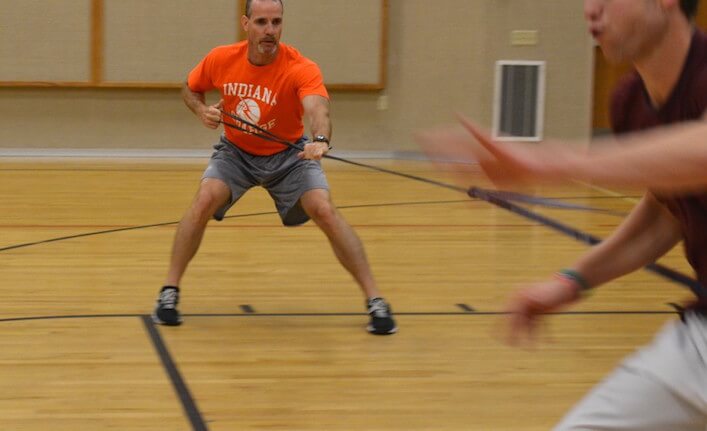 To me, Lee Taft is more than a highly-respected and world-renowned athletic movement specialist:
He has been a constant mentor and role model who helped shape my thoughts on speed training.
A former physical education teacher, Lee began his career in the world of physical preparation in 1989 and has since been helping people take their speed to the next level.
In addition to his work as a coach, speaker, and consultant, Lee has also created numerous books, videos and courses on speed development, including Complete Speed and The Speed insiders Academy.
Lee is a thought-provoking individual who continues to contribute and facilitate educational progress in the world of physical preparation and remains as one of the most influential people in my career today.
Lee joins me today to discuss how to coach speed effectively. He describes the process he uses to evaluate athletes and how it has evolved through the years.
He talks about the role of mistakes and failures in athletic development and underscores the necessity for competition in speed training.
He shares guidelines on effective speed training and discusses why coaches shouldn't cue athletes on the first rep.
And last but not least, he highlights the importance of understanding intent and shares his advice to young coaches who want to get serious about training athletes for speed.
Ensure that athletes understand their intent. With multi-directional speed, ensure they understand where to apply force to move their mass to where they want to go. – Lee Taft
This week on the Physical Preparation Podcast:
The seven patterns of movement and Lee's big rocks in assessing an athlete
What Lee's evaluation session looks like and the first assessment he learned to facilitate
Lee's general rules on coaching speed training
The difference between "low-functioning" and "dysfunctional" issues and how to approach them
Why coaches shouldn't cue athletes from the get-go
The role of failures and mistakes in learning and success
How conscious effort can often get in the way of skill learning
Lee's perspectives on speed correctives and how he applies them to his system
The tendency to over-complicate things in the world of coaching
Why young coaches need to understand the basic laws of physics
The value of being a generalist when it comes to athletic movement
Related Content:
Connect with Lee Taft:
IFAST University is BACK! Are You In?
Are you ready to take your coaching and training career to the next level?
You need to find great mentors to guide you along your journey – to help you find the blind spots in your own training programs and improve your skills as a coach.
But… mentorship can be expensive, and unfortunately, it's not always feasible for some budgets.
That's why Bill Hartman and I developed IFAST University, an online curriculum and mentorship program designed exclusively for fitness trainers, coaches, and rehab professionals.
We want to help every trainer and coach in the industry improve their training techniques and write better training programs for their clients.
By becoming a member of IFAST University, you'll receive:
Hundreds of hours of members-only exclusive content,
Monthly updates and tips to help you improve your skills and programs,
Group Q&A sessions to answer your specific questions, and
Access to our Facebook group, where you can learn from other dedicated professionals such as yourself
This blend of content and Q&A is specifically designed to help make YOU the best fitness trainer you can be.
To learn more or to join IFAST University now, visit https://ifastuniversity.com/
Subscribe, Rate & Share!
Thanks for tuning into this week's episode of The Physical Preparation Podcast with Mike Robertson – your one-stop-shop for fitness trainers, coaches, and athletes.
If you enjoyed this episode, be sure to subscribe on Apple Podcasts, Stitcher, SoundCloud, Spotify, and Google Podcasts and leave your honest review. I'd also love to connect via Facebook, Twitter, and Instagram or visit our website.
And last but not least, please don't forget to share your favorite episodes with your friends on social media. Thank you!
Get 3 days of my best coaching materials — for free.
3 DAY COACH'S CAMP:
Write better programs
Learn how to motivate clients outside the gym
My most popular resets for instantly improving movement quality