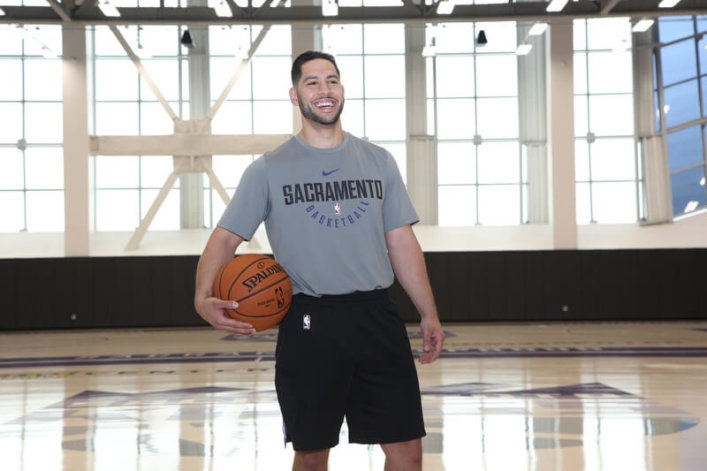 Dr. Ramsey Nijem begins his sixth season with the Sacramento Kings, and his fourth as the team's head strength and conditioning coach. Dr. Nijem spent two seasons as the Kings assistant strength and conditioning coach prior to his current role.
Before joining the Kings, Dr. Nijem was the head strength and conditioning coach at Santa Barbara City College and an assistant strength and conditioning coach at UC Santa Barbara prior to that.
In this show, Ramsey and I talk about how his inability to dunk led him to becoming a strength coach, the role and value of relationships in coaching, why boring wins, the differences between developing an American vs. European player, how hectic the NBA off-season is, and why you have to put the ego aside and think of yourself as support staff.
This is an AWESOME show, and I really think you're going to love Ramsey's insights.
Show Outline
Here's a brief overview of what we covered in this week's show:
Show Intro:

AWESOME weekend, kiddos starting school and sports, etc.
Fresh new content coming your way!
Lots of work being done behind the scenes on the Complete Coach Certification

Deep Thought:

Find Ways to Recharge YOUR Battery

Interview with Ramsey:

How his inability to dunk led him to working in the NBA.
His overarching philosophy when it comes to training basketball players.
What a new athlete looks like to him, and the differences he sees between American and European players.
A little insight into the rigorous pre-draft process that draft eligible athletes go through!
The adjustments he makes to someone's training calendar if they aren't getting a ton of run on the court.
What Ramsey hopes to accomplish with a new athlete over the course of their first year working together.
The BIG Question.
The ever-popular lightning round where we talk about career highlights, getting his DSC, random training modalities, and what's next for Dr. Ramsey Nijem.
Related Links
Do You Want to Become a Complete Coach?
It seems like every day I talk to a young trainer or coach who is frustrated.
Frustrated with the results they're getting.
Frustrated because they don't have trusted resources to learn from.
And maybe they're frustrated because they simply don't have enough clients, and wonder how long they'll be able to stay in the industry.
So if this sounds anything like you, I've got something that I know will help!
My Complete Coach Certification was created for trainers and coaches just like you – who are serious about the results they get, and know that becoming a better coach can directly translate to a bigger bottom line.
This certification is going to take the last 20 years of my life's work and put it all into one massive course. In it you'll learn:
How to use the R7 system to create seamless, integrated and efficient programs for clients and athletes of all shapes and sizes,
How to create the culture, environment and relationships with everyone you train so you can get the absolute best results, and
The exact progressions, regressions and coaching cues I use in the gym – from squatting and deadlifting to pressing and pulling and everything in between.
Of course there's a ton more that I cover, but that should give you a pretty good idea of what the certification is all about!
Now here's the thing – spots for the certification will open twice per year for a limited time only. If you're interested in learning more, my next certification will launch in September, and if you join my FREE Insiders List, you'll be able to save $200 when it opens!
If you're interested in learning more, please head over to CompleteCoachCertification.com to get on the Insider's List. Thank you!
Sharing is Caring!
If you took something away from this show, please take 30 seconds out of your day to share via email, social or whatever means work best for you.
Thanks so much for your support!
Get 3 days of my best coaching materials — for free.
3 DAY COACH'S CAMP:
Write better programs
Learn how to motivate clients outside the gym
My most popular resets for instantly improving movement quality