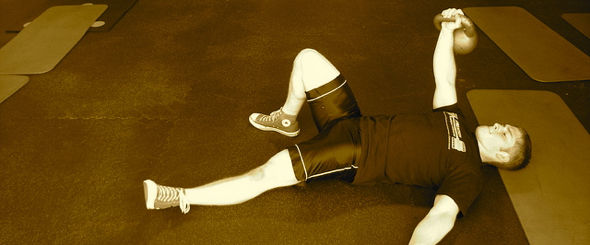 I had this amazing post all set-up for you guys today.
But now? Well, it's just not the same.
In case you missed it last week, Bob Harper (the trainer from the Biggest Loser) threw up a video on YouTube about how to perform the Turkish Get-up "correctly."
The problem?
His form was laughable.  I mean seriously, you could have no idea how to perform the exercise and probably made it look better than he did.
So my post was going to compare and contrast – Trainer Bob's version, and then my step-by-step Turkish get-up sequence. And I was literally going to break down second-by-second, all the stuff he was doing wrong.
Since he took that video down (I'm assuming due to all the hate mail he received from the kettlebell community), I'm going to throw up a few videos that should help you improve your performance on the TGU exercise.  Sooner or later, I'll get around to doing my own.
These first two videos are with my good friend Jason C. Brown. JCB teaches the leg/hip "Swing" through a bit differently than I do, but it's not really right-or-wrong – more just what you're comfortable with teaching.
And finally one more from fellow RKC and all-round smart dude Gray Cook:
I hope after watching the videos, and re-reading my step-by-step TGU sequence, you're able to perform this exercise more effectively.
Good luck and stay strong!
MR