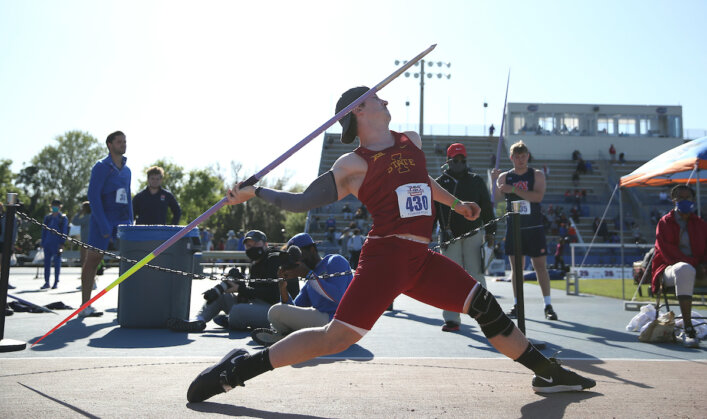 Two-time All-American javelin thrower Scott Fuchs didn't start his athletic career in track and field.
Nope, Scott started off in baseball, which took over his life when he was 13 years old. Knowing that he could play at the collegiate level, Scott went on to play for a Division III institution right out of high school.
However, he soon found himself incapable of throwing strikes.
One overthrow after another, Scott kept losing his command.
But instead of giving up his love of sport, Scott tried his hand and found his place in the javelin throw.
Scott became the third All-American in Beloit College's track-and-field history, finishing with a career-best throw of 198-2ft (60.41m).
He then went on to compete in seven meets for Iowa State University, qualify for NCAA Outdoor Championships, and earn his Second Team All-America honors in the javelin throw.
With a personal record of 236-7ft (72.12m), Scott recently qualified for the U.S. Olympic Trials in the javelin, finishing 18th with 212-10ft (64.89m).
In addition to training and competing, Scott pursues his passion for the javelin by sharing the stories of other javelin throwers through his podcast, Through the Point.
Scott joins me today to discuss what it takes to qualify for the Olympic Trials in the javelin.
He discusses the various body types among javelin throwers and explains why elite throwers have a blend between high-force outputs and elasticity.
He shares his unique training methods and describes how they may be improving his standing.
He also highlights the importance of setting KPIs that matter, and why there's probably more to it than just building a bigger bench-press or squat, and shares his thoughts on the role of strength training in the javelin throw.
When you're an elite thrower, it's risky to make a lot of technical and physical changes. Focus on maintenance, improvement, and injury prevention. – Scott Fuchs
This week on the Physical Preparation Podcast:
Scott's background and how he transitioned from baseball to the javelin
What it takes to invest in your athletic career and take it to the next level
How Scott's physical preparation and competition changed when he moved to the javelin
The different aspects of a javelin throw
The physical traits of the ideal javelin thrower
Tools and training that made Scott throw from 197 to 237ft
The use of in-range isometrics in the javelin and the need to have stability and control
The value of having the right KPIs and how they can impact performance
Why javelin throwers need to find the sweet spot between high force output and elasticity
The similarities and differences between cricket bowling and the javelin
The role strength training plays in performance and injury prevention
Focusing on NCAA, making it to the Olympic trials, and Scott's career highlights in the javelin throw
Related Content:
Connect with Scott:
Stop the Frustration! Get the Complete Coach Certification
Are you a young fitness trainer or coach?
Are you frustrated by the results you're getting or the lack of resources available to learn the skills you need to be successful?
Are you struggling to get enough clients or wondering how long you'll be able to follow your passion for helping others?
It's time to stop the frustration and stop worrying. It's time to get certified!
If you're serious about improving your results, serious about becoming a better coach, and serious about increasing your bottom line, then you need the Complete Coach Certification.
In this massive course, you'll learn:
How to use the R7 system to create seamless, integrated and efficient programs for clients and athletes of all shapes and sizes
How to create the culture, environment and relationships with everyone you train so you can get the absolute best results
The exact progressions, regressions, and coaching cues I use in the gym – from squatting and deadlifting to pressing and pulling and everything in between
The assessment process I use to determine the best exercises for a client or athlete on Day 1, and how to set them up for maximal success down the line!
This massive certification course is jam-packed with everything I've learned over the last 20 years of my career.
So if you're ready to get serious about the results you're getting for your clients and the impact your programs have on your income, head over to www.completecoachcertification.com to sign up for the Complete Coach Certification course today!
Spots are limited, and the next certification is set to launch in September 2021.
To learn more, please join my FREE Insiders List and stay tuned for our launch details to save $200 when the course opens!
Subscribe, Rate & Share!
Thanks for tuning into this week's episode of The Physical Preparation Podcast with Mike Robertson – your one-stop-shop for fitness trainers, coaches, and athletes.
If you enjoyed this episode, be sure to subscribe on Apple Podcasts, Stitcher, SoundCloud, Spotify, and Google Podcasts and leave your honest review. I'd also love to connect via Facebook, Twitter, and Instagram or visit our website.
And last but not least, please don't forget to share your favorite episodes with your friends on social media. Thank you!
Get 3 days of my best coaching materials — for free.
3 DAY COACH'S CAMP:
Write better programs
Learn how to motivate clients outside the gym
My most popular resets for instantly improving movement quality