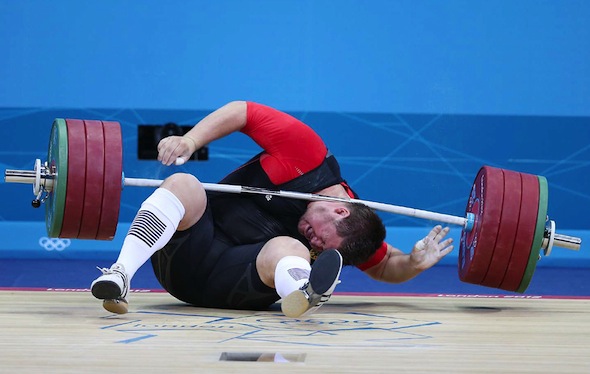 Spring 2001
Ball State University Powerlifting Practice
One of my favorite guys on the powerlifting team is having a rough go at it.
He's in what he calls a "squatting slump" and he's bound and determined to work his way out of it.
We're less than 1 month out from Collegiate Nationals; now is not the time to be going through a slump!
He squeezes himself under the bar, unracks it, and descends into the depths. He pushes up, straining with all his might, only to succumb to the weight.
We get the weight back up, and he insists on taking the weight again.
"I'm going to get it."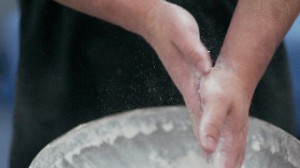 He takes the requisite 5 or so minutes to recover, and then heads to the chalk bowl with a ferocity in his eyes that I hadn't seen from him before.
He grasps the knurling on the bar, feeling it dig into his flesh, lets out a growl from the depths, and proceeds to head butt the bar.
Now, with blood running down his face, he unracks the bar. He walks it out, gets tight and descends into the depths, only to miss again.
We've all seen it – the lifter who is constantly missing lifts.
It's frustrating to watch. And it's even worse to go through.
Trust me, I don't preach from my high horse here. I learned the hard way.
In those first 1-2 years of powerlifting, I missed more squats than I care to remember.
But luckily I learned from my mistakes, and over time, got smarter.
As I matured and missed fewer lifts, not only was I a more confident lifter, but my numbers went through the roof as well.
Consistently missing lifts will fast track you, at best, to your local sports psychologist.
In a worst case scenario, it's more likely you'll be visiting the neighborhood physical therapist or orthopedic surgeon!
Tons of coaches and lifters whom I admire share this same sentiment. Both Dan John and Jim Wendler have discussed numerous times their disdain for missing lifts.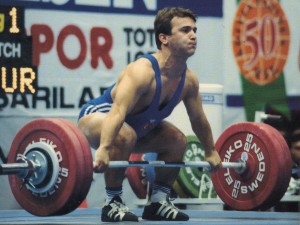 Jim Laird, coach of the Miss Fits, hates it when his ladies miss lifts. As such, he routinely undershoots their lifts in training so they have oodles of confidence when they step on the platform.
Olympic lifting great Naim Süleymanoğlu would rarely miss more than a handful of lifts in a training year, and that included practice and competition.
Let's take a look at the various ways missing lifts can thwart your progress, eroding both your physical prowess as well as your psyche.
The Physical Side of Missing Lifts

Missing a lift is rarely a good thing.
Whether it's a squat, a bench press, a deadlift, a snatch or a clean-and-jerk, when you miss lifts it puts your body into precarious positions.
From a powerlifters perspective, squatting and benching are the most worrisome. Squatting can be remedied to some degree by setting up the catches, but even still, this isn't a great idea.
I actually got myself pinned underneath a 2-board press with chains 7 or 8 years ago. I was so pissed that my training partners bailed on me that I was bound and determined to hit a PR without them.
The cool thing was, I did hit a PR that day!
The bad thing was when I decided to go up again, and proceeded to get pinned.
Trust me – even if you're by yourself it doesn't look cool when you have to dump a bar!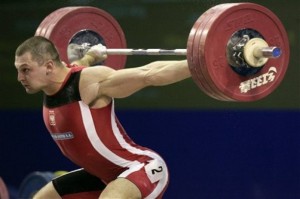 In Olympic lifting, part of training is learning how to miss a lift. I get that.
But missing lifts due to poor technique, and/or too much load, can get you injured and put you on the sidelines with a quickness.
Instead of missing lifts (i.e. muscular failure), focus instead on working close to technical failure.
Just to make this easy, let's throw around some numbers. You're squatting on a given day, and your "muscular failure" would occur at 300 pounds.
Now if you're ok with missing weights, you might hit 300 (albeit in a sloppy fashion), and then go up to 315, and miss promptly miss that lift.
Instead of going this route, work up to technical failure. Maybe you can hit 275, 285, or even 290 with really clean, crisp technique, but if you went up any further, things would get sloppy.
That would be considered technical failure, and you'd either drop down a bit or call it a day on that lift.
Training in this fashion will not only dial in and perfect technique, but you'll be optimizing your training as well.
The Psychological Side of Missing Lifts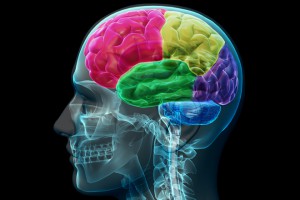 While there's always the inherent risk of getting injured when missing lifts, I think the psychological side is far more injurious, both for the competitive and recreational lifter.
Every time you get under the bar, you want complete confidence that you're going to make the lift. There's nothing worse than being under a really heavy lift and thinking to yourself:
"I'm not really sure if I can get this."
Instead, all of your training should be focused on attacking weights that you know you can make.
I think there's a ton of substance to the old saying, "practice like you play."
If you're constantly missing lifts in practice, what do you think will happen when you get to the competition?
For the recreational lifter, this is just as important, if not more so
You come into the gym to get stronger, push yourself, and most importantly, enjoy your training.
But if you're constantly missing lifts, are you really having fun?
Last but not least, I think from a psychological perspective most of us are more prone to focus on the negative versus the positive. It's not ideal, but it's true.
So what if you have this huge archive of negative experiences (i.e. missing lifts) to draw from and focus on outside of the gym?
Does that sound like it's positive in any way, shape or form?
Not to me.
Instead, build positive momentum.
Consistently lift weights that are within your capability.
Groove awesome technique.
And as you repeat this process, I guarantee your confidence (and strength) will come along for the ride.
The Competitive Side
If you're a competitive lifter, let me tell you a little story.
It's 2005 in Killeen, Texas, and I'm watching some of the best lifters in the United States go to battle on the platform.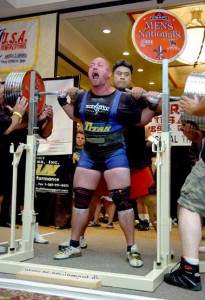 In the 220-pound class there were three lifters all vying for the title: Charr Gahagan, Tony Succarotte and Jason Beck. This was an incredibly competitive class and the lead seemed to go back and forth all day.
Somewhere along the line, though, Gahagan and Succarotte both missed lifts. My memory isn't good enough to remember if they were technical errors or if the weight was just too heavy, but they left a crack in the door.
Beck, on the other hand, didn't miss one single lift the entire day.
And as a result, he won the National Championship.
First and foremost, going 9-for-9 is an amazing feat for any lifter, but especially at a Men's National championship where the judging is beyond strict and the pressure is monumental.
But even more impressive is how well Beck and his coach, Robert Keller, must have communicated on that day. It's impressive to not only pick the numbers that are in range, but to also hit them in that competitive environment.
It may sound simple at first blush, but if you're a competitive lifter and you can consistently choose the right numbers and make lifts, those numbers are going to add up to something impressive.
Too often we get focused on the lifts we could hit on any given day, and assume that's going to be our total.
Unfortunately, it rarely works out that way.
Remember, being smart and hitting as many lifts as possible is not only going to give you the best feeling after your meet, but also gives you the best chance of winning a medal in the end.
Should I Just Train Light?
Now I know what some of you are thinking, and what some of the haters will undoubtedly focus on.
"Mike Robertson says you should just train light."
Please keep in mind, that's not what I'm saying.
What I am saying is that you should train on the edge of your ability, and sometimes push past it.
To be more succinct:
This doesn't mean you get to be a pansy! You still have to lift heavy things.
But instead of constantly trying to pick things up that are on the edge (or well beyond) your ability, you pick and choose your battles.
I think this is easier as you get older. Naturally, you're more in tune with your body, and you're not going into the gym every single day trying to show the world what a bad ass you are.
Remember: Push the edges of your limit, creep up on them with the stealth of a ninja, but only cross that line when you're either feeling amazing, or you have planned for it.
Summary
Missing lifts isn't cool. And it definitely shouldn't be touted like some strange badge of honor.
Instead, focus on grooving and perfecting optimal technique.
Lift weights that are close to your edge of ability.
Do this consistently, and I know you'll be pleasantly surprised with the results.
Now get in the gym and lift something heavy!
Stay strong
MR