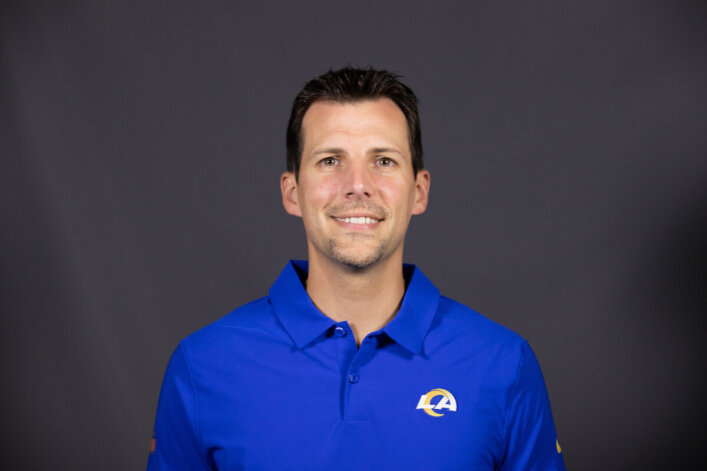 "You have to fail forward. You can't be afraid to fail."
That's Tyler Williams' advice on using sports science technology alongside implementing load management – but he might as well be talking about life.
Like many in the industry, Tyler had always been interested in sports despite his lack of genetic advantages. He worked to gain a competitive edge, continuously striving to become 1% better at sports.
Later, after graduating with a degree in Exercise Science from Truman State University, Tyler landed an internship role with the Los Angeles Rams, where he currently serves as Director of Sports Science.
To this day, Tyler attributes the longevity of his 15-year-long career with the Rams to his disposition for diligence and determination.
Tyler joins me today to discuss load management and workload enhancement at the NFL level. He shares the hurdles and obstacles he faced when he initially implemented workload enhancement with the Rams and explains what he would have done to make it better.
Tyler reveals the different tools and technology they currently use with the Rams and shares strategies to implement sports science, even on a shoestring budget. He also highlights the importance of shared collaboration in organizations and underscores the most important lessons he's learned from his initial inception of the load management process.
When implementing workload enhancement, don't let the tech drive your decisions. Trust your gut, trust your coach's eye, and use them to enhance what you've spent your life learning. – Tyler Williams
This week on the Physical Preparation Podcast:
Tyler's background and what led him to the world of physical preparation
How Tyler landed an internship with the Rams right after college
The reason Tyler prefers "workload enhancement" over "load management" and how he defines it
The hurdles Tyler personally dealt with when he started with load management
The importance of measuring progress
Discussing and communicating load management with coaches
A ring-toss game at the carnival and the importance of educating athletes and coaches first before introducing sports technology
Failing forward and Tyler's advice on getting athletes and coaches to buy into sports science & data-tracking
The power and benefits of implementing sports science and data tracking technology into a program
Why Tyler and his team got into sports performance and workload management
How Tyler first introduced load management into his programs
What a "process-driven" approach means to Tyler
Workload enhancement tools and tech Tyler uses with the Rams
His advice for someone just getting started in the world of sports science and load management
Resources Mentioned:
Related Content:
Connect with Tyler:
Get Pain-Free, Healthy, BULLETPROOF Knees!
Are you tired of struggling with sore, achy knees?
Is knee pain keeping you from performing the activities you enjoy – either in the gym or just in life?
Wouldn't you like to build a set of pain-free healthy knees, once and for all?
If you answered yes to any (or ALL) of these questions, you need my Bulletproof Knees Coaching Program.
The Bulletproof Knees Coaching Program implements my scalable training system that can be applied to virtually anyone – from elite-level athletes to gen pop folks that want to be pain-free.
This customizable training system is geared towards your body and helping you achieve your goals.
So, if you're ready to get your knees moving and feeling great again, email me at [email protected] with the words "Bulletproof Knees Coaching" in the subject line to request more information.
But, please don't wait! I'm only accepting a select number of clients into this program, and I'd love the opportunity to work with you if possible.
Again, just shoot me an email at [email protected] and I'll send you all the information to get started. Thanks!
Subscribe, Rate & Share!
Thanks for tuning into this week's episode of The Physical Preparation Podcast with Mike Robertson – your one-stop-shop for fitness trainers, coaches, and athletes.
If you enjoyed this episode, be sure to subscribe on Apple Podcasts, Stitcher, SoundCloud, Spotify, and Google Podcasts and leave your honest review. I'd also love to connect via Facebook, Twitter, and Instagram or visit our website.
And last but not least, please don't forget to share your favorite episodes with your friends on social media. Thank you!
Get 3 days of my best coaching materials — for free.
3 DAY COACH'S CAMP:
Write better programs
Learn how to motivate clients outside the gym
My most popular resets for instantly improving movement quality