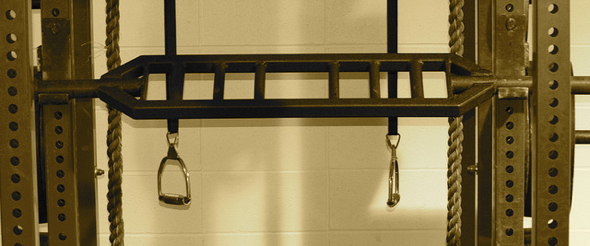 The following is a guest blog by former intern (and now current IFAST team member) Zach Moore.
I can honestly say that Zach is a special guy. He trained at our gym for close to a year while finishing up a Masters in Economics, and when he asked if we would consider taking him on as an intern, I was extremely excited.
Here's a quick glance into what Zach learned while interning with Bill and I at IFAST. I think you'll enjoy it!
Hello everyone, my name is Zach Moore and I am the newest addition to the training staff at Indianapolis Fitness and Sports Training (IFAST).
I had the opportunity to intern at IFAST this past summer and learn from two of the smartest guys in the fitness industry – Mike Robertson and Bill Hartman who, together, own the facility.
Both care immensely for their clientele and profession.   I know this from an intern standpoint, as well as from a client standpoint.
You see I was actually a client at IFAST from July '09 up until my internship.  I had two knee surgeries prior to coming to IFAST and neither improved my knee pain or function.  After working with Mike, Bill, and Wayne (a trainer at IFAST), my knee pain has virtually disappeared.  I have been very pleased with my results.  I was also able to witness them help many other people in the same way they helped me.
Because of this experience and my passion for fitness and health, I decided to talk to Mike and Bill about interning; they allowed me to come on in the summer.  I had a great experience learning from them and being able to train clients under their supervision.  Education is very important if you want to train others, but you also need experience.
I would like to share just a few of the things I learned while interning at IFAST:
DISCLAIMER: The information below will mostly benefit trainers and strength coaches, but hopefully everyone will pick something up.
The assessment process is very important. It helps to identify what the client needs to improve upon to progress toward his or her goals.  If you are not assessing, then you are guessing when it comes to programming.
When writing a client's program, assume that you will be working with that person for a long time. Make sure he or she has proper movement mechanics and can master the basics before progressing on to more difficult exercises.  Remember a beginner can make improvements on any program!  It is also easier to help clients reach their goals if they have a good foundation.
One program is one program. You can't address all of a client's needs in one program.  Focus on what the client needs the most.
Try to work on problem areas (that were identified during the assessment) in each part of the workout — foam rolling, dynamic warm-up, acute corrective, strength work, energy systems training, and post-workout stretching.
Track progress with follow-up assessments, client feedback, and by just watching them perform their workout. If they are progressing quickly or struggling with certain exercises adjust their program accordingly.  You should have progressions and regressions in mind for each exercise!
Professionalism is very important!
Do not overwhelm a client with cues. I really like Mike's 221 rule.  The rule states that you can give two cues before a set, two during the set, and one to think about after the set- no more.  Remember, have the mindset that you will work with this client over the long-term so it is okay if their technique is not perfect on at first.
Neutral spine is very important for many exercises such as birddogs, planks, RDLs, pull-throughs, etc. If you are unable to coach someone into a neutral spine or you yourself need help then go out and spend a few bucks on a PVC pipe.   Lay the PVC pipe vertically along you, or your client's, back.  The pipe should make contact with the back of the head, the upper back, and the sacrum.  Also, make sure that the lower back is not too lordotic (you should not be able to get your hand between the pipe and lower back).
An understanding of anatomy, biomechanics, programming, etc. is very important in order to be a good trainer, but you also must be able to communicate with your clients.  You may write a great program for someone, but if they do not enjoy working with you or cannot tell that you care then they will not get the results from that program.
Position of the joint is very important when assessing. For example, a client may appear to lack internal rotation at the hip during manual testing, but this may be due to the fact that he or she is already stuck in internal rotation.  Know what position the joint is in before testing!
Breathing is very important! Learn to breathe with your diaphragm!  Here is the first technique we use to teach it at IFAST:  Lie on your back with one hand on your stomach and the other on your chest.  Take 10-12 deep breaths making sure the hand on your belly is moving up and down while the hand on your chest is not.
These are only a few of the things I learned while interning at IFAST.  It was a great experience and I would highly recommend the internship to anyone considering a career in the health and fitness industry.
Check out the gym's website at www.ifastonline.com and if you have any questions or comments for me you can leave them below or contact me at [email protected]
(Note from MR: Zach has started his own blog as well, which you can find linked below!)