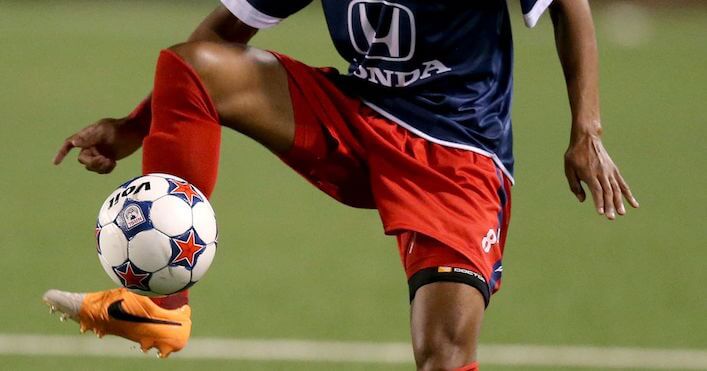 Pre-season is here for the soccer bros.
And whenever we have one of these big shifts in mindset, it often leads to some good insights from myself as a coach.
Quite simply, what are our goals for this period of time?
Are we doing everything in our power to serve our athletes?
And perhaps most importantly, what can we do better going forward?
Here are five goals I have when it comes to pre-season training. And if you like this article, here are a few more you might like as well:
#1 – Assess Fitness and Performance
My first and foremost job as a physical preparation coach in the pre-season is to get a baseline on where each individual athlete stands.
This year between ourselves (IFAST) and the medical staff (Community Health), we looked at the following tests:
Medical Team:

Y-Balance,
Single-Leg Hop,
Single-Leg Triple Hop,
Single-Leg Triple Crossover Hop, and
T-Test.

IFAST:

10/20/30 yard dash,
5-10-5,
Vertical Jump,
Broad Jump, and
Yo-Yo Fitness test.
Having this information allows me to get a gauge for where my returning guys are at physically, as well as build profiles for new guys that are coming into the team.
On the medical side, we also have a ton of baseline data that will help with return to play protocols, and gauging when an athlete is ready to train again following injury.
#2 – Bring Fitness Up (If Necessary)
Unfortunately, not every athlete takes their off-season training or fitness program as serious as you do.
It can be downright frustrating as a physical preparation coach, too. After all, WE know how important fitness is – why don't they?
Here are just a few of the reasons I've found why athletes might come into camp out of shape:
They are dealing with a previous injury, and rehab might have slowed down their conditioning.
They are an older athlete, and "didn't want to put extra mileage on their body during the off-season." Instead, they assume they'll practice and play their way into shape.
They lifted and "worked out," but didn't do any specific conditioning work.
This is one of the most challenging parts of both pre-season and in-season training. Guys are showing up at varying levels of fitness, but ultimately, each one needs the ability to play and perform at a high level.
If a guy reports to camp out of shape, we'll typically bring them in for further testing. A Yo-Yo test is fantastic for getting a baseline on a team, but I like to dive into more specific testing for an individual.
From there, we'll create a customized program to bring up their fitness levels. Again, this can be tough because if an athlete is already out of shape, you have to build fitness around what they're doing at practice.
(If you want more details, check out this article: Widening the Aerobic Window).
It's a tight rope to walk, but one that we must address if we want our athletes in peak shape when the competitive season starts.
#3 – On Board New Athletes
Beyond just fitness, another key component of the pre-season is to on board new athletes, and get them comfortable in you program.
If you're lucky, you'll have a crew of veterans coming back into your program, which really lightens the load as a coach.
But each year you'll have new athletes in your possession, each with unique bodies, training backgrounds, and thoughts as to what they need to make them a better athlete.
As a coach, my job first and foremost is to get to know each one of these new guys as an athlete. What have they done in the past? What are they comfortable doing? What do they want to get better at?
From there, the programming becomes a give and take process. I want them to take as much of my system as possible – whether it's the system we use (R7), the resets, the post-session breathing, etc. After all, I've spent years and years grooming it, and I think it works pretty darn well!
But maybe they feel that something in particular works for them. As long as it's not going to comprise their health or performance, I'm willing to give a little bit on my end.
What I've found following this approach is that it becomes much easier for a new athlete to like and trust both you and your system if you do it this way. They get to keep some of the things they feel work for them, but they also respect you as a coach and know that you have their best interests in mind.
Beyond the programming side, another key component of onboarding athletes is building (or rebuilding) their technique.
Case and point: A lot of athletes are used to lifting with that big chest/hard arch that we were all taught to use years ago.
One of the first things I try to do is get them out of this posture, and teach them how to use their abdominals to create stability. Little tweaks like starting with soft knees, keeping the chin in-line with the spine, and learning how to push (versus pull) make a profound impact on their performance.
It may take a few weeks, but getting guys to buy into and trust your system is a huge part of what we're trying to accomplish in the pre-season.
#4 – Build Relationships
Everybody and their mother is talking about building relationships nowadays, and for good reason.
Part of getting an athlete to trust you, or your system, is about building a relationship with them.
One of the first things I try to do is find a point of connection with each new athlete.
Some guys like to lift and train – what lifts do they like? What do they feel like they need in the weight room?
Some guys have an injury history – what are those injuries? And how we can we help keep them healthy?
Some guys it takes a more personal approach – what are they passionate about outside of soccer? What do they do in their free time?
This is one of the hardest parts to talk about, because it's not so much about the coaching as it is about the people. If you truly like people, and you want to help them succeed, sometime this is an easier path to follow than trying to wow them with your knowledge of program design and coaching technique.
Make it a goal to build a relationship with each one of your athletes early-on, and it will pay dividends as the season goes on.
#5 – Have Fun!
This is my third year working in pro sports, and in the case of pro soccer, the competitive calendar is particularly grueling.
Pre-season starts mid-February.
Training camps and pre-season runs for six weeks.
The competitive season is seven full months long.
As an outsider, it's easy to say "These guys have the best job in the world – they get paid to play sport!"
And while I would never argue that point, you also have to realize that even the best job in the world can be a grind at certain points.
I don't care how much you love it, some days you're just not as into things as you should be.
So imagine an athlete that is the midst of a grueling season, and they've just had a very hard training session. I can tell you this much – the last thing on their mind at that point in time is, "I want to get a lift in!"
It's easy for us to love what we do – to be passionate about it. But we can't assume that our passion will always carry over to our athletes, especially during their season.
As a coach, it's our job to help ensure that our athletes enjoy their workouts. Work hard? Absolutely. But working hard and having fun aren't mutually exclusive.
Crank the music up a bit.
Crack a joke or to.
In the warm-ups, keep things light and fun. Spikeball has been a huge boon to getting our guys in and loosened up before their training sessions.
At the end of the day, what we do is a means to an end. Know your role in the process, make the training environment fun, and I guarantee your athletes will enjoy the process more.
Summary
So there you have it – five goals I have for the pre-season training period.
What do you think – is there anything I've forgotten?
Or things that you try and do as well?
If so, drop a comment down below – I'd love to hear your thoughts!
All the best,
MR
Get 3 days of my best coaching materials — for free.
3 DAY COACH'S CAMP:
Write better programs
Learn how to motivate clients outside the gym
My most popular resets for instantly improving movement quality