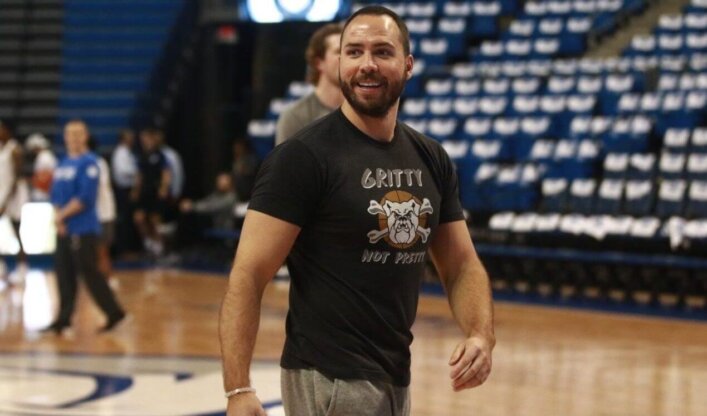 Matt Johnson's passion for physical preparation started with a failure when he was 15.
Despite his love and talent for basketball, Matt didn't make it to the Junior Varsity team, so Matt sought out to make himself stronger.
Along this journey, he met and trained with Lee Taft, and eventually earned his Master of Science degree in Strength & Conditioning at Marywood University.
A former entrepreneur and Director of Strength and Conditioning at George Washington University, Matt has been serving as a Strength & Conditioning Coach for Butler University's Men's Basketball team since 2018.
Matt joins me today to share his ideas on developing people, teams, and culture in collegiate basketball.
He illustrates how training shifts during the in-season and the off-season.
He explains how he uses technology to quantify the game and describes how this helps him train his athletes.
And he underscores the importance of forging relationships and fostering a culture of open communication between coach and athletes as well as highlight how a strength & conditioning coach can evolve in the world of basketball.
You have to remember that there's a person behind the jersey. – Matt Johnson
This week on the Physical Preparation Podcast:
Matt's background, career path, and experience training with Lee Taft at an early age
What got Matt into basketball
Why you need to work with the general population first before specializing as a coach
The differences in training during in and off-season
How Matt uses tech to measure athletes' performance
The difference between collegiate basketball and the NBA
What makes collegiate basketball unique
How Matt builds culture into his basketball programs
Forging relationships with athletes and the power of having a couch in the office
The most essential lessons Matt learned from basketball coaches
The difference between basketball coaches and strength coaches
How to be a better strength & conditioning coach in the world of basketball
Related Content: 
Connect with Matt:
IFAST University is BACK! Are You In?
Are you ready to take your coaching and training career to the next level?
You need to find great mentors to guide you along your journey – to help you find the blind spots in your own training programs and improve your skills as a coach.
But… mentorship can be expensive, and unfortunately, it's not always feasible for some budgets.
That's why Bill Hartman and I developed IFAST University, an online curriculum and mentorship program designed exclusively for fitness trainers and coaches. We want to help every trainer and coach in the industry improve their training techniques and write better training programs for their clients.
By becoming a member of IFAST University, you'll receive:
Multiple hours of members-only exclusive content
Monthly updates and tips to help you improve your skills and programs
1-on-1 Q&A sessions to answer your specific questions
Access to our private discussion forum
This blend of content and Q&A is specifically designed to help make YOU the best fitness trainer you can be.
To learn more or to join IFAST University now, visit https://ifastuniversity.com/
Subscribe, Rate & Share!
Thanks for tuning into this week's episode of The Physical Preparation Podcast – your one-stop-shop for fitness trainers, coaches, and athletes.
If you enjoyed this episode, be sure to subscribe on iTunes, Stitcher, and SoundCloud and leave your honest review.
As well, I'd love to connect with you on Facebook, Twitter, and Instagram, and don't forget to share your favorite episodes with your friends on social media. Thank you!
Get 3 days of my best coaching materials — for free.
3 DAY COACH'S CAMP:
Write better programs
Learn how to motivate clients outside the gym
My most popular resets for instantly improving movement quality