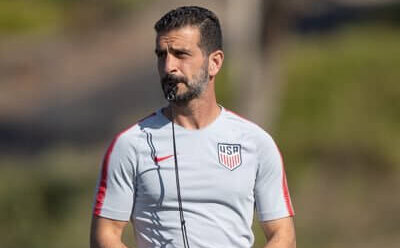 Steve Tashjian was a soccer hack who got injured and had a taste of what bad rehab looked like.
Nevertheless, the experience taught him to appreciate physical movement and kindled his interest in the medical and biomechanical fields.
Taking his growing passion with him over the years, Steve worked as the Head of Fitness Coach for the Columbus Crew in the MLS after completing his master's degree in Physical Therapy at the Western University of Health Sciences.
From there, he accepted an opportunity to go overseas and worked for the Everton Football Club as the Head of Sports Science & Conditioning for 5 years, before coming back for a second stint with the Crew.
And today, Steve is back in the US, supporting the US Soccer Federation Men's National Team as their Head Performance Specialist.
Steve joins me today to share his experience with working with the Everton Football Club and illustrates how it's different from working with an MLS team.
He describes his career path and how working with the US Soccer Federation has changed over the years.
He emphasizes the importance of developing sales skills as a coach and how information transparency can cultivate relationships between sports clubs.
And finally, he underscores the dangers of groupthink in sports performance, how it can hinder the industry's growth, and reiterates what it means to build a high-performance environment.
We don't drive performance development in players – we support and promote it. – Steve Tashjian
This week on the Physical Preparation Podcast:
Steve's background, career progression, and how he got into professional sports
How working at the MLS has changed over the years
Why young coaches need to take career opportunities over money
What prompted Steve to come back to the US after his stint in Europe
How working for the MLS is different from working with the Everton FC
The importance of developing sales skills in coaching and physical preparation
The difference between working for a sports club and a national team
The role of transparency & information dissemination in cultivating relationships with other clubs
Determining player readiness & availability
Developing a one-team approach and other trends in soccer that haven't yet transferred to other sports
How soccer is moving towards a collaborative, high-performance process
What the high-performance model is meant to be and its biggest roadblocks
Groupthink, what it is, and how it's impacting the sports performance industry
The relationship between insulin and performance and why an elite athlete has to be healthy
Resources Mentioned:
Related Content:
Connect with Steve Tashjian:
IFAST University is BACK! Are You In?
Are you ready to take your coaching and training career to the next level?
You need to find great mentors to guide you along your journey – to help you find the blind spots in your own training programs and improve your skills as a coach.
But… mentorship can be expensive, and unfortunately, it's not always feasible for some budgets.
That's why Bill Hartman and I developed IFAST University, an online curriculum and mentorship program designed exclusively for fitness trainers, coaches, and rehab professionals.
We want to help every trainer and coach in the industry improve their training techniques and write better training programs for their clients.
By becoming a member of IFAST University, you'll receive:
Hundreds of hours of members-only exclusive content,
Monthly updates and tips to help you improve your skills and programs,
Group Q&A sessions to answer your specific questions, and
Access to our Facebook group, where you can learn from other dedicated professionals such as yourself
This blend of content and Q&A is specifically designed to help make YOU the best fitness trainer you can be.
To learn more or to join IFAST University now, visit https://ifastuniversity.com/
Subscribe, Rate & Share!
Thanks for tuning into this week's episode of The Physical Preparation Podcast with Mike Robertson – your one-stop-shop for fitness trainers, coaches, and athletes.
If you enjoyed this episode, be sure to subscribe on Apple Podcasts, Stitcher, SoundCloud, Spotify, and Google Podcasts and leave your honest review. I'd also love to connect via Facebook, Twitter, and Instagram or visit our website.
And last but not least, please don't forget to share your favorite episodes with your friends on social media. Thank you!
Get 3 days of my best coaching materials — for free.
3 DAY COACH'S CAMP:
Write better programs
Learn how to motivate clients outside the gym
My most popular resets for instantly improving movement quality