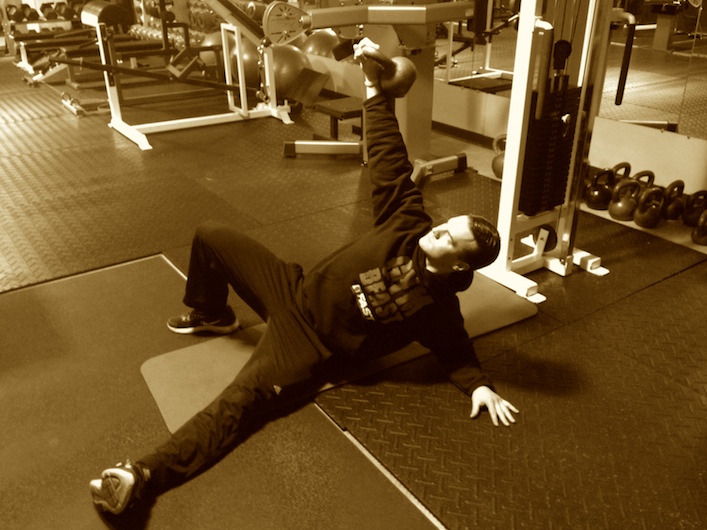 Let's start with an important, yet not so obvious statement….
Athletes are not professional lifters.
Does strength have carryover to what they do on the field or court?
Absolutely.
But is it the be-all, end-all of athletic development?
Absolutely not.
When it comes to developing a well-rounded athletic development program, you can't put in everything you'd like.
You have to pick and choose your battles.
When it comes to strength training, I find myself consistently falling back on a handful of exercises. And regardless of your age or ability, chances are you're going to perform a progression or regression of these lifts.
How Did I Come Up With this List?
Before I discuss my Top 5 Moves, keep in mind I'm not saying these are the best lifts for developing pure, unbridled strength.
If your goal is to get ridiculously strong, then it's hard to argue against the powerlifts (i.e. back squatting, bench pressing and deadlifting.) You could definitely make a case for overhead pressing in there as well.
But keep in mind, athletes aren't just here to get strong. I think something that's far more important is to choose exercises that:
Develop muscles and movement patterns they won't develop in competition or practice,
Exercises that will have maximal carryover to their on-field or on-court performance, and
Minimize or reduce the likelihood of injury while training, and
Are easy to coach and cue.
Every situation is different, but if I only have 8-12 weeks with an athlete during their off-season, these are the things that are going through my head.
So with that out of the way, let's talk about my Top 5 moves for athletic strength.
#5 – Chin-ups
Coming in at #5, chin-ups just made the list.
Chin-ups are an awesome total-body strength move, and I love the fact that they force you to move your own bodyweight through a range of motion.
Furthermore, chin-ups develop the muscles of the upper back (lats, lower trapezius, etc.) and contribute to overall pulling strength.
The downside to chin-ups is that if the lats become stiff, this can lead to issues with posture. The lats not only internally rotate the shoulder, but via their attachment on the pelvis and thoracolumbar fascia can throw you into anterior tilt and an excessive lumbar lordosis.
Taking this a step further, if the lats are stiff, when you go to reach overhead they can either limit shoulder range of motion, or throw you into even more extension and anterior tilt.
(Side note: If you want more info on this topic, read my previous article "Lats: Friend or Foe.")
If you want a quick refresher on how to perform chin-ups correctly, just check out the video below.
#4 – Push-ups
Push-ups come in at #4 on my list, and I know the following question is coming so I'll answer it now:
"Yo Mike – Why push-ups over the bench press?"
Don't get me wrong – the bench press is an excellent exercise for developing upper body strength.
What I don't like about the bench press is the fact that you're lying on your back throughout the course of the lift. Furthermore, unless you've been trained by a powerlifter you often don't recruit the core and lower body into the lift.
Instead, a push-up ties together or unifies the body. What you'll often see is someone who is more than strong enough in their upper body to push-up effectively, but their core is weak or unstable.
In this case, continuing to bench press would only magnify the issue.
When you push-up you're not only training the upper body, but stiffening the core and lower body to make one fluid, seamless movement.
When you look at the upper body, there are three more big reasons that a push-up is great for athletes:
The closed-chain nature increases recruitment of the rotator cuff and stability through the shoulder,
The scapulae are forced to dynamically stabilize (versus being pinned down and back, like they would in a bench press). This is more similar to the positions you'll find in sporting movement, and
The reach not only trains the serratus, but reaching is critical to many sporting movements (i.e. a block in volleyball or basketball).
Here's a quick and dirty demo on push-up technique:
And if the standard push-up isn't challenging enough, feel free to try some of these more challenging variations. Just make sure that the core is tied together and that you're moving everything as a unit.
#3 – Turkish Get-ups
Turkish get-ups (hereby known as TGU's) come in at #3 on the list, and for good reason.
TGU's are an awesome total body strength move. Whether it's core, trunk, shoulder, scap or hip stability, you can get them from one simple movement.
And while people are really focused on stability and control in the "up" arm (the one holding the kettlebell), don't forget that you the down arm is working hard as well. Think about staying active on the down arm – press through the elbow, press through the hand, etc.
If you looked at 100 programs that I've written, chances are not all of my athletes are performing TGU's. But I think that's something of an illusion.
Unfortunately, the TGU is a fairly complex movement and it takes a lot of prerequisites to make it look pretty.
Instead, I may take the first month to work on a supine arm bar, the second month to work a traditional arm bar, month three would work to the elbow position, etc.
So while you may not be training the entire TGU movement, you're still building all the patterns that lie underneath.
And while I don't have an uber-sexy video of my performing a Turkish get-up, here's a step-by-step article to guide you through the process:
And if you're a trainer or coach, I've also recorded two very thorough breakdowns of how I coach and cue the TGU over at the Elite Training Mentorship. If you're not a member yet, these two videos alone are worth the price of admission.
#2 – Front Squats
Before I jump in here, let me first profess my love for the back squat.
As a powerlifter, this started off as my worst lift. But I worked my ass off and over the years built a respectable squat, even for a guy with poor squatting levers.
But as much as I love the back squat, I don't love it as much for athletes. And I know somewhere Dave Tate and Louie Simmons are revoking my powerlifting card as I say that.
In all seriousness, I like front squats over back squats (with athletes) for a few reasons:
Front squats are harder on the anterior core,
They impose less shear force on the spine, and
They tend to be easier to coach/harder to screw up.
When you throw a barbell on the back of an athlete, most will have a tendency to create stability by arching their back.
And if they get loose or unstable? They simply arch harder!
With a front squat you get more of a "lengthening" through the core and spine, which will really tax the anterior core. And in my opinion, you can't get enough anterior core work.
When it comes to keeping backs healthy, many athletes tolerate compressive forces better than they do shear forces. In layman's terms, the more upright you can keep them, the better their back will feel.
Last but not least, I find that once you get someone set-up, there is a lot less coaching and cuing in a front squat versus a back squat.
Especially early-on in an athletes program, I like to hammer both ends of the squat-swing or vertical/angled tibia continuum.
In other words, I want their squats to look very "squatty" and I want their deadlifts or hinges to look very "hingy."
And yes, I just made those words up!
Here's a basic video demonstrating proper front squat technique:
An alternative I've been using recently is the two-kettlebell front squat. I like this variation because it requires even less coaching, and it tends to hit the anterior core even harder.
My hypothesis is that since you aren't putting the lats on as much stretch, the anterior core has to work even harder to create stability. Just a thought, but I love the variation.
And if you want a compendium of information on the front squat, just read the article linked below as I cover all this and much, much more.
#1 – Trap Bar Deadlift
We've finally made it, my favorite lift for athletes: The trap bar deadlift.
Let me start by saying I wasn't always a fan of the trap bar deadlift. In fact, I resisted using it for many years because I was so entrenched in the sport of powerlifting.
But as I've used the lift more and more, I've really come to love it.
First and foremost, trap bar deadlifts are ridiculously easy to coach. While a conventional or sumo deadlift may take quite a bit of explanation, I find most athletes can be trap bar deadlifting very efficiently in a matter of minutes.
Second, mobility is rarely a limiting factor with regards to the starting position. It's rare that I have someone who can walk in and conventional deadlift with great technique Day 1.
And on the flip side, mobility for the sumo deadlift often needs to be built up as well, as most people don't have the requisite groin flexibility early-on.
Another critical aspect of the trap bar deadlift is that since you're up a bit higher than you would be in a traditional deadlift, you can make the lift very hip dominant.
The goal with many of my athletes (especially early-on) is to get the tibia as vertical as possible. By doing this I'm really focused on building the glutes and hamstrings, two muscle groups that are rarely built on the court or field.
Last but not least, as you're moving into a max strength phase, the trap bar deadlift might look a little less "hingy," but the elevated position still keeps the back in a better position and you can really push some weight.
While strength isn't the be-all, end-all for an athlete, it has a huge spillover effect to other physical qualities such as speed and power. If I can build some serious strength with a simple move like the trap bar deadlift, I know that I can convert that strength later on to help them become more powerful and explosive.
Summary
While it's hard to whittle all your strength exercises into one top five list, I think this article does a pretty darn good job of reflecting my favorite strength exercises for athletes.
But then again, whose to say I know everything?
If you had your choice, what exercises would you pick?
I'd love to get your feedback below!
Stay strong
MR