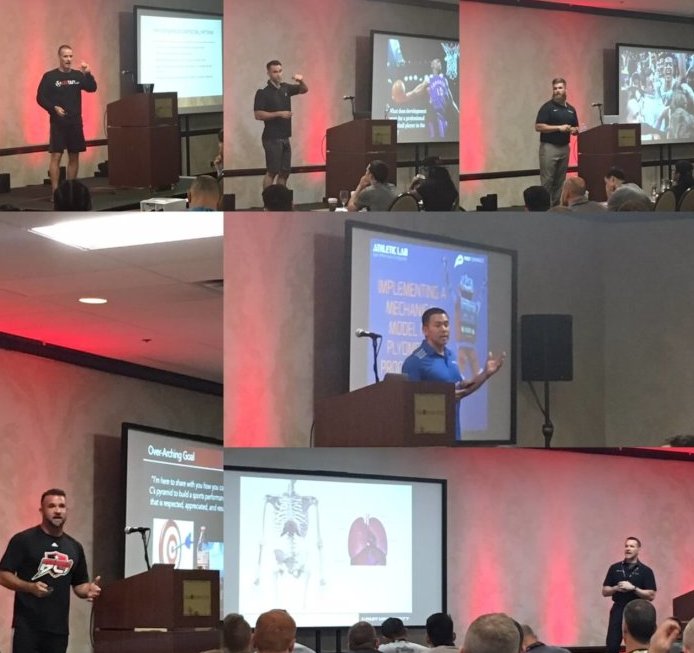 It's hard to believe, but the 2017 Physical Prep Summit is in the books!
This is event is the culmination of six months of blood, sweat and tears, so it's always bittersweet after we wrap up.
However, I wanted to do a little write-up here to pull it all together. And this is a pretty long article, so let's go ahead and jump right in!
#1 – Assistance Lifts are Your Insurance Policy
I started off Day 1 talking about the role assistance lifts play in our world.
I'd put good money on the fact that you write assistance lifts into your programs, but here's the million dollar question:
Why?
It's something that a lot of us probably either take for granted, or have glossed over completely.
I know I have.
So as I really distill down why we incorporate different elements in our programming, I've come to the conclusion that assistance lifts are our insurance policy.
Whether it's keeping (or building) movement variability, or building body armor in certain areas where our athletes need it, assistance lifts can help keep them healthy.
Now obviously, there's a little bit more to it than that, but that's my elevator pitch!
From there, I breakdown what my big groups of assistance lifts are, and how I use them in the various templates for my athletes.
But enough about me, let's talk about what all the other smart bros had to discuss!
#2 – Single-Leg Training Isn't Ideal for Strength Development
Every time I listen to Bill talk, I learn something.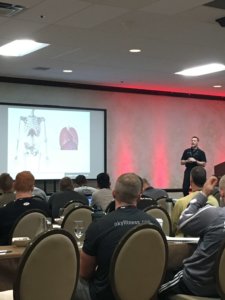 At IFAST it's sometimes a little quip or thought that he has bouncing around in his head.
But when it comes to these talks, he always influences my thought process.
For instance, last year's talk on "The Athletic Thorax" changed how I looked at the thorax, and it's influence on movement. And those changes are reflective in how my programs are written today.
In this talk, Bill broke down that movement is really all about pressure management.
And if you can't move pressure into the right areas, you're really going to struggle to move effectively!
Taking that a step further, Bill described why single-leg or split-stance training is probably not ideal if your goal is strength development.
This piggybacks on something that he and I have discussed for years: Biomechanics are not in our favor if we're trying to produce strength on one-leg.
Instead, training on two legs allows you to maximize strength and power production, while also being most similar to the forces involved in sport.
Suffice it to say, I really enjoyed Bill's talk and can't wait to see what he comes up with next year!
#3 – Characterize Your Plyos
Mike Young's talk was a game changer for me when it comes to classifying your plyos.
(If you missed the Summit, do yourself a favor and at least listen to my podcast with him!)
What I originally asked Mike for was an understanding of how he classifies plyometrics, which would have been great.
After all, who doesn't want a progression-regression chart or trainable menu from a world-class coach?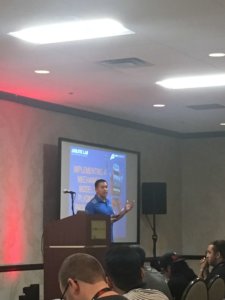 But in reality, Mike did one better.
Instead of giving us HIS charts and menus, he gave us a system so that we can can classify any plyo we might come across in the future!
In short, here are the four things you must examine when ranking or classifying the intensity of a plyometric:
What was the vertical velocity?
What was the horizontal velocity?
How was the collision?
How was the load distributed?
Once you know the exercise in question, you can pass it through these four "filters" to get an idea of how intense the plyometric was/is.
Again, if you didn't listen to our podcast, make sure to do that, as it will give you a better idea of how this works, along with a few examples.
#4 – What Are Your 5C's?
I brought Andy McCloy in to talk is because I like using my platforms to help other people build theres.
Whether it's the Summit or my podcast, I like to help shine a light on coaches who I feel are doing great work, but maybe not getting the respect or credit they deserve.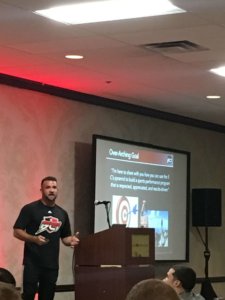 And if we're being frank, I got amazing feedback on Andy's talk – perhaps the best of anyone at the summit.
Part of this was the timing – when you give a more emotion-based talk in the middle of more technical talks, it definitely stands out.
But what everyone can feel is the realness of where Andy is coming from, and that's why I think his talk conected with so many people.
Regardless, Andy discussed his 5C's of building a great business:
Competence,
Connections,
Communication,
Culture, and
Community.
And while there are so many great points I could discuss, one thing that I loved was his focus on competence first.
Lots of people are talking about communication, culture and community, which are all integral elements of your business.
But at the end of the day, you owe it to your clients and athletes to be competent first.
To be able to coach them through a training session without getting them hurt, and hopefully, getting a training effect along the way.
My write-up could never do this talk justice, so if you ever get a chance to listen to Andy give this, I implore you to do so!
#5 – Developing a Collegiate Basketball Player
The next two guys on my list got themselves a paid speaking gig because they crushed my "interview" on the podcast.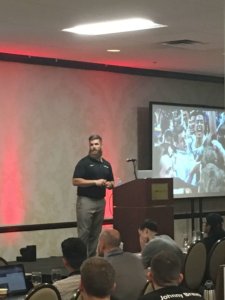 If you listen to Ryan Horn or Chris Chase's shows and aren't immediately blown away by their passion, their insightfulness, and their communication skills, well, I don't know what to say.
In this talk, Ryan gave us an exact layout for what they do with their athletes at Wake Forest.
From the day their season ends, to the end of the following season, Ryan pulled back the curtain and showed us everything they do.
However, even with all that fantastic information and insight, one small point that Ryan made really stood out to me:
Athletes don't go to college or the pros to work out – they go there to play ball!
It sounds really simple, but please don't gloss over that fact.
We're not there to be the show with these athletes. Our job is to help supplement the rest of their training and performance, so that they can be the best athlete possible.
#6 – Can You Develop an NBA Player?
Much like Ryan's podcast, Chris really pulled back the curtain to give us an insider's view of what he was doing with the Atlanta Hawks.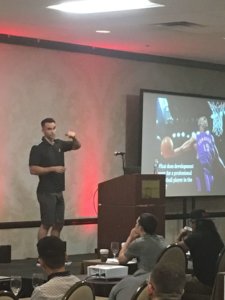 In a similar role now with the Memphis Grizzlies, I can almost see the evolution in Chris' world view now that he's got a few years of NBA work under his belt.
Chris started his talk with one very simple question:
Can you truly develop an NBA player?
It's a great question, and one I hadn't necessarily considered before.
Throughout the course of his talk, Chris showed us some of the biggest limitations he sees when training the NBA athlete, and the strategies he's using to help them move and feel better.
But perhaps most importantly, he gave us some real-world insight as to the world these guys live in on a daily basis.
I think this was a discussion we had years back, but it's important to know one thing:
The NBA isn't based on a performance scheduled – it's based on an entertainment schedule.
If it was based on performance there would be days off in between every game, game times would be fairly standard, there would be less travel involved, etc.
After all, there's nothing ideal about playing a game at 7 pm, finishing up at 9:30, showering, then getting on plane and flying somewhere else, then getting bed at 3 am and having to play another game the next night.
These are the challenges these guys face on a daily basis, and I'll be excited to see how Chris' approach continues to evolve in the years to come.
#7 – The Role of Assessment in Mobility and Multi-Directional Speed
The last three years we've started Saturday with our "Futures Presentations."
This is a way for the young fellas at IFAST to not only get some speaking experience in front of a large audience, but to show the world how great they really are!
This year was no different. In this case, Ty and Lance combined forces to introduce a system that virtually anyone can use to determine if/when an athlete is ready for multi-directional speed training.
Case and point: A squat is a great tool for assessing sagittal plane preparedness and control, but what do you use to assess the frontal or transverse planes?
Furthermore, I love how the break movement faults down into three big groups:
Do they have the mobility?
Can they produce the force?
Does the environment or situation negatively influence them?
Needless to say, I think this was an awesome talk. If you want to review the slides, you can download them here.
#8 – Lee Taft
There isn't enough space in this article for me to say all the nice things I want to about Lee Taft.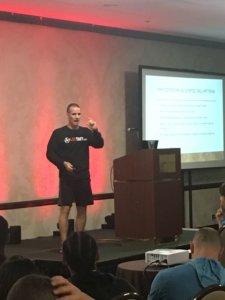 When I came up in this game, I thought it was all about strength.
Just keep getting your athletes stronger, and the other pieces (speed, agility, power) will come along for the ride.
But when I got serious about speed training, I was lucky enough to come across Lee's work – and I've never looked back sense!
Here's the biggest issue though: Lee is a guy that has so much to offer, a little bit just isn't enough.
I've watched him in 1-hour presentations.
Listened to him in podcasts.
Read his articles.
And I've even gone through his complete online courses.
But there's something to getting it all put in front of you on one-day that really helps connect the dots.
If you train athletes of any shape, size or ability, you owe it to yourself to dig into Lee's work.
I guarantee that if you do, you will be a better coach as a result.
#9 – Networking is Still a Thing
As I described this weekend, hosting a course now is more difficult than ever before.
First off, you have the entry-level costs to get into the game. If you're not comfortable staring down the potential of a major loss, don't even bother – 'cause this ain't cheap!
But the biggest issue now in the seminar world is competition. Everyone and their mother is hosting a course, which makes it harder than ever to stand out amongst the crowd.
And that's really just the offline courses – now you can "watch this amazing seminar, while sitting in your boxers, and never have to travel or interact with anyone along the way!"
I might be embellishing a bit, but this is a fact – the seminar game is changing, and I'm not always sure it's for the better.
That's why I put such a huge emphasis on the social aspect of our events.
We have an informal meet and greet before the seminar on Thursday night.
We have a coffee networking event on Friday, before the event starts.
We've got 15 minutes of dedicated down time between each session.
And we've got a true social on Friday night that is always well attended.
Why do I do all this, even when I know it's going to be a huge part of my budget?
Because the networking and the interacting of this event are what make it truly unique.
First off, pretty much every presenter hung out and was present throughout the event. That alone can make any event stand out.
But then you look around the room and realize how many smart people are in the audience, who easily could have been on stage themselves.
NBA strength coaches.
College professors.
Owners of independent facilities.
And a broad mix of private sector, public sector, high school, college and professional strength coaches.
And now you put all of us in a room together, where we can laugh, learn, and grow?
I'm sorry, but that is a truly awesome environment to be in.
So with everyone else zigging and moving away from the social interaction of the live events, please forgive me if I zag, double-down, and make this an even bigger part of our event going forward.
#10 – Summit Overview, Thoughts and Next Year
In a lot of ways, the Physical Preparation Summit feels like a family reunion.
Sure that's party because we're at home base here in Indianapolis: We bring not only our crew, but a bunch of former interns and students come back as well.
But what's crazy to see is this evolution over the past 2-3 years, where everyone who attends becomes a part of this family.
It's really fun to watch, because this "family" is brought together by one simple bond:
The bond of learning. Of asking the tough questions. Of challenging ourselves.
And ultimately, trying to be the best coaches/trainers/practitioners imaginable for our clients and athletes.
I realize that I'm biased, but we're growing something here. 
And if you want in on next year's event, go ahead and pencil in August 24th and 25th of 2018.
I'm working on the location now, and once I get that done, we'll get started on planning next year's event.
Thanks so much to everyone who attended, and I hope to see you at the 2018 Physical Preparation Summit!
All the best,
MR
P.S. – I can't thank our sponsors, Perform Better and PLAE Sports Performance Flooring enough. Without them, we wouldn't have a Summit – thank you so much my friends!!!
Get 3 days of my best coaching materials — for free.
3 DAY COACH'S CAMP:
Write better programs
Learn how to motivate clients outside the gym
My most popular resets for instantly improving movement quality