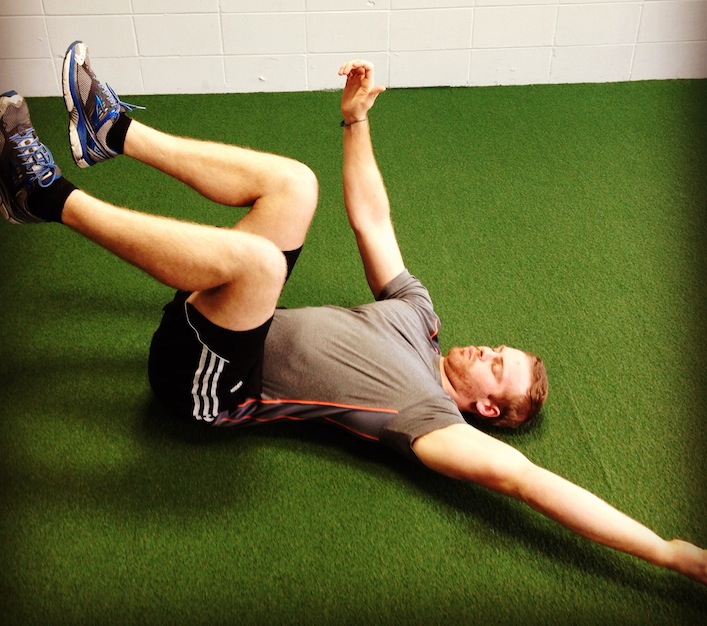 "You play sports on your feet!"
"If you're not standing up, it's not functional!"
"Life is 3D – don't forget about rotation!"
Chances are if you've been training for a little while, you're heard one (or all) of these quotes.
And don't get me wrong – there's definitely some truth here.
But it's not the whole truth, and it's definitely the case for everyone.
Let's look at why ground-based core training is a great idea for many athletes, as well as outline a handful of exercises you can go into the gym and use today.
The Core Training Progression
The end goal for all of us is to be doing real-world "core" exercises.
Squats.
Deadlifts.
Overhead presses.
You'll get no argument from me on this. But the question becomes:
Is this person physically prepared to do this?
Do they have an optimal core stability strategy?
Or do they use a hip flexor/spinal erector dominant strategy that locks them in extension?
Many would call this an "open" or "scissored" posture, and it's sub-optimal not only because you're only using the posterior muscles, but you're also crushing the back side of your spine (vertebrae and discs) in an effort to create stability.
If this explains you or your athletes, you need to re-build your core stability strategy.
A typical progression would look something like this: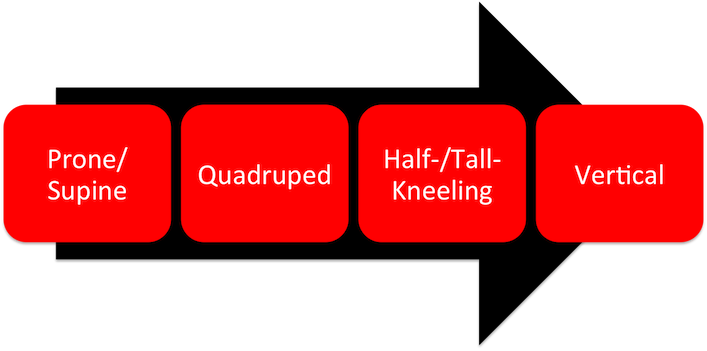 As you can see, the end-goal is standing up, or vertical based core exercises like squats, deadlifts and overhead presses. You can read a similar article here: Big Lifts and Core Training.
But what if doing these exercises causes you pain?
Or you simply inefficient and not making progress?
At that point in time, I'd argue it's time to work your way back through the progression.
Tall and half-kneeling are awesome because they strip away compensations and force you to create more optimal stabilization patterns. Here's a short video, in case you're not up to speed on tall- and half-kneeling.
Even still, some people just aren't successful here. If you have to coach and cue someone relentlessly and they still aren't getting it, move back to quadruped.
And if they still aren't successful even in quadruped? Then it's time to go back to Square 1: Prone and Supine Exercises.
Why Prone and Supine Core Exercises?
Prone and supine core exercises are fantastic because they give us a ton of external stability from the ground up.
Think about this: If you're standing up, the only "external" reference point as to where your body is in space is your feet. Otherwise, your body better know where it's at!
As you move backward throughout the above progression, you are constantly giving your body more and more external feedback points to determine it's location in space.
Prone and supine is the last stop because not only are you getting a ton of external feedback, but you're also getting a ton of external stability as well!
The progression outlined above (vertical, tall/half-kneeling, etc.) also fits seamlessly into the developmental sequence that babies go through in their first year of life. I'm definitely not an expert in that regard, so I'd lean on smart guys like Bill Hartman, Gray Cook or Charlie Weingroff to explains the ins-and-outs in that regard.
The key here is master and dominate the sagittal plane first. For example, when we're assessing a client or athlete on the table, let's say they demonstrate poor hip internal rotation.
Our old-school approach would be to simply stretch them into more hip internal rotation to get that motion back. This lead to dubious results – you may get more range of motion, but it was often at the expense of passive restraints such as the ligaments and joint capsules!
What we failed to realize was that, quite often, we weren't looking at a mobility limitation, but rather a poor starting position that restricted motion.
Now instead of stretching, we will try a repositioning exercise or "reset" first, in an attempt to get their pelvis and lumbar spine to a more optimal alignment. If we do this and get an immediate change in mobility, we know that we need to restore position first.
This is a really long-winded way of saying that if you don't have optimal sagittal plane function through your joints (in this case your pelvis and lumbar spine), you will struggle to demonstrate full frontal and transverse plane range of motion.
In today's article we're going to focus on supine exercise variations, because these are fantastic for building the anterior core. Many clients (and most athletes) leave in various degrees of lumbar extension/anterior tilt, so a strong and stable anterior core will help offset this and better allow them to control extension.
(Side note: I gave an entire Elite Training Mentorship webinar on controlling extension a few months back. I also demo and coach a bunch of the exercises listed below, so if you want more feedback on how to perform them correctly definitely check it out.)
Ground-Based Core Exercises
A week or so ago I was training a new distance client at IFAST. She had a steady diet of supine/ground-based core exercises in her program, because my goal was to get her a sagittal plane first.
As we were going through the program, she mentioned to me:
"All of this is the same, but just a little bit different."
Exactly.
With that being said, I'm going to give you a bunch of the big-bang cues here, and then with each exercise a quick write-up as to why I like it or use it in my programming.
Ground-Based Core Training Cues
Exhale hard, ribs down.
"Roll" your pelvis back underneath you.
Flatten/smash/press your low back into the ground.
Reach long (when integrating the upper extremity).
Core Engaged Dead Bugs
This is one of my staple core training exercises, especially early on in a program. The band gives an immediate co-contraction/firing of the core, and there are tons of progressions and regressions you can use.
Wall Press Abs
I love wall press abs (and feature them a ton in my Bulletproof Athlete program) because while the core engaged dead bug variations are great, many people don't have access to a longer band.
3-Month Position PNF
This is a newer exercise that I've been using, and I absolutely love it. Not only do you get anterior core, but you also get serratus on the vertical arm, and lower traps on the moving arm.
And if you're sexy and you know it, as you reach with that moving arm think about taking a deep breath and pulling air into the same-side chest wall. This simple tweak can make this awesome exercise even better.
The first time I did these, my abs and lower traps were absolutely crushed the next day. Definitely give them a shot!
Band Supported Leg Lowering
I've seen these from Gray Cook in the FMS progressions, as well as from Pavel in his book Bulletproof Abs.  It's an awesome exercise because you not only integrate the core, but drive hip separation – as one hip is maximally flexed, the opposite hip is moving into extension.
Kettlebell Pullovers
I talked about these a while back in my article, "Lats: Friend or Foe?". Not only are they going to strengthen the anterior core, but they also work to inhibit the lats as well.
Summary
While there are definitely sexier core training exercises out there, most of us need to master the basics.
And I'm not one to cast stones here while living in my glass house!
Come to IFAST almost any day of the week and you'll see me working on these exercises. They are powerful, and can make a huge difference in how you move, feel and perform.
Good luck and let me know how you like 'em!
Stay strong
MR
P.S. – If you'd like to learn my entire core training philosophy from anatomy to assessments to programming and coaching, make sure to check out Complete Core Training.
Get 3 days of my best coaching materials — for free.
3 DAY COACH'S CAMP:
Write better programs
Learn how to motivate clients outside the gym
My most popular resets for instantly improving movement quality