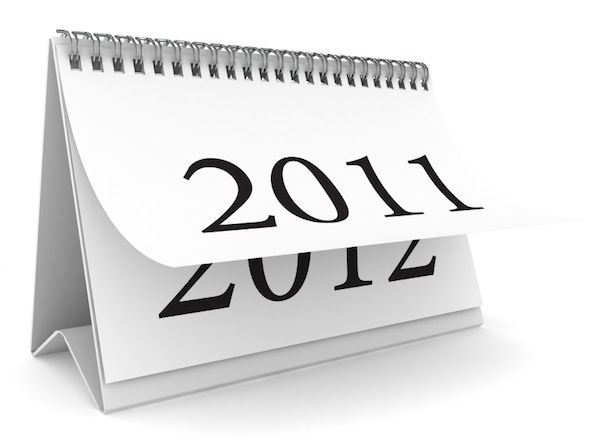 Let the "It's the end of 2011!" posts begin!
I figure someone has to start the trend, and I've got a bunch of stuff to publish before the end of the year, so today we'll begin with my Top 10 Blog Posts of 2011.
Needless to say, the blog has grown exponentially over the last year, and I'd like to think that with each and every passing day I'm reaching out and helping one more person achieve their fitness, physique or strength-related goals.
And with that being said, let's get into my Top 10!
10. Q&A: Back Soreness After Deadlifts
Have you ever wondered if you're doing more harm than good when deadlifting?
This reader wanted to know if that soreness he feels in his back after deadlifting is ok, and I do my best to answer his question.
I had totally forgotten about this one!
Anyone remember the abomination of Bob Harper trying to "coach" people on Turkish get-ups?
This was a response to his horrible YouTube video, along with instructional videos that, you know, actually show people how to do the lift safely and effectively. 🙂
What happens when you ask industry experts such as Dewey Nielsen, Stuart McGill and Joe Dowdell when, or if, you should crunch?
You get some really cool feedback and insight, that's what!
Almost every single day, someone asks me "What book(s) should I be reading?"
To help answer the question more thoroughly, I wrote this post. Now all I have to do is shoot them a link to let them know what my Top 10 are!
After looking at this post, though, I may need to revise it a bit – I've read some good stuff this past year that could make the new "cut."
6. Pick Your Deadlifting Poison
When you deadlift, you typically miss at one of two points – the top or the bottom of the lift.
But how can you change that?
What assistance exercises can you pick to improve your weaknesses?
If you want to bring that deadlift up to snuff, you should definitely check this post out.
I've obviously developed some keen readers – when a 7000 word thesis on the bench press barely cracks the Top 5 posts for the year, I know you guys are more savy than the average fitness enthusiast!
Regardless, this is an incredibly thorough post, and if you bench press (or teach it to your clients and athletes), it's definitely worth your time.
I should probably listen to my web guy more often.
He always tells me what to do, but I'm not always the best at taking his advice.
However, when I actually do what he says, a random topic like knee crepitus becomes the 4th most popular post on my site in the past year.
Go figure.
Literally the first post I wrote this year, I give away all the goods on this one.
If you've ever wanted to know how we develop fat loss programming at IFAST, you need to review this piece.
And if your goal is to get leaner and meaner in 2012, the principles outlined herein will work as well this year as they did last year!
And finally, we have what I consider to be the two most comprehensive and detailed posts I've ever written.
If you want to squat more weight, with better technique and less pain, read this post.
I leave no stone unturned.
The creme-de-la-creme of posts, my dissertation on the deadlift wasn't just the most popular post I've ever written, but the traffic to this page is nearly DOUBLE anything else I've ever written.
Of all the pieces I've ever written, I may be the most proud of this one. It's literally everything I know about deadlifting crammed into one information-packed post.
But Wait – I need your help!?!?!?!
So there you have it – my Top 10 posts for 2011.
But if you guys know me, you know I want 2012 to be even bigger and better than ever before.
In the comments section below, please answer this one simple questions:
What would you like to see next year?
More short blog posts?
More long blog posts?
More articles for sites like Elite FTS, T-Nation, etc.?
Podcasts?
Video posts?
Feel free to be as long- (or short) winded as you'd like.
And to give you a bit of incentive, I'm going to give away some free swag to a few lucky winners, just for helping me out.
Thanks for a great 2011 everyone – you guys are the best!
MR